Announced: Rumours Of Fleetwood Mac UK Tour 2014/2015
aaamusic | On 01, Nov 2014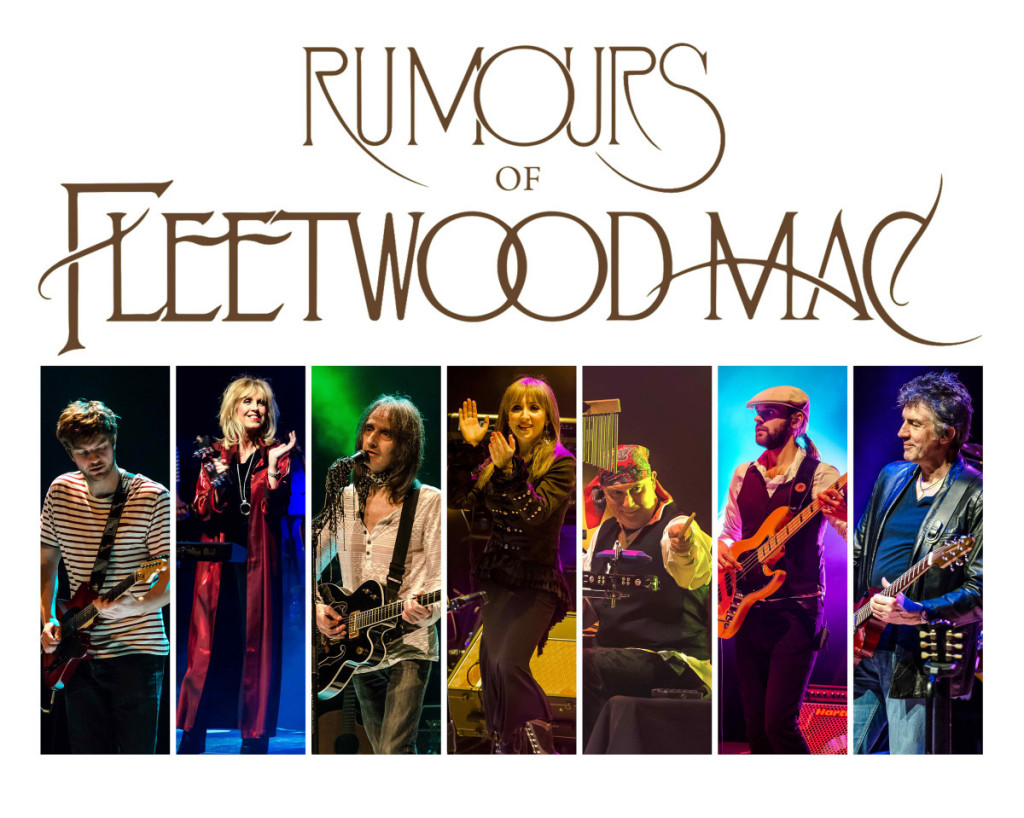 Having performed 500 major concert shows to over a half a million fans around the world since they formed over a decade ago, Rumours of Fleetwood Mac return to the UK to present a spectacular new stage production celebrating the music of the legendary rock supergroup Fleetwood Mac. 
Their new show will showcase and celebrate in meticulous note-for-note detail, all the classic hits from one of the most outstanding and enduring catalogues in the history of recorded music, and a legacy of blues, rock & pop classics that made Fleetwood Mac the icons of the music industry they are today.
Recognised internationally as the leading tribute to Fleetwood Mac in their various incarnations, and with founding member Mick Fleetwood's golden seal of approval, this stunning show reflects on an epic journey of lasting relationships through changing eras and musical styles, from the exciting hub of the sixties London blues scene to staggering commercial success in the seventies and eighties, and beyond.
Replicating perfectly the power and subtlety of Fleetwood Mac at their brilliant best, let timeless classics such as 'Black Magic Woman', 'Albatross', 'Go Your Own Way', 'Dreams', 'Gypsy' 'Say You Love Me', 'Sara', 'Oh Diane', 'Little Lies', 'Everywhere' and many more, take you on a nostalgic evening of breathtakingly outstanding musicianship; and all performed in the context where the songs work best – a live stage.
"An extraordinary emotive performance of Fleetwood Mac"
Mick Fleetwood
"A stunning and emotive snapshot of the World's first Super Group Fleetwood Mac"
SUNDAY TIMES
"They do Fleetwood Mac better than Fleetwood Mac."
MAIL ON SUNDAY
"Rumours Of Fleetwood Mac have taken the Tribute performance to another level"
THE LONDON EVENING STANDARD
UK TOUR DATES
2014
November
Mon 10 Nov    BOURNEMOUTH   Pavilion
Fri 14 Nov       STOKE                      Victoria Hall
Sat 15 Nov      LLANDUDNO          Venue Cymru
Mon 17 Nov    PERTH                      Concert Hall
Tue 18 Nov     EDINBURGH           Queen's Hall
Wed 19 Nov   NEW BRIGHTON   Floral Pavilion
Sat 22 Nov      SCARBOROUGH    The Grand Hall
Mon 24 Nov    IPSWICH                  Regent
Tue 25 Nov     ST ALBANS                         Arena
Thu 27 Nov     NOTTINGHAM       Royal Concert Hall
Fri 28 Nov       COVENTRY                         Warwick Arts Centre
Sun 30 Nov     MALVERN               Forum
December
Mon 1 Dec      OXFORD                   New Theatre
Tue 2 Dec        HARROGATE         Royal Hall
2015
January
Wed 21 Jan     CREWE                    Lyceum Theatre
Fri 23 Jan        BELFAST                 Waterfront
Sat 24 Jan        DUBLIN                    Bord Gais Energy Theatre
Mon 26 Jan     BUXTON                   Opera House
Tue 27 Jan       CROYDON               Ashcroft Theatre
Wed 28 Jan     YEOVIL                    Octagon Theatre
Fri 30 Jan        SHEFFIELD                         City Hall
Sat 31 Jan        LONDON                  Union Chapel
February
Sun 1 Feb        DARTFORD                         Orchard Theatre
Mon 2 Feb       AYLESBURY           Waterside Theatre
Wed 4 Feb      SWANSEA                Grand Theatre
Thu 5 Feb        SALISBURY                         City Hall
Fri 6 Feb          DORKING                Hall
Sat 7 Feb         SOUTHEND                         Cliffs Pavilion
Mon 9 Feb       SWINDON                Wyvern Theatre
Tue 10 Feb      BRISTOL                  Colston Hall
Thu 12 Feb      BARNSTAPLE        Queen's Theatre
Fri 13 Feb        BASINGSTOKE      The Anvil
Sat 14 Feb       KINGS LYNN          Corn Exchange
Mon 16 Feb     GATESHEAD          The Sage
Tue 17 Feb      GLASGOW               Pavilion
Thu 19 Feb      INVERNESS                         Eden Court Theatre
Fri 20 Feb        ABERDEEN                         Music Hall
Sun 22 Feb      DUNFERMLINE     Alhambra Theatre
Mon 23 Feb     YORK                        Grand Opera House
Tue 24 Feb      SHREWSBURY       Theatre Severn
Wed 25 Feb    LONDON                  Cadogan Hall
Fri 27 Feb        CAMBRIDGE          Corn Exchange
Sat 28 Feb       SALFORD                 The Lowry
March
Mon 2 Mar      T-WELLS                  Assembly Hall
Tue 3 Mar        HIGH WYCOMBE Swan
Wed 4 Mar      PRESTON                 Guildhall
Thu 5 Mar       LVERPOOL                         Philharmonic Hall
Sat 7 Mar        BIRMINGHAM        Town Hall
Sun 8 Mar       WATFORD               Colosseum
Mon 9 Mar      PORTSMOUTH       Guildhall
Tue 10 Mar      NORTHAMPTON   Derngate
Thu 12 Mar     SCUNTHORPE        Baths Hall
Sat 14 Mar      PYMOUTH               Pavilions
Sun 15 Mar     CARDIFF                  St David's Hall
Thu 26 Mar     NORWICH                Theatre Royal
Fri 27 Mar       DARLINGTON        Civic Theatre
Tickets now on sale.
Ticketmaster (0844 844 0444) www.ticketmaster.co.uk
Ticketline (0151 256 5555) www.ticketline.co.uk
See Tickets (0871 220 0260) www.seetickets.com