Bury Tomorrow – Live @ Bristol Bierkeller
aaamusic | On 04, Nov 2014
Wednesday 22nd October, Bristol
Bury Tomorrow are one of the fastest rising metalcore bands currently touring Europe…
Having recently released their third Studio album, Runes, and having it reach No.34 in the charts, Bury Tomorrow are going nowhere but up. On the 22nd October they blew up the Bierkeller in Bristol with heavy riffs and thunderous vocals from frontman Dani Winter-Bates.
First, all the way from Byron Bay in Australia, are In Hearts Wake, who bring their own form of metal with them, Earth-core, mixing destructive music and lyrics with an environmental meaning. I have been anxiously waiting for In Hearts Wake to hit the UK since releasing their newest album Earthwalker, which has an intro that could rip your head in two; I couldn't wait for it to be played live. Yet somehow I was disappointed, the live set was unimaginative, with their only real saviour being the drummer, Caleb Burton. Where there is disappointment, there are always upsides and In Hearts Wake are only going to get better. With two fantastic studio albums behind them, they definitely started the night off with great anticipation.
Hands Like Houses, also from Australia, were the one band of the night at the other end of the rock spectrum, but that didn't stop them at all, with lead vocalist Trenton Woodley belting out every song like it was an emotive melodic masterpiece. That being said, just like In Hearts Wake, if someone had never heard of them before, there was nothing memorable about the performance; nothing that would make me want to see them live again. Nevertheless, unlike the movement on stage, it's the overall sound of the band that makes your ears swoon.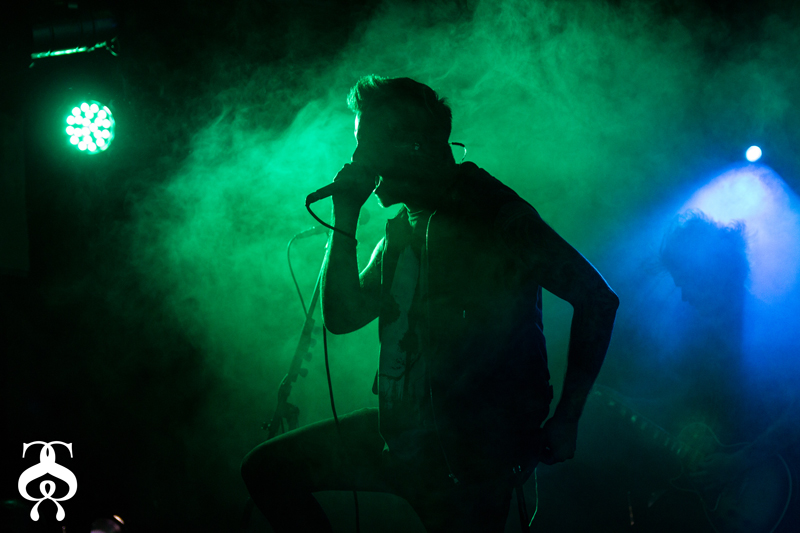 After what seems an age, the lights dim, clenched fists are thrown in the air and the crowd roar as Bury Tomorrow step on stage. And then it begins. Throwing the room into the first song of the night, 'Man On Fire' – the band's first single off their new album. It's not until Dani steps up and unleashes his first roar down the mic that you actually realise how far his harsh vocals have come over the year and even if they weren't up to scratch, it wouldn't matter to this crowd. Bury Tomorrow aren't here to play music, they came to put on a show and every member is involved, with Kieran staring down at the front row to scream along with whoever is in front of him, and Davyd's whipping his hair back and forth harder than Willow Smith ever could.
Even though it is the Runes tour, crowd-favourites from previous albums are not neglected – songs such as 'Sceptres', 'You & I' and 'Lionheart' throw the long-term fans back to a time where there would have been 200 people max watching, and everyone was forced to sit on each others shoulders and then make the security at the barrier work for their money. No matter how big Bury Tomorrow get, Dani makes sure that at least once in between songs he stop and thanks each and everyone for being there, explaining that it was every fan that got them to where they are now, before throwing himself into another song.
After having played Download, Reading Festival and many more in Europe, these guys are only going to get bigger. With Kieran's technical prowess over his Gibson and Jason's powerful co-vocals, you have the perfect mixture to allow UK metalcore to go global.
Sean Shore