Liars – Live @ Village Underground
aaamusic | On 05, Nov 2014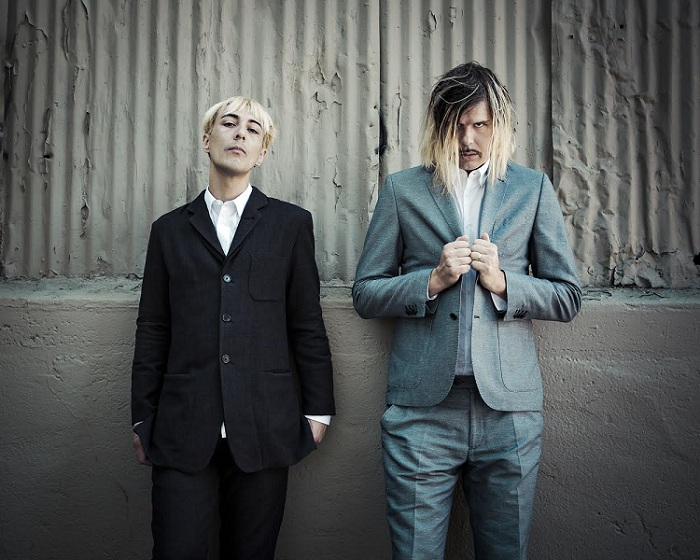 Saturday 1st November, London
Since the release of WIXIW, Liars haven't set foot in London and it was inevitable that their local fans would be missing them badly.
No wonder that, when the NY based ensemble announced their first gig in the British Capital since October 2012 to present their latest EP I'm No Gold, they seized the day…Fans flocked in numbers to the Village Underground, overfilling its hall and reserving for the NY based ensemble an excited welcome-back after a two year absence.
But that wasn't enough, because throughout the five hour event that Liars organised for the Illuminations Series, the audience champed at the bit – shouting, jumping, dancing and inescapably sweating without a break. More than a concert, the event was more similar to a club night, during which DJing, visual installations and live music went side by side. Illuminations DJs and Mute founder Daniel Miller alternated themselves between the desks, while Vessel, Roll The Dice and Luke Abbott set the musical mood to Liars late night performance.
As soon as Angus and partners appeared on stage, it was deadly clear who were the main characters of the event. Backed by some psychedelic and kaleidoscopic video effects and by lighting intentionally leaving their figures uncertain and indistinct, Liars indulged the audience and their excitement.
The trio kicked off the gig with two of the most dancey and pulsating tunes from their recent work: 'Pro Anti Anti' and 'Mask Maker'. After a while, beneath the stage, the crowd became a bedlam of raised arms, waving hands and shaking heads; a furor of unrestrained bodies. They were moving to the music, following the unremitting beats of Butchy Fuego' drums, the distortions of Aaron Hemphill's guitar and the perverted voice of Angus.
During the short (little more than one hour) but fierce and intense set, Liars whirled through their latest work Mess almost entirely. The fresh but already widely hailed 'I'm No Gold', 'Mess on a Mission' and 'Can't Hear Well' delighted the audience, who seemed to have fully digested the nth turn in the band's production.
However, it was during the encore – when the trio recalled some of its most successful hits like the decadent 'No.1 Against The Rush', an even more compulsive rendition of the already impelling 'Plaster Casts Of Everything' or the 10-year-old litany 'Broken Witch' – that the fans finally hit the ceiling. It seemed that, despite the entrancing mix between punk, electro and dance which characterises Mess, Liars' fans are still clinging to the band's darker and more experimental face – the one epitomised by 'Liars' and 'Drum's Not Dead'.
That sounded like a suggestion for their next album.
Marco Canepari