Chvrches – Live @ Camp & Furnace
aaamusic | On 07, Nov 2014
Saturday 1st November, Liverpool
Officially, the festival season ended quite sometime ago, so it's a treat to be bestowed with so much great music tonight…
Having not been familiar with the Liverpool Music Week, tonight was set to be pretty special. Remarking on the point of these types of events, like Tramlines and Hit The Deck, they are a great example of utilising venues; we too often see beloved venues becoming artifacts of the past. Plus, in big sprawling metropolitan cities such as Liverpool, exposing audiences to new and old bands is a great thing.
To kick off at this Jack Daniels partnered night at Camp &Furnace was a band called BIRD, who blended blossoming melodies and crescendo like sounds that cascaded blissfully. Having two female vocalists in the group helped make the rest of the instrumentation sound soothing. As a listener of more angst-driven music in my earlier years, I have grown to appreciate the softer, more gentle sounds of bands like BIRD recently. Overall, I was drawn in by the band's sound and will keep my ear to the ground and my eyes peeled for them…and so should you.
Next up was All We Are, providing something different but nevertheless noteworthy, with their grove-laden tracks, chiefly thanks to the excellent backbone of the group that was the percussion department. The dim lights for the set served as a juxtaposition to the high energy, fitting the atmosphere perfectly. The group – consisting of a guitarist, bassist and percussive player – created a nice dynamic of interesting vocal tones and layers that blended well with robust guitars, bass and drum sounds.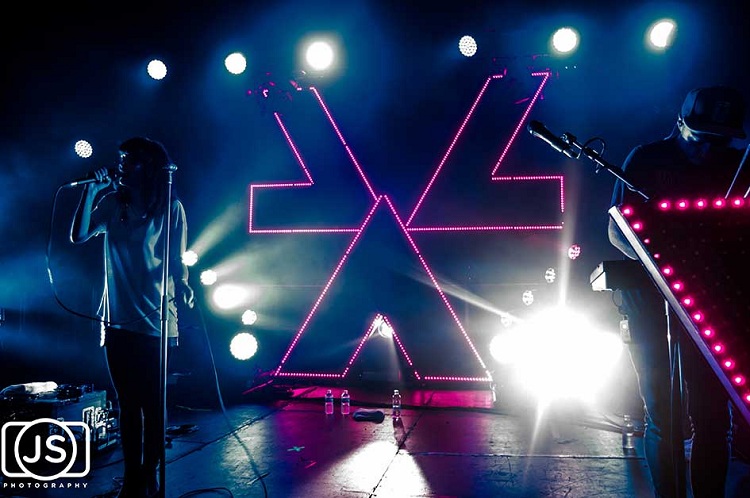 Finally, there was Chvrches, who served the waiting audience with exactly what they had been waiting: euphoria. Having had one very hectic album campaign, this band have received critical acclaim, having played to sold-out audiences across the globe. They are now nearing the end of that cycle, but not until tonight is over with. Kicking off proceedings with 'We Sink', with an initial synth-based intro building the anticipation in the room until the first notes of the song began and the band walked on to the stage to a roaring reception. With every note, vocal and synth note played, the band kept the energy levels high, with each song catering to a different emotion, whether it be evoking sadness, joy, or redemption – the band know how to balance their music to always relay a feeling with music that releases melody galore. There are many exciting times ahead for this young band, with so much backing for their debut, and so much potential, it's clear that the band will only go up from here. Tonight's performance was flawless, not only because of how well the band executed themselves, but also thanks to the never-ending adoration that their fans offered them.
Joe Sheridan