Delta Spirit – Live @ Bush Hall
aaamusic | On 10, Nov 2014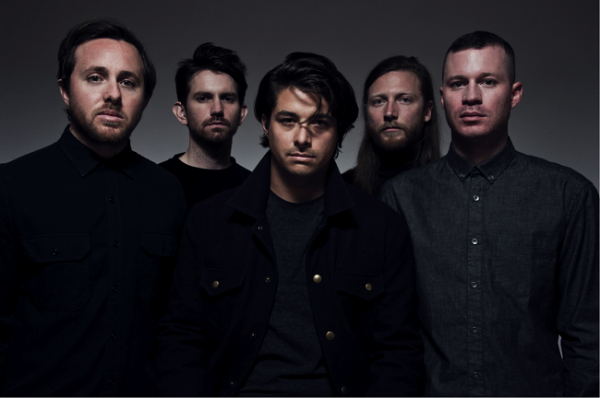 Thursday 6th November, London
It was on a nipple-stiffening November night that I found myself outside the hallowed Bush Hall; a stones throw away from Sheperds Bush station.
I am here to witness the first show of a run of gigs that Delta Spirit will embark on to support the release of their brand new album Into The Wide' (available now). From the outside, Bush Hall appears to be unassuming and reserved. This preconception was altered as soon as I stepped through the charcoal black double doors. This venue has a severe case of Tardis fever – I found myself being transported from the arctic streets of West London to the grandiose, extravagant 1920s with the décor of this independent music venue. This isn't some kind of dank, back alley boozer with sticky floors and an undercurrent of bleach blended with vomit, this is a more sophisticated affair.
As I wait, supping on my beer, like a restless baby gnawing on a rubber teat, Kagoule subtly take to the stage. This Nottingham three piece, consisting of Cai, Lucy and Lawrence, kick off the night with an incredible, beautifully raw sound. With a mixture of Sonic Youth, Placebo, Pixies and Radiohead, Kagoule have a raucous sensibility that combines with haunting unison vocals that lure the gathering crowd from the bar into the main hall. Kagoule convey a shoe-gaze type of ethos without being pastiche. I thoroughly enjoyed every moment of their set and was very glad to find out that they are supporting the headline act on further gigs.
Then, the moment had arrived. The lights dimmed to neon pink and a deep blue dusk, which cast shadows on the ceiling like a Mojave Desert sunset. The stage door crept open and Delta Spirit had arrived on stage. The excitement that had built in those few moments between the dimming lights and band emerging had been charged with an electric energy that I found absolutely palpable. It was clear that this was going to be something a bit more special than I had anticipated.
As the Hammond organ hummed and the drum groove punctured the cheers and whoops of the audience and I recognised it instantly, it was their single 'From Now On', which I have reviewed previously (read it here…). This was an opener like no other, relentless and with a heavier edge to it than what is portrayed on the album, I discovered that this band where a lot more versatile than I had previously thought. Delta Spirit have a charm and warmth about them that, from the get go makes this gig have a very intimate feel to it. With a birthday shout-out to "Eric!", a close friend of the band, a song dedication to ex-bass player Bob Banks (who was in the audience) and to Vasquez's wife and in-laws (flying all the way from Norway for this show) this is a band who is down-to-earth, has a complete lack of ego and instant likability because of it, that I for one, applaud. While playing a interweaving set of new and old songs (an example of the latter coming in the for of 'Just Tear It Up') this Californian six piece delivers, throughout the night, their songs with sincerity and an unbridled passion, which is reciprocated by the love and respect that flows to them from the audience after each track.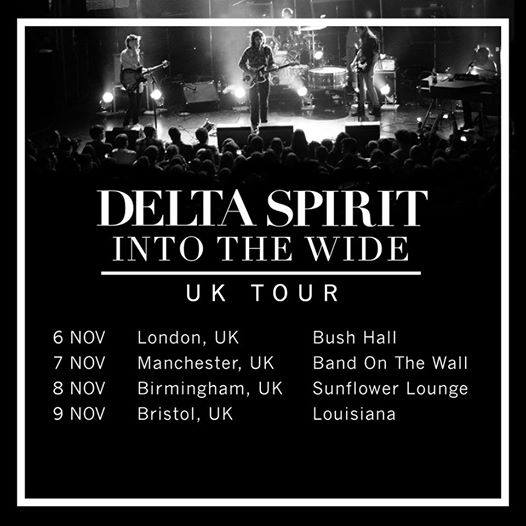 The transatlantic crowd seemed to cling to every word that emanated from the mouth of front man Matthew Vasquez (a sign of a band that has the right formula for a lengthy and well established career) especially as Vasquez announces with an apologetic tone that it has been "Over four years since we were here last, playing on Jools Holland, and we're so glad to be back!". Vasquez appears to be almost surprised by the reaction that they are getting, experiencing moments where he stands back from the microphone (taking in the audience who (by the fourth and fifth songs are singing the choruses back to them), seeming to convey disbelief. This is a highly polished band with edge that would not be out of place in arenas. The dynamic that Delta Spirit exhibits during the set is managed with extreme professionalism and thought, however, for all it's flawlessness it still feels so natural and human.
It's clear to see how the crowd feels about this band, as two songs from the end, in a quite moment between tracks a lone voice from the audience yells two simple words "Fucking Amazing", to which the band chuckle and Vasquez graciously remarks "Thank you". I can, without doubt, feel the love within the walls of Bush Hall. As Delta Spirit put an end to their final song and exit the stage, the crowd is not finished with them yet. Whilst still continuing to sing "Oh oh, oh oh, oh ooh..", the audience brings the band back to their instruments, band-leading in their own way and to which Matthew Vasquez and crew oblige, reprise the track once more in time with the fans chants.
I have to say, this has been a memorable night and, although my knowledge of the band's full back catalogue was minimal compared a lot of hardcore 'Spiriters', I had nothing but pleasure derived from seeing these six friends do what they love doing before a packed hall that felt as if they had crafted the sings themselves.
Please, if you manage to catch them, grab an opportunity to see them perform live. You will not regret it one bit.
Chris Hutchings