A CHAT WITH: DIEGO BARBER & REBECA VALLEJO
aaamusic | On 12, Nov 2014

Spanish guitarist Diego Barber, navigating between jazz and classical music, was born in a family of musicians. He has been living in New York for seven years now, playing with great artists like Mark Turner or Jeff Ballard, and he has recently released his fourth album Tales. Spanish singer Rebeca Vallejo was also born in a musicians' family, in which they have been Flamenco singers for generations. She has now been living in New York for 14 years, and also released her recent third album, Azúcar Canela. Marguerite Gallorini chatted to them ahead of their concert opening "The Flames" festival, the first of its kind in NYC, at Cornelia Street Café.
Hi! So you are both from Spain and have both lived/toured in many countries, finally meeting up in New York City. How did you two meet?
Diego: We have both been living here for several years, but we never met before! She is the one who called me actually.
Rebeca: I needed some acts for the series of Flamenco Fusion concerts I am organising with the Consulate General of Spain in NY, and a friend of mine actually told me about him, so I listened to his music and I found he was great! I liked the fact that he did not sound "too" Spanish right away – he has firstly a classical sound and from that he manages to bring out a classical Flamenco spirit. So I called him in June. Unfortunately he was not there for the summer session of 15-17 August, since he was touring in Europe, but he has been able to come for this Fall session so that's great. He is a great musician and a wonderful person.
Diego, you released the album Tales with Craig Taborn last March. Would you like to say a few words about it?
Diego: Sure! I am very happy that it is finally released. It was a new thing for me because it was the first time I played in duo.
Yes, it's not common to have a guitar-piano duo…
Diego: No it's not! So the recording was not easy – guitar and piano have two very particular sound and since they can both play several voices, it takes some time to write something that works, and then adjust the two sounds when recording so that the whole will not be too confusing. So yeah, I'm really happy with it!
Where was your last concert?
Diego: I'm actually just coming back from a tour in Europe, for this album's promotion. My last concert was in Valencia in Spain, in July. It was for a music festival, where I also taught classes – usually when I go to Europe it's actually more to teach classes than for concerts.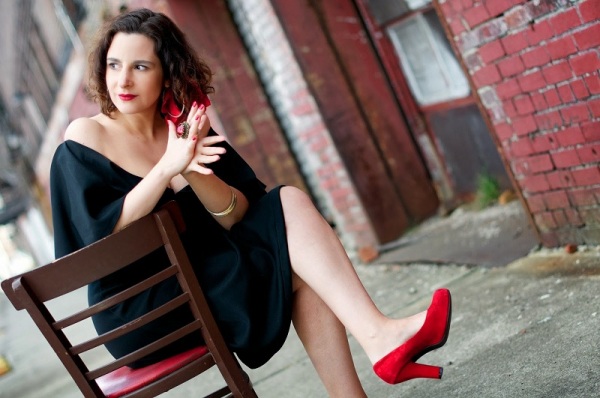 …And do you compose all of your songs?
Diego: Yes!
What about you Rebeca, you also have recently released an album I believe, Azúcar Canela, with George Dulin and David Silliman?
Rebeca: Yes I did! It took some time, but you know, I like to picture an album as a stew: all the elements need to cook for a long time, to mix well with each other, and then when the stew is ready you can record the album.
Did you compose the songs?
Rebeca: Yes, some of them. I had even written 14 years ago. I carry a notebook with me all the time, it's like my Bible; and when I looked through it – through what I had written a long time ago – by reading the lyrics their melodies came back to me. As for the production of the album in itself, it lasted from February to August. And actually…the pianist on this album is a substitute for the original one, Emilio Solla. He was so great that I decided to keep him…! But Emilio did not take it bad [laughs], and he is even one of my guest artists on the album, so we're on good terms!
How long have you been living in NYC, actually?
Diego: Seven years now.
Rebeca: Fourteen for me!
And how do you find life here compared to Spain?
Diego: Well you know, the usual: in Spain life is more relaxed, the weather is always good…But for now, I prefer NYC because there is a lot of music and cultural events going on. In Spain, for Flamenco music, it's the top, for sure – but there is not much more else…While here you have everything; every kind of music is represented. But I guess what I miss the most is my family and friends, and the language.
Rebeca: Oh, NYC and Spain are completely different worlds! Every time I cross the ocean, the cultural shock always strikes me. But that's the advantage of being a musician: we have the possibility of traveling a lot, and for that NYC is a good basis.
Which country – that you've played in – has provided you with the best experience and memory?
Rebeca: For me it's Belgium, definitely. When I go there, in the Flemish part, it reminds me of Spain – after all they also have been under Spanish rule in the Middle Ages, so I guess the Spanish roots are still there. There really is a Spanish spirit. And the Flemish public is so enthusiastic…I really have a special connection with Belgium.
Diego: I would have to say Germany. Well I like NYC too, but you know… I've studied in Germany, and people have a lot of respect for music and musicians over there. In Spain, being a musician is nothing; in Germany, it's almost like being a doctor you know…And there is a strong culture of classical music over there. Basically, when people go to a concert, it's not to eat and have some entertaining music on the background or whatever, it's really to listen to music.
When we say "flamenco" and "guitar", we automatically think about the great artists Camarón de la Isla, Tomatito and Paco de Lucía. Have they influenced your work?
Rebeca: Of course, big time! Right from the beginning. I am also greatly influenced by Brazilian singer Elis Regina and Ella Fitzgerald. But for Flamenco, Camarón is and will ever be the best. I grew up listening to him; my grand-father was constantly singing him. In my family, we have been Flamenco singers for several generations, so Flamenco is really a great part of me that I cannot deny. Seven years ago I was too afraid of it, but now I have accepted it and let my nature express itself.
What do you mean by "you were afraid"?
Rebeca: Well, Flamenco is a very emotionally intense music, and very complex to master. I was afraid I would not be up to it; to not have everything needed to understand and sing it correctly. Jazz is complex as well, and also challenging – but for me, it was less of a challenge than Flamenco.
What about you Diego, how long have you been into music?
Diego: I received my first electric guitar when I was around eight or nine, but I started learning classical guitar only when I was 18, so it is very late. It was difficult for me, because all the other students had already started from an early age, so I had to work even harder…!
Well it turned out pretty fine! Which music genre would you say you like the most, classical or jazz?
Diego: I think it's 50/50, but it also depends on where I am. Here I think I tend to like classical more…because I am surrounded by jazz all the time here, you have all these great jazz players in NYC; it is kind of a rebellious position as well. But if I were in Germany, I guess I would say that I like jazz best, because I would be in a more classical environment! In any case though, my background is very much classical.
What are your aspirations for the future?
Rebeca: As for me, for my last album we've been touring in the East Coast, sponsored by the Spanish Embassy, but we are now working on a tour in California. Try to go West, where I haven't been yet!
Diego: Well I am hoping to record a new album with a quartet by January. I want it to be a bit different, with an electric bass player, and maybe some electronic elements as well…I think the release should be around March, hopefully!
Check out our review of 'The Flame: Flamenco Infused-Jazz' live at Cornelia Street Café here…
Marguerite Gallorini