Hedvig Mollestad Trio – Live @ The Royal Festival Hall
aaamusic | On 25, Nov 2014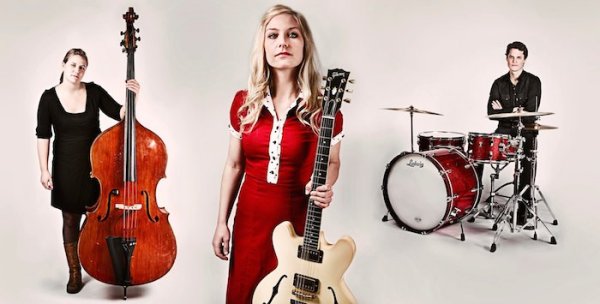 Thursday 20th November, London
The very passionate and exuberant Hedvig Mollestad Trio, from Norway, comprises Hedvig Mollestad (guitar), Ellen Brekken (electric and acoustic bass) and Ivar Lo Bjornstad (drums).
They play a bluesy jazz fusion mixed with psychedelia and free form progressive rock which is reminiscent of Led Zeppelin, Jimi Hendrix and John McLaughlin. The trio's forceful and dynamic debut album Shoot! was followed by the playfully diverse All Of Them Witches, whilst the loosest and heaviest songs are probably found in their third album, Enfant Terrible. They're signed to the specialist Norwegian label Rune Grammofon.
At this EFG London Jazz Festival performance Hedvig looked amusingly glamorous in her elegant red sequinned dress and sparkling stilettos. The trio confidently launched into rhythmic, thunderous and atmospheric numbers that pulsed with intensity. Contrasting with the menacing and haunting songs were some that were dreamily light and airy. The trio cleverly seemed to change moods from deep, complex and intricate compositions to those that were strangely minimalistic.
This opening act for John McLaughlin was consistently inventive, powerful and accessible. The trio have a restless desire to be fresh and original, though the criticism of 'ostentatiousness' once thrown at them is difficult to understand. They're clearly boisterous and expressive, but there's no pretentiousness that I can see! They'll probably continue to improvise and make punchy, fresh and original albums well into the future.
Anthony Weightman