Save Your Breath – Live @ Sound Control
aaamusic | On 06, Feb 2015
Thursday 22nd January, Manchester
Save Your Breath have, for eight years, trudged across plenty of countries and continents to come to this juncture in their somewhat turbulent career. After many set backs, it was no surprise that the band have thrown in the towel.
For a band who have spent much of their career being the support, not being the headliner can be demoralising. With two albums and two EPs under their belt, they must have thought that they had earned their salt worth, but things have just never clicked. However, tonight was all about savouring the memories, not contemplating what could have been.
First on are South Wales natives Cardinals, who are quite an interesting choice – they don't paint an immediate picture of the pop punk that adorns the rest of this tour. The venue is filled up by the time I make it into the venue and I am taken by surprise by the amount of young fans and onlookers tonight. Cardinals offer nice slices of mid tempo and high tempo material, with some of the best offerings coming from their song 'Dearest' with its fast introduction and big, arousing chorus. Cardinals are sure to have a great 2015, because people need to hear this band. They are capable of big things!
Next up are As It Is and by the looks of the young attendees that were watching Cardinals, a great deal of people are solely here for As It Is. Though the stage tonight doesn't accommodate much room or movement, when they put things into gear they are riled up, with a sound that makes them sound like they recorded themselves using GarageBand; they leave very much to be desired. I am all for bands trying to earn their salt and persevering, but I am baffled by this band and just how cringe worthy they sound tonight. Songs such as 'Dial Tones' sound like b-sides to a Backstreet Boys single. Sorry lads, it's a no from me.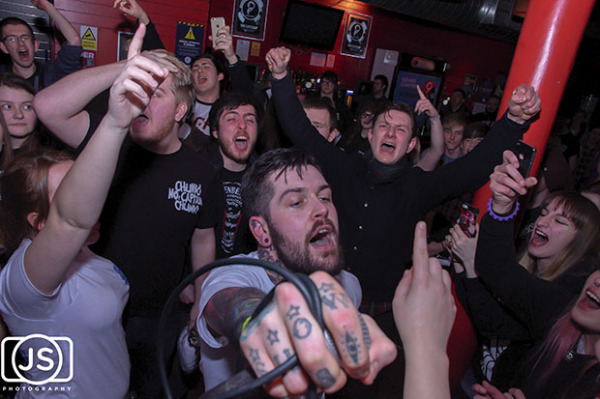 Lastly, we have Save Your Breath, who for all their obstacles, have remained resilient and sure of themselves, and that you can fault them for that. Ultimately, after their change in lead vocalists, which led to Kristian taking over, it's been difficult for the band's core fans to adjust. With their first major release in 2011, 'Vices', the band had crafted a sound for themselves, but they lacked the necessary support.
On to tonight: the band's set list is full of contemporary titles and classics from their early beginnings. The band kicked things into the right gear, but the response was oddly lacking – not because of the performance by any stretch though, this band have always given it their all live. It was the classics such as 'Lost Boys' that got the crowd going. There were a few interesting surprises, like an impromptu acoustic version of 'Not In Mood For Kiwi', but the overall standout of the night was witnessing the song 'Skin & Bones' played so well, although it felt bittersweet as the song show the promise that the band were coming into their own. I guess we'll never know what could have been, but the band stayed true themselves tonight and gave it their all. So long, and thanks for the memories.
Joe Sheridan