Martha Reeves & The Vandellas – Live @ Cheltenham Jazz Festival
aaamusic | On 14, May 2015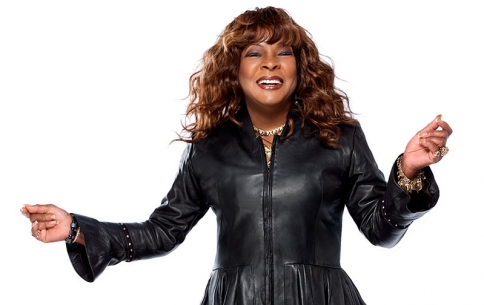 Saturday 2nd May, Cheltenham
Legendary American R&B singer Martha Reeves is well known as lead singer with The Vandellas who have had endless successful hits. They were inducted into the Rhythm & Blues Hall Of Fame in 2013.
At this Big Top performance Martha and her two younger sisters Lois and Delphine wore elegant, glittering dresses, sang with great versatility and were excellently backed by their tight and exuberant band.
"We expect you to get out of those seats sooner or later" joked Martha, and she was absolutely right. Quickly the audience rose to its feet, swaying and dancing. Martha has an impressive stage presence and knows how to work a crowd and sing those classic songs. The hot and energetic opener 'Heatwave' was followed by a rousing 'Nowhere to Run', whilst 'Jimmy Mack' still had a youthful vibrancy. 'Third Finger, Left Hand' was slow and moody and bluesy 'Watch Your Back' had fine harmonies.
Martha sang a charming version of Marvin Gaye's 'What's Going On', recalling her admiration for him during her early Motown days in Detroit, and a cover of 'Something' from The Beatles' Abbey Road album which reminded us of George Harrison's talent as a songwriter. There was a brief but beautiful  'Girl from Ipanema', the famous Brazilian bossa nova song by Antônio Carlos Jobim, sung in "Copacabana style". She also sang a moving cover of Bert Bacharach's 'Look Of Love', a song that entered the Grammy Hall of Fame in 2008.
Martha Reeves finished her set with the wild and spectacular hit 'Dancing in the Street', covered by so many artists over the decades. She's an experienced Motown diva with a warm, witty and generous personality who continues to sing  timeless songs with joy and enthusiasm.
Anthony Weightman