Slam Dunk 2015 – Live Review
aaamusic | On 06, Jun 2015
Saturday 23rd May, Leeds
The annual Slam Dunk Festival is upon us once again, and it's like it's come full circle, with it being held in Millennium Square, and an array of other venues, including Leeds University. The sun is out, and everyone is ready and roaring to go, and to see the city bustling with thousands of music fans ascending on the Millennium Square is a great sight to see.
First on today we have As It Is who are opening the Macbeth stage, and with a debut album that has been on many people's lips the anticipation for this band's performance is building, and when they hit the stage to a packed out crowd they are eating right out of the palm of their hand, and Patty commands them effortlessly. Although they are combined still a very young band with still many more years to put it, already there are high hopes for this arguably inspiring act for these fans.
Next up we have Set It Off, a not so small band any more in comparison to the hopes and dreams of the band's lead singer Cody Carson, who just 7/8 years ago was a rising YouTube talent, getting his first break by joining All Time Low on stage, and steadily from then on putting together the band that we see on stage today, only more tight and focussed in their ability to put across their sound to this crowd who though have not yet packed out the Millennium Square to start the day off right.
Next is PVRIS the most hyped band of the day, and certainly the most diverse that I witnessed all weekend. Fronting a style that mixes dance, electronic, with abrasive vocals that reach melodies that Lauren Mayberry of Chvrches would be proud of. It's always a delight to witness a band who push the envelope utilising different instruments, and with an event like today that is by no means saturated, differentiating music in a scene much like that is arguably centred around music with guitar, bass, drums and vocals can be frustrating sometimes.
Back on the Macbeth stage we had ROAM, a band who much like many of their peers who are easily citable, from the Drive Thru Records days, to the present crop of bands that on paper sound so similar, but have resonated still with so many people, and today is no different, seeing the band amass huge sing-a-longs and using inflatables their fans use them to crowd surf and bring more fun in the sun to this already hot sunny day in Leeds.
Back on the main stage We Are The Ocean are gearing up to take to the stage, and for a band who have settled into their new form, which for lack of better words, is a much better fit than their old incarnation. No discredit is meant by this statement, but they sound bigger, more confident than they ever have before. With singer Liam Cromby's voice soaring taking the band the new highs the crowd is bellowing the lyrics right back at him, and his grins, and contorted face from his reactions to what see's from this impressive crowd will have put a smile on anyone's face.
For some bands today it is unfortunately their last performance, well at least in this country for now anyway. Cartel who recently celebrated the 10 year anniversary of their highly credited album Chroma came to our shores one last time for fans to bask in the celebrations, as well as newer tracks as well. The band has for the most part not been a huge mainstay in this country, but credit where credit is due, the band have built a legacy for themselves and it showed in the crowd's reaction today.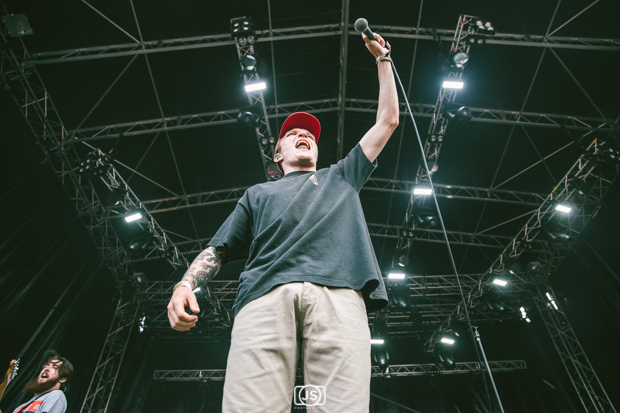 Probably the one of a handful of, the band who have come out of nowhere to reach success in such a short space of time is Neck Deep, who much like their peers in You Me At Six who in quite a relatively short amount of time rose to success, there aren't many bands who in this scene to name of who are todays bill that have received the reaction to their music. They arrive onto the main stage to playback of a recording mocking themselves, which has optimised the band's music, and success, causing many people to take one side or another it seems, but in the face of adversity they have been able to carve out a nice place for themselves within the UK music scene. Although they obviously have a talent for engaging with their audiences, and have a rabid fan base, there is little that can arguably be said for the band's sound, which falls flat on its face, for lack of better words. The vocals are indescribable, and do not relate to anything of a melody, or anything pleasing to this attendees ears, something which I have noticed again and again from recordings, and fail to besides the catchiness of their music, to see the appeal.
Back at the Impericon stage, Stick To Your Guns are giving it all, and receiving the same back from their audience. This band who have prided themselves on being nothing but honest to the listener in what they say, and that cannot be anymore truer in their latest album, which is a juggernaut of pummeling attack from Jesse's vocals, who has written some of his most inspiring lyrics to date, and their performance today resonates that fact.
Arguably for this attendee, one of the most interesting English acts on the bill is Lower Than Atlantis, whose success has not come easily, but their latest offering has solidified the band as a mainstay, and at that, a very diverse act. Before last year, and the album that I myself, and fans were awaiting, the band had found themselves in quite paradigm, and a funk that they could have been doomed to have stayed in had they not broke free of their shell. Because of that, they are better than ever for it, with a repertoire of music that boasts sounds of an array of genres, with songs like 'Criminal', and 'Ain't No Friend Of Mine', thus making them rightly so one of the many interesting acts of the day.
Today is another special day, and that is because Bayside are appearing on the Macbeth stage, who are a band that are much celebrated for Anthony's crooner style vocals, and his heart on his sleeve portrayal in his lyric writing. How Anthony professes himself in song is nothing short of brilliant, and as his voice carries the songs with backbone on the band peddling the engine of ingenuity, they can't be faulted in my eyes. The bands have never always received credit where credit is due ironically, who for a band like any other who are appearing across the many stages, they still have seen their music blossom as such as we have seen with band's like Neck Deep. This is not reason the band are here today, they are a humble band, and maybe so that their music is not easily digestible, for their arguably poppy sensibilities are not so obvious compared to other bands, but Bayside are loud and proud about who they are.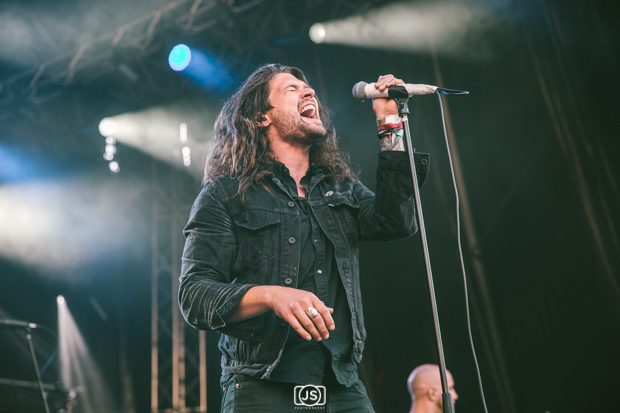 As they day begins to come to a close the crowd surround the main stage grows bigger, as the moment that Taking Back Sunday are due to take to the stage, the anticipations grows louder. The band have been a staple of the alternative genre, and a once moderately classed 'Emo' band, a tag that for better or worse, like much of the music that is classified in this genre by critics and non-fans, but nevertheless the band has grown, and though it has witness its fair share of set backs from line up changes, to albums that saw them under achieving at their potential arguably? But now have come back in the last four years invigorated and the formula that was tried and tested when the band were first conceived has stayed true. Bringing out the hits, as well as new tracks like the ill-fated past of singer Adam's life, featured in 'Better Homes and Gardens' which is an interesting track for sure. The band brings its show to an end with a rapturous end with 'Make Damn Sure'.
The last two headliners of the day, who the first of which have come full circle with this festival. You Me At Six, who have been a prominent band in the English music scene, and spurred on by Ben of Slam Dunk Records, which helped the band greatly in the early days. Opening their set with an unlikely opener, 'The Truth Is A Terrible Thing', from Take Off Your Colours, which gets the crowd in a mad frenzy from the get-go. The band as the set goes on trail blaze through some more classics off said album a, as well some more notable staple hits from their back and current catalogue, all the while creating the same reaction. The only thing that could was a negative, was the sombre mood of 'Always Attract', which wasn't helped by the lack of interaction of the crowd, who for a packed out audience didn't help the atmosphere during this slow number. All in all the band culminated the day in the best way possible, and brought what was arguably, and hopefully the Slam Dunk Festival that is here to stay.
Finally, back over at the Macbeth stage we have The Wonder Years, another prominent act in the pop punk scene of the last 8 years, rising to prominence with their much favoured heart on your sleeve lyrics by singer Soupy, which the crowd tonight latching on to every word. The band keep the energy up even at this time of the night, which for this crowd is an achievement, but music is that feeling that invigorates you with new life whenever you listen to it. The band performed a mixture of classics such as 'Local Man Ruins Everything' which when announced by Soupy after he expressed his gratitude to the festival and the crowd erupted, and this proceeded through duration of audiences' reaction throughout the set.
Joe Sheridan