Isle Of Wight Festival 2015 – Live Review
aaamusic | On 18, Jun 2015
Saturday13th-Sunday14th June, Isle Of Wight
This weekend saw Seaclose Park once again open its arms to thousands of festival-goers. Being celebrated across the colourfully-decorated fields was the 45th anniversary of Hendrix blessing the main stage.
The Isle of Wight Festival was the perfect balance between oversized and cramped, with a very eclectic mix of music-lover (the great result of hosting such a variety of acts). There were quirky touches that made the festival a little different: early morning yoga, outdoor wooden saunas and a bar in a tree, to name but a few.
The festival was spread over a fairly small area, with only a bunch of stages. My time was largely split between Jack Daniels' 'Jack Rocks' tent and the main stage. 'Jack Rocks' oozed the character of everything quintessentially Jack Daniels. Both visually and atmospherically dark and mysterious, the laid back atmosphere suited the styles of music being blared out, to a tee. The cozy marquee, with Jack Daniels' bottle-shaped lights and beaten chesterfields, housed a ridiculously high level of talent, from new rock acts.
The first act I saw in 'Jack Rocks', Slydigs, set the tone for what was to come: pure, unadulterated rock, no sugar-coated pop-rock in sight (or within hearing, at least). The band owned their short, allocated slot, with charismatic riffs and dramatic drums. Though I saw many-a-great performance in this tent over the weekend, there were three acts that really stood out: Storms, Findlay and (unsurprisingly) Dave McCabe & The Ramifications. Storms completely owned the stage, with their slightly psychedelic vibe, moaning guitar and throaty vocals. This band was definitely reminiscent of the great bands of the 90s; Nirvana were at the forefront of my mind whilst they dramatically rocked out.
Hype is starting to build around Findlay, with a couple of recent gigs of hers being the support for Brandon Flowers. There is something The Gossip-esque about Findlay's vocals; a lot of power coming out of one girl! Saturday night saw Dave McCabe & The Ramifications headline the tent, or Dave & The Death Eaters, if you will. The band entered the stage wearing geometric masks and long black capes. There's something very futuristic about the band's music, with sound effects that did lead me to question where Ross Gellar's keyboard was. There was still a very strong musical atmosphere, with meaty guitar sections, neat harmonies and earworm choruses.
I popped across to the 'Big Top' tent in time to catch up-and-coming Sunset Sons deliver Medicine. A little culture-shock post the rocky-atmosphere within the 'Jack Rocks' (plastic) walls. Williams's seductive Kings Of Leon-esque tone not-so-subtly screams 'chart success', as do their perfectly constructed, catchy melodies.
Saturday's main stage had an impressive line-up. Highlights in the afternoon included sunning myself in welcome-sunshine, as Jessie Ware perfectly demonstrated her synthy, RnB style, (her vocals boldly strutting around the stage). Ware's guitarist was brilliant and bought an extra-electricity to the set. Say You Love Me was flawless live: her instrumentals sweeping and swaying alongside her sultry tones.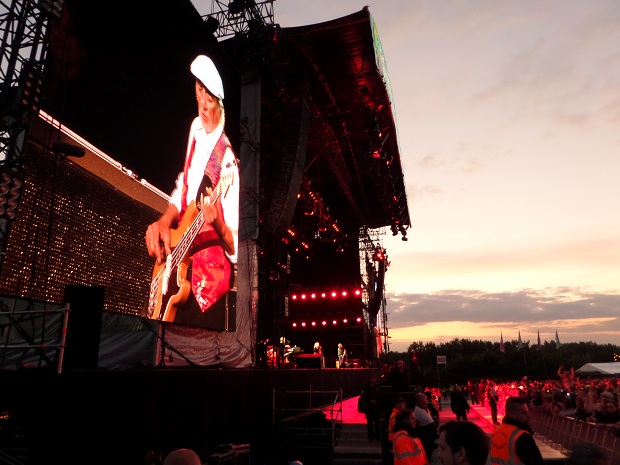 Early evening, Pharrell took to the stage; it was pretty hard to miss his current affiliations with Adidas as his crew of female dancers pranced around to his hits, head to toe in sports-gear. Though enjoyable for the series of hits he pumped out, I'm unsure as to whether his performance would have been as strong without the enjoyable familiarity of these tracks.
As for the guy and guitar combos on the mainstage: if you'd told me in a metaphorical musical boxing ring, Paolo Nutini would have come out strong against James Bay, I'd have been surprised. Undoubtedly, James Bay has a charm and he sure can play guitar. His hits played out to welcome ears and the background murmurs of the crowd added to the atmosphere during slower tracks, such as moody 'Scars'. Paolo Nutini, however, performed with an unmissable, raw passion and vitality; his execution of political Iron Sky was one of my highlights of the weekend. The years he now has under his belt were obvious in his very confident performance.
Saturday night saw a particularly hyperactive and mischievous Damon Albarn and company grace the stage. They played all the classic Blur the crowd were eagerly anticipating and songs from their latest album, The Magic Whip. Blur's performance couldn't be dismissed as anything other than incredible: they have that very rare exuberance and electricity. The feedback from the crowd, lighting effects and volume pushed their performance to crazy heights. As they sang the iconic chorus to 'Tender', the crowd screamed back they were 'Waiting For That Feeling'. No waiting needed: I'm pretty sure they were getting it.
Sunday saw First Aid Kit take to the stage. The Swedish sisters' music is organic and authentic, with folk-inspired melodies and sweet harmonies. Listening to their vocals during parts of their performance, it's amazing how far they are from the Southern roots their sound evokes. Their set was charismatic and their incredible musical synch could surely be mainly attributable to their being related.
Defying fears caused by earlier cancellations of shows recently, Fleetwood Mac hit the stage with a mesmerising bang Sunday night. With Christine McVie on board, the band churned out hit after hit, starting with iconic 'The Chain'. Their set was surreal to behold: every bit as impressive and dream-like as I had envisaged. Buckingham played at one with his guitar: some of the most impressive live guitar I've ever seen, as Stevie Nicks floated around the stage head-to-toe in flowing black. I can't imagine a better way for the festival to have wrapped up.
I'm off to wallow in Fleetwood Mac and Blur… and then find out a little more about all the new gems I unearthed in the 'Jack Rocks' tent.
Janey Stride