Primavera Sound 2015 – Live Review
aaamusic | On 18, Jun 2015
Thursday 28th-Saturday 30th May, Spain
To craft the ideal festival setting there are a few factors which can contribute to the success and enjoyment of said event. Sunny warm weather (no wellington boots necessary), a beautiful metropolis as the backdrop (on the coastline), moonlight performances and some of the best alternative musical acts on globe all in one location. PS 2015 met all those requirements over a jam-packed three days.
Thursday
Panda Bear is the first act to initiate PS 2015 in the Auditori Rockdelux, a venue which houses roughly 3500 bodies and counting. Supplementary tickets sold out the place is buzzing with anticipation and each minute has been worth the wait, as lights are dimmed and pained yells under laid by boding chimes rings out. The set is played out against a backdrop of subliminal imagery synchronised to each beat and bleep; pulling you into a trance as the screen morphs from vivid colours to contorted faces to animals. Noah Benjamin Lennox's intergalactic plangency is tranquil and absorbing, incorporating an eclectic mix of sounds including birds and southern Asian influences which are cut, clashed and interloped with loud vibrating hums. Strolling pass Garden City Movement at the H&M Pro stage, they are a welcomed discovery performing chilled out, funky electronic grooves a transcendent accompaniment to the Barcelona breeze. Whilst Mineral's post-punk and long floppy hairstyles conjure up nostalgic memories of your teenage days, dipping into heavier instrumentation at the bridge, but adding a lighter touch with their lovelorn lyricism.
The consecutive act on the Pitchfork stage could not be any further from the group's emo genre, evident from increased density of Odd Future T-shirts in the  crowd and of course Tyler, The Creator's entrance hyping up the assembly immediately with 'Deathcamp' from his latest LP Cherry Bomb. Selecting tracks from a plethora of material: Goblin, Wolf and Odd Future mix tapes it is a set bustling with some of his most popular numbers; exaggerating and spitting on 'IFHY' fervently, whilst the bass line out of hell and most controversial line about "stabbing Bruno Mars in the oesophagus" courtesy of 'Yonkers' and 'Tamale's jungle/ Indian rhythms sends the audience into a flurry. There is no attics just pure showmanship; with the crowd in the palm of his hand he engages them with ample conversation. The only downside being the use of backing records from a dj, instead of a live band. Later heavy reverberations of a single chord vibrates through every molecule and membrane in your body, as Sunn O))) dressed in all black cloaks assimilate the dark lords of the metal abyss that they are. If the world was to end and the skies to fall, this twenty minute segment would be the sound track to the cataclysmic event. Arriving just a few minutes after James Blake set has started, the opportunity to get to the front is impossible. This is truly the biggest mass of people I have ever seen him play to, and it just establishes his growth and stronghold in the left field. Nevertheless the show is still captivating, as Blake modifies compositions fully encompassing the concept of a live performance in the form of 'I Never Learnt to Share's altered outro, 'Limit to Your Love', and his vocals as soulful as ever. He plays a moving even more slowed down arrangement and morphs 'Life Round Here' glacial hip hop rhythms with police sirens eventually closing the set with heartbreaking 'The Wilhelm Scream'.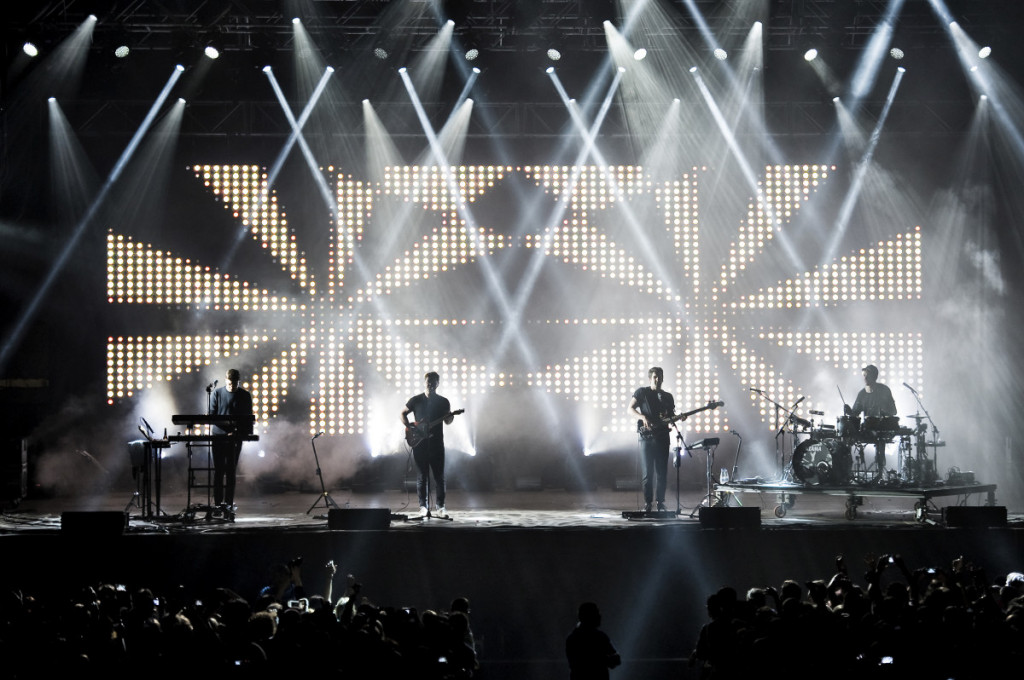 Friday
Gladly beginning my second day again in the auditorium José González, is this afternoon's delight serenading the audience with his saccharine and delicate acoustics with his four piece multi-instrumentalist band consisting of bongos, and tambourines. Each musical note sonically fills the amphitheatre casting a sombre but bewitching ambience, as 'With the Ink of a Ghost' is organic folk made up of coy lullabies, harmonised vocalisations and lucid guitar picking. An interpretation of Massive Attack's 'Teardrop' enraptures the crowd, as the crescendo reaches the chorus and inflections of the xylophone on 'Heartbeats' is celestial. But the climax comes in the form of 'Killing for Love' as the finale, the Latin flavours emulates the fiery and passionate nature of the lyrics, as every word is sung steadfast and concrete by González, snares a deserved standing applause to what has been a sincerely exceptional display. Mike Hadreas' alias Perfume Genius smooth electronic melodies, sync in harmony with his loose hips as he gets down winding his hips from side to side in a sultry motion. He pushes his vocal chords to furthest boundaries, his falsettos faultless and is able to switch between tentative, minimal and straight to the point altos with more portentous pieces which evoke an emotional rise. Hadreas is a talented powerhouse presenting his piano skills in addition.  His alternative pop is just as endearing, as his modesty being almost besieged by the turnout. Sleater Kinney's bad ass riot grrrl rock is ballsy and gritty; gnarly guitars and fuzzy bass bars is the back drop to Corin Tucker's husky vocals and undeniably cool hooks. They delve through their back catalogue of LPs such as Dig Me Out and new material from No Cities To Love. Though the number of female alt-artists still pertains to be low and bouts of sexism in the music industry still exist, simply watching Sleater punk out in heels singularly challenges those fixed ideologies and any group of X&Y chromosomes.
Computerised drum beats are intersected with live percussion, as California duo Shabazz Palaces mashes up laid back hip hop cadence with mellowed out tropical jungle samples. "Come and get down with me electro funk" Aerial Pink, exclaims strutting out in a sky blue silky cat suit channelling a dishevelled 70s vixen, as his warped interpretation of glam rock spliced with anodic components blares out. Interesting is an understatement. 'Getting High in the Morning' condones ludicrous diva fashions, at this point which leaves me in a state of confusion by Pink and I'm not quite sure if I love or hate this parade (although I think it's safe to compare him to a jar of Marmite). Having reached headlining status Alt-J takes over the Heineken platform; a far cry from what they first thought was previously an afternoon line-up in a small tent, as stated by Joe Newman in the press conference I attend earlier in the afternoon. Additionally grounded and honest he expresses affirmations of not "feeling like a headline band", contemplations I've had myself. Yet watching them on this scale, demolishes those afterthoughts they are confident and their instrumentals are as tight as ever throughout, the massive drop of 'Fitzpleasure' booms, whilst 'Dissolve Me' is a joyous occasion as the group and assembly both harmonise together on the vocals. All surrounding 'Blood Flood' is serene and  it's melodious delicacies flourish and the group ceases with 'Breezeblocks' a testament to the magnitude of An Awesome Wave. Last act of the early hours is Australian band Movement, their music cathodic melancholy.  The frontman's ardent strain reminds me of Sam Smith's, but one with a more unorthodox edge with the extra addition of synths.  They perform a cover of Drake's 'We're Going Home', which seems to hit you harder to the core than the original, as he croons with every part of his being.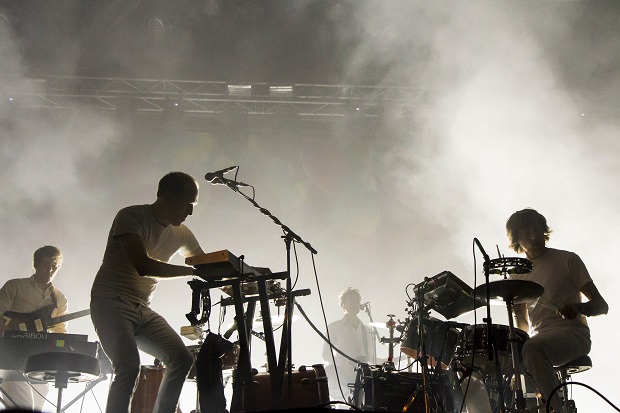 Saturday
As the last official day of the festival no tickets are needed for Patti Smith's gig, just queuing power. The indie legend having performed the previous day, presents an acoustic arrangement of Horses to a once again fully packed out hall. Dishevelled but with a touch of elegance Patti exudes a gratuitous energy which draws you in, with mysticism dedicating the first song in remembrance for the feast day of Joan of Arc. As well as taking time to commemorate other significant female figures that have passed, as she sings 'This Is The Girl' for Amy Winehouse too. It is a sweet ode to the lost talents, who left this conscious plane too early. She's very open on stage sharing stories from her inner mind and personal life, happily announcing the news of her new grandson Frederic leading her to a rendition of John Lennon's 'Beautiful Boy', the acoustic guitar compliments the fragile nature of the song eloquently. As with live music you must always expect the unexpected, as Lou Reed's 'Perfect Day' is included in the set list. Smith begins to sing, but as the band plays she utters "what the fuck…I've forgotten the words", handling this in the most professional fashion it's humorous and brash, she apologises to Reed for messing up the song, finally reciting the correct lyrics as they should have been at the end. Smith concludes on 'People Have the Power', she turns the auditorium into a musical commune, as people leave their seats to gather at the altar of Patti Smith, it is poignant and invigorating. She stands eye to eye with the audience chanting together we all become one.  She even invites up a fan to take her guitar to play, so she can bask in this astronomic moment with the crowd where everything just connects as it should, a tribute to the true powers of music.
ATP's stage plays host to Fucked Up the hardcore band from Toronto, Canada. With 4 guitars, 1 bass, 1 drum set, keyboards and synth they are really here to appropriate their name; as the rumbling chords build anticipation, Mr. Damian and co don't hold back.  Screaming in to the microphone with intent and tenacity, he is in his own world as he fails his arms about and every once in a while getting that signature crazed look in his eye, serving the punk ethos and attitude on a shattered plate. His stage period does not last for long, as the raw inhibitions brings him straight down to the swarm at the barrier where he stays for the majority of the performance, feeding off the enigmatic aura of the horde. Pulsating it is rouses a mosh pit, he soaks up the whole experience repetitively telling the audience how much he loves Barcelona's punk scene after 'Queen of Hearts'.
The Strokes are fashionably late arriving about 15 minutes after schedule. It is a fully indulgent play list crammed with timeless songs such as 'Last Nite', 'Someday' and 'Reptilia' they know what the congregation have come for. Each song is executed with little to no flaws, in the nonchalant manner and understated coolness they have always exuded. Each member does their part; guitarists Nick Valensi and Albert Hammond Jr representing why they were and still are some of the most skilful players in the game as each individual solo is handled with ease. Despite the fact that they play tautly, it feels at times that you could just be listening to the albums and I leave feeling deflated, as the lack of stage presence is disappointing, yet I do wonder whether this is part of their grandeur.
However the California punks Thee Oh Sees, reinvigorate me with their lively show as two drummers face off, drumming in synchronisation to tracks such as the animated surfer-rockabilly sounds of 'Toe Cutter/ Thumb Buster'. Officially the last musical live act of the weekend, the Ray-Ban stage is completely rammed for Caribou, as each festival goer tries to savour the last couple of hours to what has been a tremendous three days of being musically spoilt. Dan Snaith animates LPs Swim and Our Love, as each aspect of his material is animated by his full live band. Euphoric, majestic and imposing as computerised pulsations soar and engulfs the festival in a sea of blinding lights. The last two songs 'Our Love' and 'Sun' are the forerunners of dawn, as the ascension sends the mass of bodies into a rapture it is a worthy climax to end an astonishing Primavera Sound 2015.
Lois Browne