The Gaslamp Killer To Debut Live Show In London This Thursday!
aaamusic | On 23, Jun 2015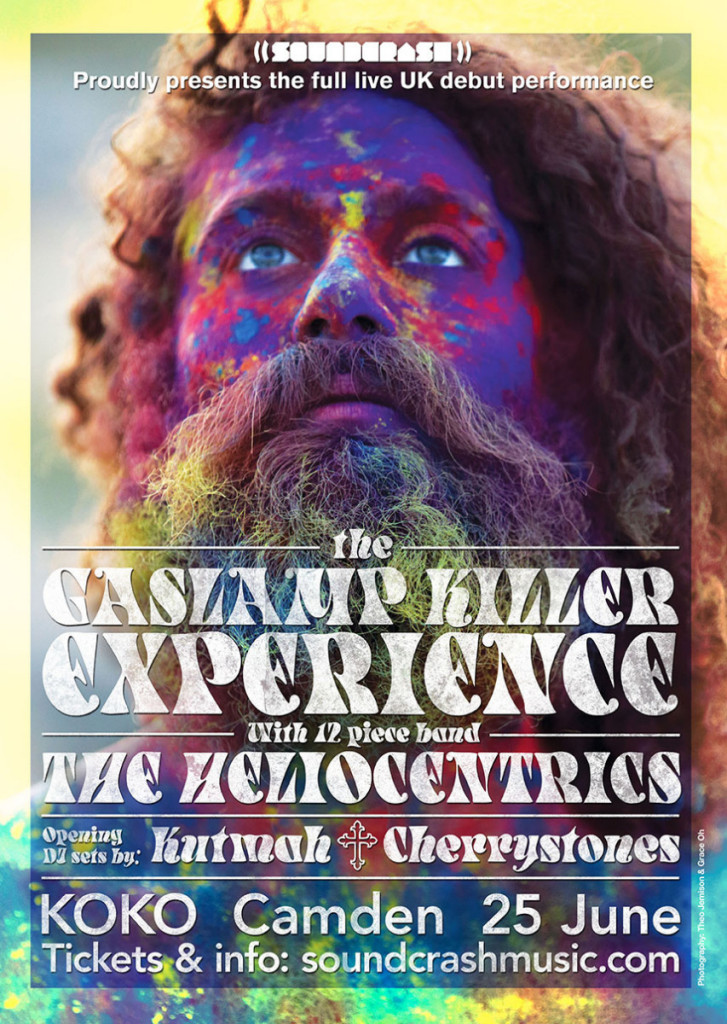 The Gaslamp Killer Experience with The Heliocentrics
KOKO
Tickets: £17.50; 22.50
Times: 19:00
For the first time in the UK, the indefinable musical madman that is The Gaslamp Killer brings his unique Gaslamp Killer Experience to KOKO for a whole new trip.
In November 2013, just months after a near fatal scooter accident, the monumental LA producer The Gaslamp Killer, decided to eschew doctors orders and lead a band of the finest musicians to grace LA, recording a live album in the process. Still sans-spleen, with the album dropping in April, and following on from their reunification at 'Coachella', we are now extremely proud to announce The Gaslamp Killer Experience, full live debut UK performance at KOKO on 25th June 2015.
William Benjamin Bensussen, better known by his stage name The Gaslamp Killer, is an alternative hip hop producer and DJ based in Los Angeles, California. One ofBrainfeeder's most important acts and a resident at scene-defining night Low End Theory, GLK has been breaking the boundaries with his mix of acid rock, filthy hip-hop drums, celestial Turkish strings, and psychedelic turntablism, since his debut album 'Breakthrough' in 2012. Known for his wild, innovating live shows, this maverick performer is a must see. Before that, GLK create the beats behindGonjasufi, eagerly snapped up by Warp Records for 2009's A Sufi and a Killer LP.
Unearthed for the first time at the historic Mayan Theatre in Los Angeles on November 7, 2013, The Gaslamp Killer Experience is a live collaboration between the world-renowned artist and an incredible band of musicians. Original productions by GLK are lit from within by a lush cast of instrumental talent: brazen horns, wandering strings and wild percussion.
After remixing their album '13 Degrees of Reality' to great acclaim in 2013, for his London performance GLK will backed by Now Again and Stones Throw favouritesThe Heliocentrics. This London based collective have worked with the likes of  DJ Shadow, Mulatu Astake, Madlib, Dr Lloyd Miller, The Hypnotic Brass Ensemble, and most recently Orlando Julius. Notoriously hard to pigeonhole, The Heliocentrics are led by drummer Malcolm Catto and the band straddles hip-hop, funk, modern creative jazz, psychedelic electronica, and world sounds.
Providing extra special support sets on the decks are none other than Kutmah andCherrystones! Kutmah – who runs his own IZWID label and has also released music on Technicolour – is an LA-beat scene alumni now residing in London. Long time friends with Gaslamp, Kutmah's genre-hopping sets are in demand the world over. It's no wonder he was hand-picked by Flying Lotus for his European Tour. Gareth Goddard AKA Cherrystones, knows a thing or two about psychedelic drum-heavy music. Sometime producer on cult label Twisted Nerve, Cherrystones' mixtapes are revered by many and his NTS Radio shows are peppered with Krautrock, Electronica and eastern sounds! Cherrystones also makes his Soundcrash debut at this show.
The indefinable musical madman that is The Gaslamp Killer brings his unique Experience to KOKO for one night only. Do not miss.