Citadel Festival 2015 – Live Review
aaamusic | On 23, Jul 2015
Sunday 19th July, London
It was a heavy weekend for Victoria Park: Mile End's green hub saw a lavish Lovebox Saturday and a slightly calmer Citadel on Sunday. That must have been some overnight clear-up as the park was impressively spick and span. Citadel was petite as festivals go (though perhaps more expectedly so in London); it was really easy to go between the three stages: Soundcrash, Main Stage and Communion's stage. There were a couple of times I needed to dash from one to the other and it wasn't the usual half-marathon sprint (especially good considering the temperature was Sub-Saharan, creating more dust than a student-flat).
You might have been forgiven for thinking that Urban Outfitters had sponsored the festival. From the overall look of the festival, with its quirky skate park and crowded roller disco, to the general style of the festival go-er. Though perhaps a little contradictory in light of the former, there was also a very chilled summery vibe that could have fooled you into thinking you were somewhere near a beach. Musically the line-up oozed 'summer'; it was perfectly crafted for a hot July Sunday.
Everything was pretty plain sailing on the organisation front; no horrendous bar or toilet queues. The only slight blip was a cash machine failure after waiting in line for 30 minutes. To be honest though… what kind of idiot forgets to take cash to a festival? (Me).
First up for me was Soundcrash, where I saw Andreya Triana. The Soundcrash tent was the very typical large, dark marquee that I'm so fond of. I was looking forward to seeing her as several people I know have really raved about her. She's one of those queens of collab, having done so with the likes of Bonobo and Mr Scruff. Her set began with what I felt was a clever demonstration of her powerful pipes: 'It's Not Over'. She then went into 'Paperwalls' which had more sass, with a vocal loop creating a funky beat. I feel like I've been in danger of OD-ing on solo female singers recently but Andreya Triana is unique: there's musical legitimacy to her sound, with a generous helping of soul.
From the circus marquee I headed all of about 100 metres to the Communion stage. I'm a big fan of Communion and so was excited to see several favourites. I got to the stage to Honeyblood rocking out. Honeyblood's sound is grungy and packed with 90s attitude. There's a little PJ Harvey in their style, with their energetic guitars and a whole lot of drum action. Though far from the chilled vibes resonating from most of the day's acts, there was still something really summery and anthemic about several tracks: real roof-down, sun's-out music.
I hung around the Communion stage as Rhodes was next up. Having seen Rhodes several months back at Village Underground, I knew I was in for a treat. There's no disparity between Rhodes' music and lyrics: everything is perfectly connected. There was definitely an element of Coldplay to some of the guitar in certain tracks; as with the name: 'Rhodes', you could also be confused, musically, as to whether Rhodes was a band or singer/songwriter. Other highlights on the Communion stage included the musically playful and brass-heavy Nathaniel Ratecliff & The Night Sweats and old-school soul-singer Leon Bridges.
I couldn't believe my luck in Roots Manuva blessing the Soundcrash stage: he's hip-hop royalty. His performance was definitely one of the day's highlights. His sound absolutely oozes summer in every sense. 'Stolen Youth' surreally drifted out across the tent in the most eerie and mesmerising of ways. Almost the polar opposite: the light-heartedness of 'Witness The Fitness' bounced out to the crowd as everyone jumped in unison.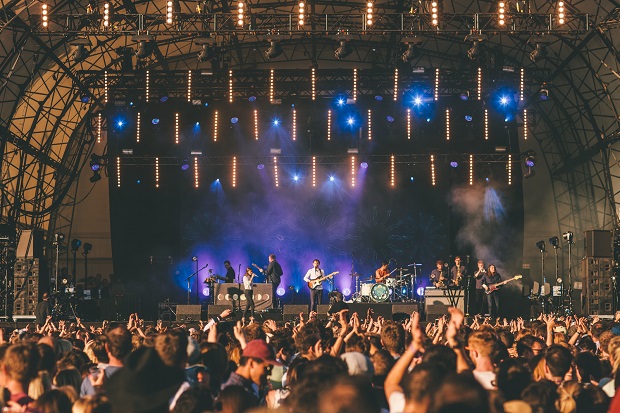 If anyone should have been playing the main-stage as the sun set over East London, it was Bombay Bicycle Club. Ever-atmospheric, BBC were positively awesome. Their moving graphics are always fun and fit the kaleidoscopic feel of their music just right. There's 100% more life in their sets than there is in their recorded music and their harmonising vocals fit their instrumentals like jigsaw puzzle pieces slotting together. India-influenced 'Feel' was electric and got everyone dancing like crazy (and screaming along significantly out of tune). Their set ended with yellow and orange ribbons exploding from the stage and engulfing the crowd: great fun (just like them).
The last two gems of the day were Ben Howard and Nick Mulvey. Though seemingly stylistically comparable, there really is very little similarity between them.
Nick Mulvey really shot to fame, his debut album First Mind being nominated for the Mercury Prize. Mulvey has a really interesting musical background: he studied music in Havana and was a former member of Jazz ensemble Portico Quartet. Though he has moved onto a different genre, you can definitely tell that he has a rich musical heritage as he performs. There's a really therapeutic, mesmerising rhythm to a lot of his tracks. I found myself completely involuntarily swaying to 'Fever To The Form'.
Always a pleasure: Ben Howard took to the stage as the last of the sun went down. Ever-evolving, Howard now has such a strong sense of his own musical style. With little audience-engagement, there was a particularly relaxed atmosphere on-stage as he performed mainly songs from his latest album I Forget Where We Were. Though part of me pined for the older, more upbeat tracks from Every Kingdom, I do respect the clear determination from Howard in focusing on the less-mainstream path he's on. His vocal warmth (and depth) and guitar were on absolute point.
I have watched festival line-ups like a hawk this year and Citadel was hands-down my favourite. There was such a refreshing theme in its choice of acts and I really feel that even though only one year-old, its strong sense of identity will put it on the festival map for years to come.
Janey Stride