A CHAT WITH: MAXIMO PARK
aaamusic | On 29, Sep 2015

Cast your mind back a few months to when the Conservative Party's victory in the UK general election had been all but confirmed. Sat in a pub in Southwark are four men. One of them is a journalist who has just spent the night frantically covering the election, while the others are members of a band just coming up to the ten-year mark. As Ed Miliband's disappointed face looms over them, the words of resignation filling the air, there remains a sense of optimism in the air as Paul Smith, Lukas Wooller and Duncan Lloyd of Maximo Park prepare to celebrate a decade since the release of A Certain Trigger.
A whole host of shows across the country are planned, and there are plenty of old demos being dug out of attics to be remastered and given a second chance to bring smiles to the faces of fans. The discussion inevitably begins with Paul Smith describing the last ten years: "It feels like we've created a body of work and done 5 albums and we're still playing to a fair number of people when we play live, so in many ways it feels like time has passed and we've spent it well.
"But we play those songs quite a lot still and we haven't really left the passion, urgency or romanticism of that [first] record behind."
The realisation that they have indeed been in the public eye for a decade has seen them wanting to take stock and celebrate their achievements with a few thousand people, in the form of a stream of parties. Duncan Lloyd comments on how many bands are not able to reach such a point in their careers and how being in Newcastle has been a considerable help:
"Bands are very volatile anyway. Where we are, we are in Newcastle, it's very contained. A lot of groups are very supportive of each other and because of that in a way we feel like there's this tenacity. Sometimes we might fall apart if we were somewhere else."
Lukas Wooller agrees: "Often there's external pressure for you to not do that which is really frustrating. Especially the first two records, there was no space to breathe."
By now, the band have managed to release albums off their own back and don't have to worry about label pressures any longer – something which they all agree is a positive thing.
"Somebody suddenly says 'oh no, you can't go paint that picture, you're painting this picture'," says Duncan.
There's a genuine tightness to be heard in even the early Maximo Park demos – though the quality might not be the highest, there's an almost exact feel to the polished versions that have gone out on the records. That's aside from the demo version of 'I Want You To Stay', which has a significantly more ominous sound throughout the verses in comparison to the finished version.
One of the things that the band believe has kept them so strong is that they haven't been afraid to go out and do other projects – as well as his current solo project, Paul recently combined with Peter Brewis of Field Music while Duncan has also been busy working on other projects.
"It keeps everything fresh. It's so refreshing to be in a band when you've just been by yourself for a while and vice versa," says Paul.
While there's no sign of the band slowing down any time soon it's nice to hear them reminisce about where it all began – they've come quite a long way from recording onto 4-track and 8-track tapes in Duncan and drummer Tom English's flat.
As they've listened back, Paul Smith recalls how he marvelled at hearing just how much their debut record compared to their current live performances of some of the tracks:
"When we were doing that we were listening to it and I was so excited – I was hearing keyboard stuff that I haven't heard for years. Obviously there's only the 5 of us on stage and on the records there are a few more layers."
There are few of the band's early contemporaries still performing in the upper echelons of the indie music circuit. While others such as Franz Ferdinand have moved on to trying new things (FFS) to try and keep things entertaining, Maximo Park have opted to stick to their roots and work on the development of their sounds as a whole.
This approach perhaps seems a little more obvious, yet there are few bands that have managed to survive in the spotlight for a decade without having to make a radical overhaul of their sound. The choice to re-release and remaster their first album is a slight break from the standard ploy to put out a 'Greatest Hits' album and instead allows fans to let the memories from 2005 come flooding back.
As Duncan puts it: "This is a celebration of survival but you also realise how far we've moved."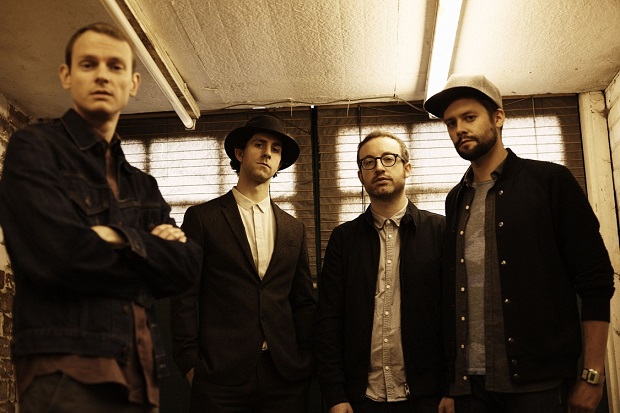 With the benefit of hindsight, it's easy to see the difference between A Certain Trigger and Too Much Information – the former sounds considerably more rough and ready while the latter is a thoroughly polished album that relies more on Wooller's synth playing than ever before.
This idea of revisiting albums seems something that the band could well continue – Paul points out that he hopes to look back on the band's latest album in 20 years' time and feel as though the world has been enhanced by their contribution in some tiny way.
Their career hasn't been without criticism, however, and they've faced the same sort of treatment as most bands – receiving praise for their early work before negative words start to come out of the woodwork.
Lukas explains: "It's funny how for us we see the progression as being quite subtle really, yet still you get people going 'loved your first two records but what were you doing after that?' I can't really hear what the problem is."
There doesn't seem to be any actual problem in the sound; the early Maximo Park charm still rings out throughout their releases, yet individuals are always going to have the direction that they believe the band should progress in firmly rooted in their head. When the reality doesn't match up exactly to their expectations, harsher words can come out despite the fact that nothing whatsoever has gone wrong and the band are still creating music in the same way they always have done.
Paul explains that while they are keen to stay true to their roots, they appreciate the need to develop in order to keep moving forwards.
"The ethos is still there but the methods that we use to get there, and sonically and lyrically, hopefully it has developed so that it's appropriate to who we are now and I think some bands don't do that. They want to stay the same and provide the same things to people in every respect – they become a tribute act to themselves."
As the sound develops, the stage show remains as lively and impressive as ever – having a frontman whose stage presence and look is well-documented means that there is a certain expectation held by fans, which Paul believes the band have to live up to if they are to provide a worthy account of themselves.
"The way that I look and act on stage, the fact that I always try to reach out to the crowd during a performance, is indicative of those same ethics and the ethos that we had when we started was to not shy away and not stand with our hands behind our backs and pretend that the audience isn't there.
"Part of me would like to just turn up in tracksuit bottoms but part of me thinks this is the band we're talking about, you've got to stay sharp, you've got to believe in it."
Before we head our separate ways, there was just enough time to ask the band about their highlights. While Lukas and Paul mull over a few individual tracks from throughout the career, Duncan identifies a particular moment which feels to him as though it was the birth of Maximo Park in the form that we now know them.
"'Going Missing' was the first song that started off the new way of writing for us. Before Paul joined it was a bit like a Latin Super Furry Animals. In a way, 'Going Missing' felt like that was where Maximo Park was born for me."
As they head off to prepare themselves for these anniversary shows, the band seem in good spirits and it feels as though they still have plenty more to give. Though there's no way of knowing exactly what lies ahead for Maximo Park, that their strong belief in sticking to the original ethos that has served them well so far suggests that they're as strong as ever.
Ciaran Steward
Maximo Park will tour Europe in November/December in celebration of the 10 year anniversary of the release of their debut album, A Certain Trigger. Click here for dates and tickets…