Citadel 2016 – Festival Review
aaamusic | On 22, Jul 2016

After a successful opening year in 2015, Citadel returned to Victoria Park.  The Great British sun was shining and we prepped ourselves for a Sunday of good food and great music.
The festival prides itself on its individuality, featuring arts and comedy, as well as a roster of outstanding musicians.  There are already countless existing London festivals, yet Citadel have tapped into a unique opportunity: a one-day Sunday festival.  Gone are the drunken folk, stumbling field to field.  Pure smiles and lots to do, made it an attractive destination for a sunny Sunday.
With three main stages and a further five to choose from, there was plenty to see.  Of the main stages, the Communion stage provided an ideal line up for me, I could have stayed there for the entire day.
BBC Sound of 2016 nominee Billie Marten caught my attention as I wandered around Citadel in search of exactly what I found. The 17-year-old folk singer from Yorkshire has a dusty but pure vocal tone, hitting every note without hesitation. Her guitar playing is striking and emotive, as if she'd been playing for 30 odd years. I got chills on multiple occasions, which felt ironic in the 26-degree heat! Surely a star in the making, she reminds me a lot of Lucy Rose. Her shy presence was endearing and captivating.
After a disappointingly long queue for the bar, I found the Big Top. Maribou State performed their largely electronic set with the help of live drums and star-of-the-show Holly Walker on vocals. I'm standing by for some solo work from her, another British female singer with heaps of potential.
Tom Misch and his band of insanely talented musicians were up next on Communion stage. Over the last year Misch's credibility has exploded. After releasing Beat Tape 1 and 2, and hitting the festival circuit last year with solo DJ sets, his live show has developed into a fully-fledged performance, with violin solos from Tobie Tripp, Alfa Mist on keys and Misch's trademark guitar improvisation. There were guest appearances from Laura Misch on sax, singer and EP collaborator Carmody, and Jordan Rakei graced the stage for their dulcet track 'Wake Up This Day'.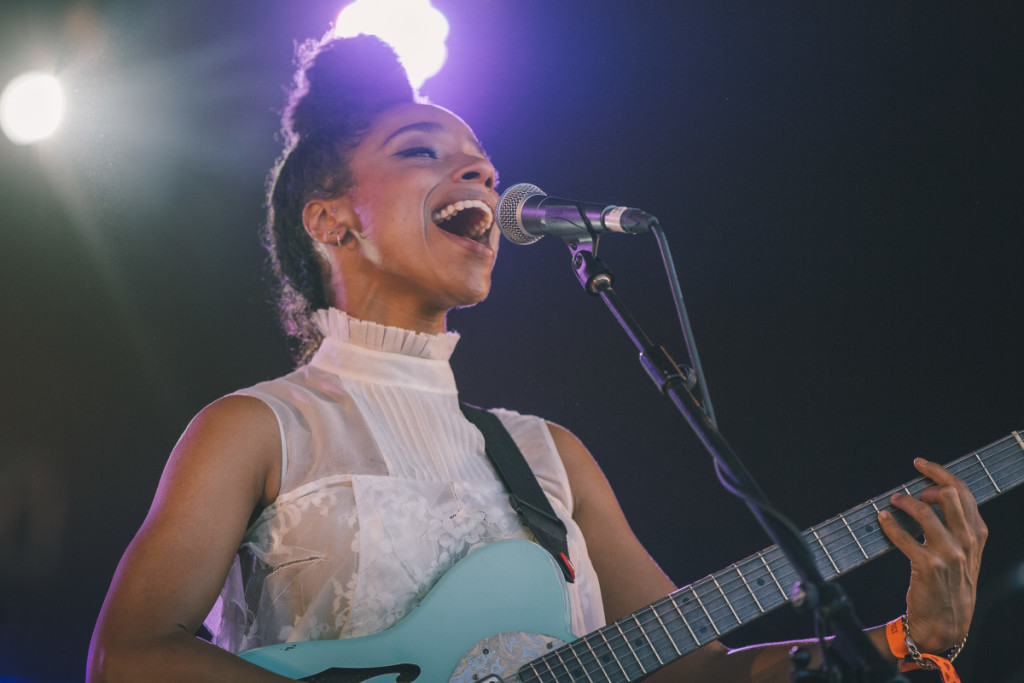 With barely enough time to queue for another drink, Matt Corby was up. This guy… Jesus. I've seen him three times this year already and would jump at the chance to see him again.  I have never heard vocal control, projection and variation like it.  I can't work out why he is not a household name yet, possibly because his debut album only came out this year, after scrapping the original version in 2014 and secluding himself for 6 months to re-write it.  Corby is a rare entity, oozing calmness and spirituality; his stage presence is so god-like.  An artist of our generation.
Back to the Big Top for some Submotion Orchestra, a band I first saw five years ago, in their birthplace, Leeds. Powerful electronic music with Ruby Wood's entrancing vocals.  Their music is a unique blend of live instrumental dubstep and soaring melodies, a style I expected to see explode with the upsurge of dance music in the mainstream scene over the last few years. It's not happened quite yet, but hold tight.
Lianne La Havas (above) was the highlight of the day for me.  Even in these tough Brexit times, she makes me proud to be British. She is an insanely charming and professional performer, making every audience member smile throughout.  Technically brilliant on guitar and vocals, tracks from her previous two albums sounded wonderful and her new material even better. Excited for new releases from her.
The day was topped off by Sigur Ros' impressive, ethereal light show.  The sound on the Main Stage was a little quiet and the audience looked ready for bed by this point, but it was a great way to sum up the festival and a weekend of sunshine.
The strangest thing about the festival was the ghostly echo of Lovebox, held on the Friday and Saturday in Victoria Park. Half of the bars were closed and some of the stages empty.  I understand Citadel is a smaller festival, but the extra bars would have been handy and it needed something specific added to contribute towards the "boutique" charm.  Overall though, a brilliant day out.  I would thoroughly recommend it for all those music and arts lovers who fancy something different from the average London piss-up.
Amy Pinnock