Taking Back Sunday – Live @ Berlin's Lido
aaamusic | On 03, Mar 2017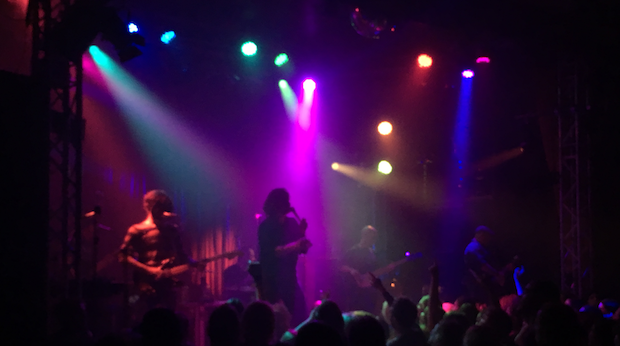 Tuesday 21st February, Berlin
When I first heard Taking Back Sunday's lead single from their latest album, the title track 'Tidal Wave', essentially a Gaslight Anthem ripoff (Taking Back Gaslight, anyone?), I was worried that the US five-piece were attempting to move away from their much-loved brand of emo that created endless copycats in early noughties. Fortunately, the rest of Tidal Wave is pretty good – perhaps their best record since Louder Now. That said, although there a few gems on each of their past four records, none of it really even gets close to the heights of their first three albums. Taking Back Sunday seem fully aware of this tonight at this sold out gig in Berlin, with the setlist is comprised predominantly of tracks released between 2002 and 2006.
Things don't start well though. When the band hit the stage to perform newbie 'Death Wolf', the sound is totally off – frontman Adam Lazzara is totally inaudible and the bass is way too low down in the mix. It's a mess, but by the time fan-favourite 'Timberwolves at New Jersey' is aired, and to the first real cheers from the stoic Berlin audience, the guitar lines are nice and clean, and the bass has been cranked up. However, Lazzara's vocals remain a bit too quiet – and, unfortunately, this is the case for most of tonight's gig.
The new cuts from Tidal Wave sounds better live than on record and feature the best dual vocal melodies between Lazzara and singer-guitarist John Nolan since the latter rejoined the band in 2010, particularly on mid-tempo banger 'You Can't Look Back'. However, it's the oldschool emo anthems from the first three records that these fans crave, and the band don't disappoint. 'A Decade Under the Influence' from album Where You Want To Be sounds huge, while the post-hardcore energy of 'Error: Operator' gets something that vaguely resembles a moshpit moving (impressive, given Tuesdays in Berlin are always sleepy). And each time a track from their classic debut is aired the place erupts like it's 2002 all over again: 'You're So Last Summer', 'You Know How I Do' (a personal favourite) and, of course, the theme tune of emo itself, 'Cute Without the 'E'', which receives a mass singalong.
Closing with 'MakeDamnSure' (questionable lyrics and all…), I couldn't help feeling that this was a sub-par TBS performance. Not just because of the poor sounds with vocals (although since the lyrics and intertwining dual vocals of Adam and John are key to the band's appeal, it definitely was a significant issue), but also because the band looked kind of tired, lacking the hunger that they usually display with on stage. Hopefully this was due to general exhaustion from being on the road, because once a band such as this starts going through the motions, things can get pretty tame pretty quickly. Emo fans aren't very forgiving – just ask Fall Out Boy. 
Clive Paris Rozario