Gabriel Garzón-Montano – Live @ Auster Club
aaamusic | On 10, Nov 2017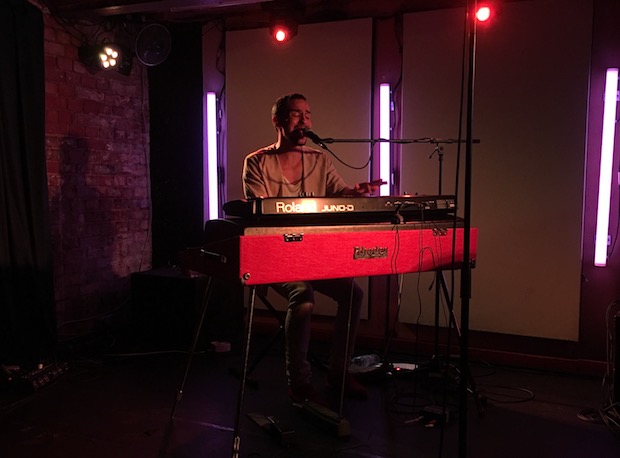 Monday 30th October, Berlin
Gabriel Garzón-Montano's Jardin is my favourite R&B record of 2017. And by a mile. Though others saw little to no progression from his 2014 debut EP Bishouné: Alma del Huila, I found additional layers of genius that are warmer and more colourful. The fact that his evolution as a singer, songwriter and producer is intentionally subtle just highlights his growing confidence as an artist. The first time I saw Gabriel was at his triumphant Jazz Café show in London at the start of the year, and whereas that show had considerable more power and energy, tonight's delicate performance at Berlin's Auster Club feels special due to the intimacy afforded by the venue.
The sound is surprisingly full for a two-man show, with just a drummer accompanying Gabriel Garzón-Montano, who handles the rest of the music and sounds with two keyboards. Despite the simple set-up, the details of his productions are clearly translated, with sumptuous lines of strings, percussive clicks and hip-hop glitches hidden behind the silky neo-soul and RnB-pop that power his sound.
Musically, Gabriel takes the sultry soul of D'Angelo, the alt-pop sheen of How To Dress Well, the melodies of Pharrell Williams, sprinkles in the occasional off-kilter hip-hop beat and, finally, adds in understated jazz and Latin flavours, drawn from his Colombian roots. In fact, these Colombian roots are more prevalent in the live environment, with Gabriel singing a few segments in Spanish, including ending on a Latin-themed acapella, and wanders down into the typically icy Berlin audience to to induce some salsa moves.
Highlights include Jardin's best tune, 'Fruitflies', the funky R&B of 'The Game', the Gospel-tinged 'Keep On Running', and the raw, piano-led ballad 'Six Eight'. Gabriel Garzón-Montano's velvet vocals remain flawless throughout, with his world-class melodies easily filling out the cosy Auster Club. There is no denying the guy's charisma – all smooth stares, infectious smiles and slinky dancing. I truly recommend catching Gabriel live when he's next in town (early next year)… he's the real deal.
Clive Paris Rozario