Pulled Apart By Horses – Live @ Hackney Arts Centre
aaamusic | On 11, May 2018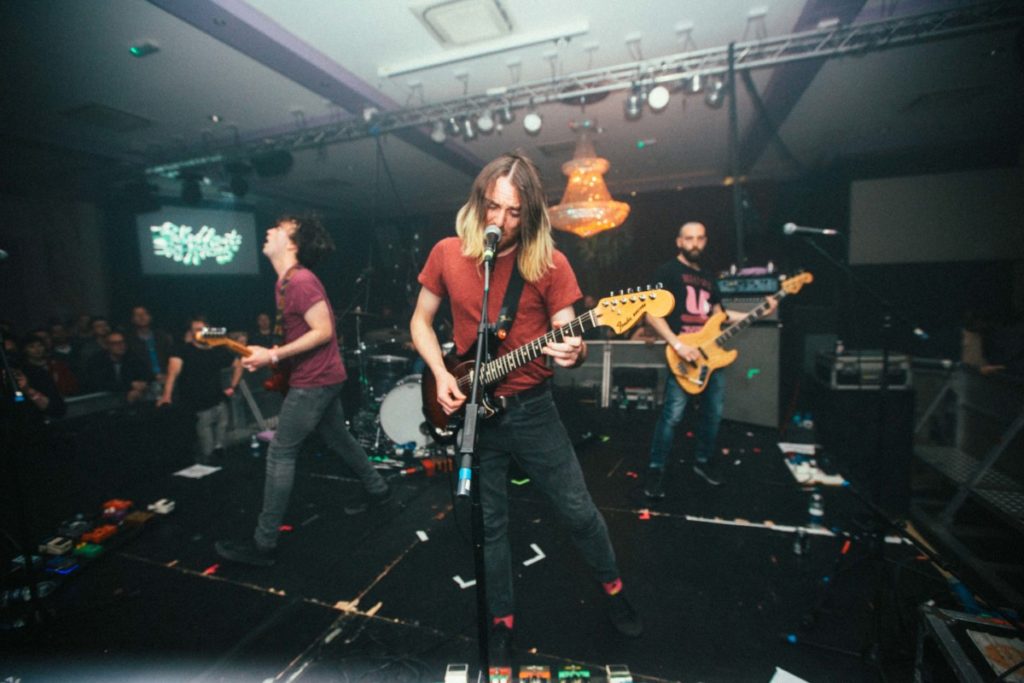 Friday 4th May, London
What never fails to surprise me about Fluffer Pit Parties is the electricity and excitement felt by fans as they surround their favourite bands in an amalgam of love, fear and sweat. Since their humble beginnings, throwing their first party back in 2015 in a warehouse in North London, Fluffer have played host to some of the most electric and raucous live sets the underground London rock scene has seen in decades. With a concept that seeks to break down the barriers between performer and observer in the form of a 360° stage, Fluffer have rapidly elevated their status and cemented themselves as perhaps one of the coolest, most raucous and seedy events around. In the past year alone, big name bands such as Deap Vally, Japandroids and Black Lips have braved Fluffer's 360° arena and having recently also announced their US Double Pit Party at SXSW in Texas featuring Metz, The Wedding Present, Idles and Starcrawler the Fluffer crew are set to bring the mayhem to the States… Brace yourselves!
Having regretfully missed Girls in Synthesis, it was Baba Naga who first grabbed my attention with an expertly delivered and transcendent performance given by the Sheffield three-piece. What mustn't go unmentioned is the masterfully curated guitars that screeched and merged into a sonic siren of psychedelic synergy. The peculiar, yet apt setting of the Hackney arts centre with its tile-clad floor, allowed the sound to reflect and spread its wings enveloping the onlookers in the band's 'euphoric, pagan gloom'. The vocals echoed and decayed far into a world beyond our own and effortlessly captured the attention of the audience as Fluffer's Gruesome and Hedonistic animations danced indifferently on screens in the background.
A moment of concern followed Baba Naga's set as a flash of light accompanied by a thunderous clap filled the room as the background music abruptly stopped. Thankfully the pause was only momentary and the music was in full swing once again as Husky Loops; a charming and fun-loving trio graced the stage with their quirky, unpredictable and hook-heavy brand of pop rock. The group's set was up tempo bringing to mind the dance sensibility of Death from Above 1979 with occasional splashes of pop samples in the form of Beyoncé's '7/11' and Ed Sheeran's 'Galway Girl'. Husky Loops' experimentalism and eclectic use of sounds brought an element of surprise to their live performance that seemed to ignite a spark in the crowd at the Hackney Arts Centre.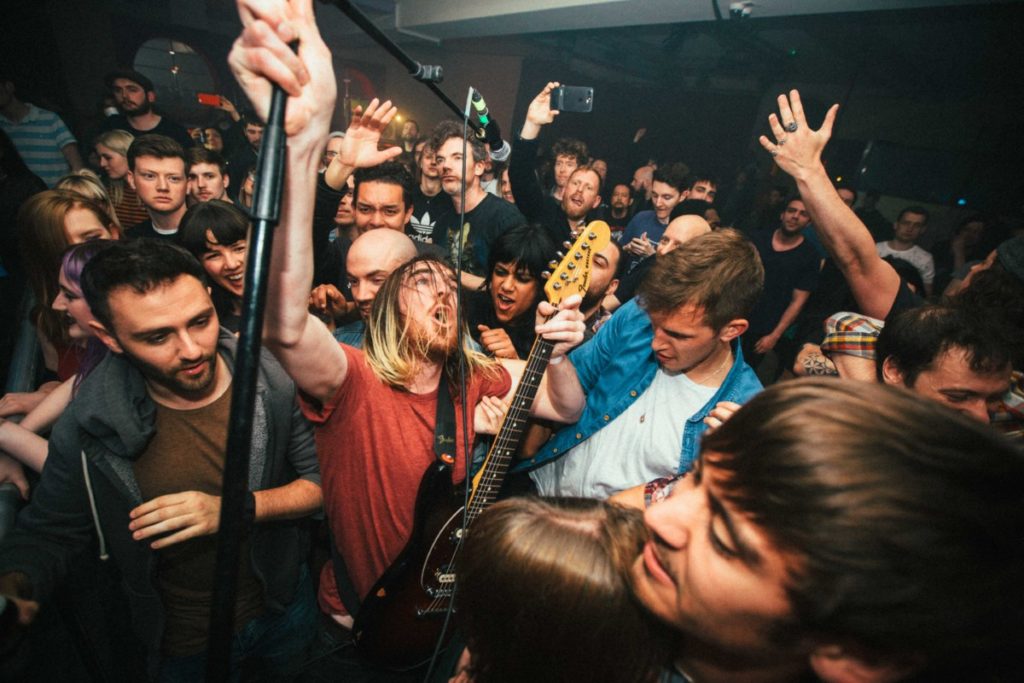 Wasting no time, the main contenders, Pulled Apart By Horses erupted into a rendition of 'The Haze', from their 2017 critically acclaimed album by the same name before leaping into 'VENOM', a clear fan favourite, with its truly enviable shard of thrash rock sensibility, without relinquishing the intensity for a moment. Strobe lights flashed as the crowd tirelessly chanted V.E.N.O.M with singer Tom Hudson, whose wall shaking vocals resonated with penetrating force.
The band seemed in their element surrounded by a sea of fans in this 360° showground. Grunge and punk rock performances in the 90s regularly saw fans climb to the stage to return with a nosedive into a sea of awe-struck onlookers, like plaid and denim sporting fallen angels touched by God. But when it comes to PABH it seems like the opposite is true, as singer Tom Hudson frequently joined the audience in their mosh pit antics, guitar in tow; seemingly unable to keep away as guitarist James Brown threw himself around the stage with a blatant disregard for health and safety.

Amidst the chaos of the moshing, crowd-surfing and thrashing in the half-naked sea of scruffy and sweat drenched men – mostly – were speckled doses of charm in the form of papier-mâché heads which floated seamlessly in and out of sight, courtesy of Fluffer – I think. Complementary beers found their way into the hands of unsuspecting fans as the band seemed adamant to ensure everyone was having a good time before launching into single, 'The Big What If'. It was a set that spanned the band's entire discography, paying homage to older favourites 'Meat Balloon' and 'Back to the Fuck Yeah' as well as songs from their most recent efforts, and culminated in a ring of rock and roll devotees racing around the 360° stage, in a circle-pit to finale 'High Five, Swan Dive, Nose Dive'.
On occasion I am wracked with fear that angst fuelled and chaotic events such as this will soon be a thing of the past as fewer and fewer people seem interested in riff heavy and bass rumbling guitar music. I often question whether rock and roll and punk – platforms for expression of teenage angst and frustration at a corrupt system, which were once at the heart of British music – have reached their bitter end? However having seen Pulled Apart By Horses in one of the most raucous settings I have seen to date, I rest assured that organisations like Fluffer Pit Parties and bands like PABH will keep the candle burning for these wilting genres
Shane O'Neill
Photos: Sam Huddleston