AAA Music Approved: Touch the Buffalo
aaamusic | On 09, Sep 2019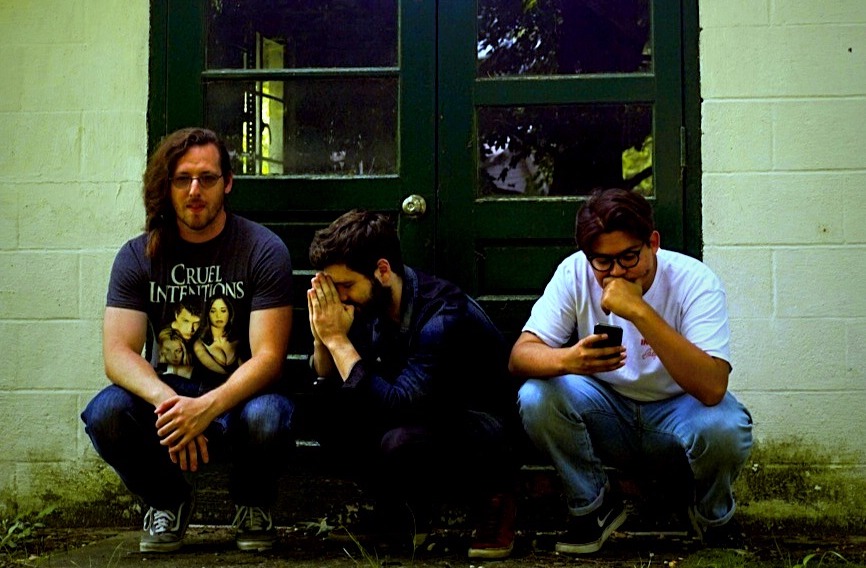 Who are you and where are you from?
We are Touch the Buffalo. Currently, we are a trio playing in the Washington D.C. metro area (but we all live just a few miles away in Virginia). What's pretty common about the DC area is that no one is actually from here. I moved to Virginia from Maine about 15 years ago. Our guitarist Tyler grew up in Oklahoma. Our drummer Jonathan is from here though.
I started Touch the Buffalo in 2017 with some friends I had made in the local music scene, from open mics, local shows, etc. We all loved a whole bunch of different types of music, but we congregated under the church of rock, and our style was really a tug of war over who had the coolest idea for each song we wrote. We were really just happy to have people to play live shows with.
We eventually brought Tyler on board as our guitarist, and he brought some really interesting new elements to our sound. He loves classic guitar riffs, and he's a gear head, so that boosted our live show production quality, as well as gave us some old school rock cred.
Jonathan was the drummer for Tyler's old band "Purple isn't 6" – so we tried him out in practice, and the kid can drum his ass off.
What inspired you to get into music?
I've always been a studious listener of music, but it wasn't until my twenties that I started to get serious about playing and writing music. It kind of started out as a self improvement thing. And then it became a "conquering your fears" kind of thing, playing and singing in front of people.
About our "genre", you know how sometimes you hear a song for the first time, and it's unlike anything you've ever heard before, and you just think "what the hell was that"? That's exactly what we're chasing. I think most of the songs we attribute that feeling to fall under some category of rock, which is probably why that's our wheel house, but we're still experimenting with new toys and sounds and techniques.
Our influences are all over the place, I love the song-writing style of My Chemical Romance. Tyler loves the youthful energy of Green Day. We are all in reverence and awe of Led Zeppelin, Nirvana, the Beatles, Queen, probably a hundred more bands. I love the vocal rasp of Rod Stewart, but also the clean and bright vocal tones of Jim Adkins from Jimmy Eat World. Tyler's guitar playing reminds me so much of the guitarist from Aerosmith. A lot of our drum tracks are in the spirit of Zeppelin's John Bonham.

What have you done?
Oof, what impact have we had? I think some people out there might be listening to our music while jogging or something, so I'll take some credit for some anonymous calories burned.
I'm proud of a lot of what we've accomplished in the two and a half years we've been a band. In 2017 we released a three track EP. In 2018 we played two festivals with some notable headliners, like Good Charlotte, Sugar Ray, Gin Blossom's, and Jimmy's Chicken Shack. We've gotten some radio airplay for our song "Sing the Bells". This year we released two singles and our first music video.
What are you like live?
Our live shows have been called epic, intense, and energetic. Tyler is an animal when it comes to shredding the guitar, jumping off stage into the crowd. I've lost my glasses while jumping during our songs at EVERY show – and I love it. And drums are such a big part of our energy, it's amazing seeing peoples bodies take over and compel them to dance.
What makes you different?
Well for starters, the rhythm guitar (or at least one of the rhythm guitars) you hear in EVERY one of our songs is actually an electric ukulele. Tonally I think it give us an edge – it gives us more of the sound spectrum to play with. Often with song writing, contrasts in sounds can be really engaging, and being able to play something dangerous and creepy on bass or guitar, but also something light and playful on the ukulele is really interesting. Or playing a creepy chord progression on a bright instrument itself can be really cool, and then you cut that up with some badass guitar line, and you get something that we really enjoy.
Long story short, I think we have a lot of elements that allow us to make something that sounds new, but is hopefully appealing to fans of all eras of rock.
Physical vs downloading vs streaming…. How do you listen to music?
We all stream everything. It's just convenient. However – I was gifted a vinyl player for Christmas a few years ago, and I could not believe how much nicer it sounded. I can absolutely see how people could just make an evening of listening to an album with friends – whereas now music is something people just have in the background. I would love it if Vinyl culture was bigger, I think people would appreciate music more.
I enjoy streaming services as a user, not as a musician. You don't really get paid, so as an artist, you need to view streams as marketing instead of revenue. However, the marketing aspect goes right out the window when you realize spotify won't even start recommending your music to other listeners until you've hit a certain number of streams.
What have you been listening to?
Jon: And the Kids, Amigo the Devil, July Talk, Mother Mother
Jonathan: Cuco, Joy Again, Chicano Batman
Tyler: Greta Van Fleet, Highly Suspect, Billie Eilish
What are your aspirations for the future?
We are releasing our first full length album on September 20th, 2019. We're in talks with some companies about some cool opportunities for distribution, radio play, and interesting gigs.
Questions answered by: Jon Johnson of Touch The Buffalo….