Best Guitarists of the 21st Century
aaamusic | On 05, May 2020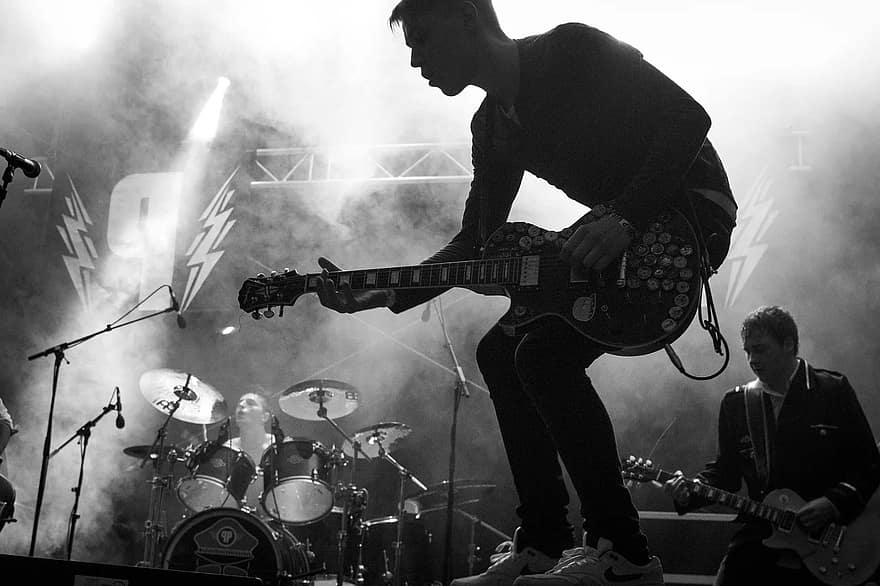 It's never easy selecting the best of anything. It's a fun thing to do, but normally all it does is create arguments. When you discuss the best singers, best movies, best actors, the best teams, etc., you draw valid, but varied opinions and really nothing more.

Here is our list of the best guitarists of today. We hope most find favor with it, but we are certain there are many who will find it way out of tune. Let us know in the comments what you think!
1. MATTHEW BELLAMY

Here we have a multi-talented musician. Matthew Bellamy of rock's Muse is also a remarkable pianist and outstanding composer. He draws his greatest applause for his guitar work and his amazing ability to blend progressive rock with electronica. He is No. 1 on our list of guitarists because of his virtuoso poise and eccentricity that has garnered two Grammy awards and helped his band sell more than 20 million albums. Bellamy probably received the greatest compliment when one of his peers called him the "Jimi Hendrix of his generation." Bellamy has garnered two British awards, winning Best British Live Act two times, five MTV Europe Music awards and eight New Musical Express awards.
2. JOHN MAYER

John Mayer's quality mixture of jazz, pop and R&B has brought him numerous awards and his fair share of hits. Mayer, a music school dropout, has been compared with such renown guitarists as Eric Clapton and Buddy Guy. He is also a songwriter, record producer and avid guitar collector. He was on the cover of Rolling Stone in February of 2007, along with guitarists Derek Trucks and John Frusciante. Music critics have put Mayer in a class above his peers. They have praised him for having a "sharp mind" and for being a "complete musician."
3. JACK WHITE

Detroit native Jack White is a multi-instrumentalist and producer who has developed a unique sound that features an uncanny element of punk and garage. He played an important role in the garage rock revival of the 2000s. Most recently he has gained popularity as the guitarist and lead singer of The White Stripes. He has been a solo artist with other bands as well. He consistently receives good reviews from critics and is called one of the busiest performers in the music industry. He has been the winner of twelve Grammys.
4. MARK TREMONTI

Mark Tremonti rose to fame as lead guitarist of the rock bands Creed and Alter Bridge. He is a record producer, songwriter and author. Tremonti helped start both Alter Bridge andnd Creed. He has also worked with many other musicians during his career. Tremonti has earned "thumbs up" recognition as a songwriter and guitarist. His awards include one Grammy for Creed's single "With Arms Wide Open." He is highly respected among his peers, being chosen by Guitar World as "Guitarist of the Year" for three straight years. in 2011, Total Guitar magazine selected Tremonti as the fourth greatest heavy metal guitarist in history.


5. JAMES BURTON

James Burton, a Louisiana native, has been around for years and he continues to tour today and do studio backup for numerous singers in country music. He was the one who came up with the "chicken pickin'" sound that was heard on early Merle Haggard, Elvis Presley and Ricky Nelson recordings. Burton also had a tremendous impact on early rock when he teamed up with the popular Nelson in the 1950s. Burton's music goes back to when he was only 14 when he wrote "Susie Q," for rockabilly Dale Hawkins. He is a member of the Rock and Roll Hall of Fame. Rolling Stone rates Burton No. 19 on its list of the 100 greatest guitarists.


6. DEREK TRUCKS

Derek Trucks is a guitarist noted as the founder of the band that carries his name. The Derek Trucks Band is a Grammy award winner and Trucks has twice been listed as one of the 100 greatest guitarists in history by Rolling Stone. Trucks says his early style of blues and rock was greatly influenced by Elmore James and Duane Allman. In recent years, he has explored various genres of music, including Latin, hard-bop jazz, gospel and Indian classical made popular by Ali Akbar Khan. Trucks stays busy touring with the Allman Brothers.
7. MIKE EINZIGER

Michael Aaron Einziger, a California native, is a guitarist, record producer and songwriter who co-founded the popular rock band, Incubus. Incubus has sold more than 23 million albums. Einziger's guitar style creates a distinguishable sound much like that heard from Frank Zappa and Jimi Hendrix. He has been dominated for a Grammy a multiplicity of times and has co-written and produced material with numerous musicians, including Damian Marley and Hans Zimmer. In 2013, Einzinger co-wrote the popular song Wake Me Up with Avicil and Aloe Blacc. He was educated at Harvard.
8. BRAD PAISLEY

Brad Douglas Paisley has sold more than 11 million albums and has has three Grammy awards under his belt. And that's not all. The Country Music Academy and the Country Music Association have collectively showered the artist with 28 awards through the years. Paisley is a member of the Grand Ole Opry in Nashville. He has had 19 of his singles make it to No. 1 ranking on the US Billboard Country Airplay chart. The West Virginia native is best known as a vocalist, but has recorded instrumental duets with Keith Urban, B.B King, Vince Gill and others.
9. DAN AUERBACH

Dan Auerbach, 40, is a record producer, singer and songwriter who is dedicated to a style of blues that has been described as "down and dirty." The Ohio native has gained fame with the Black Keys, a blues-rock group that includes drummer Patrick Carney. The Black Keys came out with eleven straight albums that impressed critics and established Auerbach as a blues revivalist. Auerbach owns a recording studio in Nashville known as the Easy Eye Sound. Artists such as Dr. John, Lana Del Ray and Cage the Elephant have made recordings at the studio. Auerbach's producing skills won him a Grammy in 2013.
10. ORIANTHI

Australian Orianthi Penny Panagar, 35, represents the female guitarists on our list. There are not many of her kind around, but she is living proof that the girls can perform just as well as the boys. She is a native Australian who initially gained notice as Carrie Underwood's guitarist. She sings and writes music and has toured with Alice Cooper's band. Orianthi had a debut single in 2009, "According to You," that was high on charts around the world. The same year, Orianthi was listed by Elle magazine as one of the 12 greatest female electric guitarists.

11. JOHN WILLIAMS

John Williams is a 78-year-old Australian classical guitarist recognized for his ensemble performances. He is also a gifted interpreter and promoter of the classical guitar genre. In 1973, he shared a Grammy award with fellow guitarist Julian Bream for the best chamber music performance. Williams has won praise from guitar historian Graham Wade who has called Williams the world's most technically skilled guitarist. Williams, exploring other genres, once created a well honored rock-classical fusion duet with rock guitarist Pete Townshend of The Who.

12. DAVID GILMOUR

David Gilmour, 74, is a celebrated English musician, producer and songwriter best known for his performing with the rock band Pink Floyd. He became the group's lead vocalist and guitarist in 1968. A master of guitar chords and shredding, Gilmour is one of the most recognizable guitarists in the world. Pink Floyd is one of the most popular and lucrative groups in music history, too. The band's record sales had reached more than 250 million globally by the year 2012. Gilmour was named to the US Rock and Roll Hall of Fame in 1996. the United Kingdom elected him to their Music Hall of Fame in 2005. He is ranked No. 14 on Rolling Stone magazine's list of the greatest guitarists in history.

13. STEVE CROPPER

Steven Lee Cropper, 78, is a guitarist, songwriter and record producer. The Missouri native is often called "The Colonel." He is the Stax Records house band's guitarist and has played back up on sessions with Carla Thomas, Otis Redding and Wilson Pickett. Rolling Stone magazine places Cropper at No. 39 on its list of the 100 greatest guitarists in history. In more recent years, he was a member of the Blues Brothers band. In his teens, Cropper had his initial hit, Last Night, with the Mar-Keys. His sound is full of soul and has been heard on numerous hits of rock and R&B artists.


Well, there it is. The list is a little heavy on the rock side, but it does have a little flavor of soul, country and classical music in it. And, the girls have not been overlooked. It was fun putting the list together, and we know you, the reader, will have just as much fun dissecting it.