AAA Music Approved: Yr Eira
aaamusic | On 17, May 2020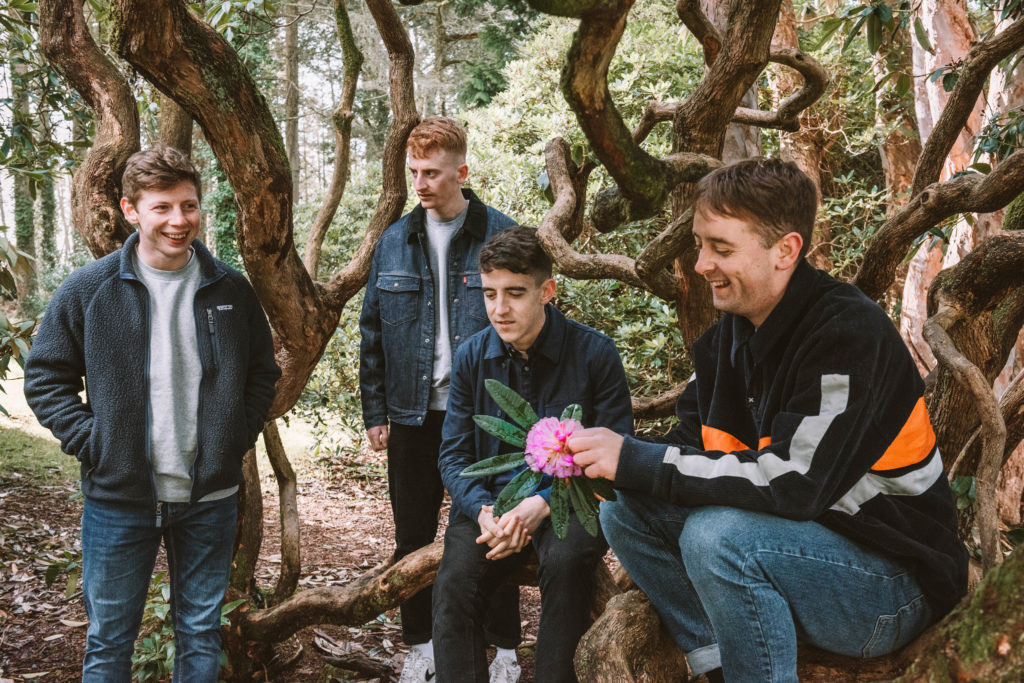 Who are you and where are you from?
We're Yr Eira, meaning The Snow in Welsh. We formed about 7 years ago in North Wales when I was in 6th grade. I was in school (in Bangor) with Trystan the bassist and I knew Ifan through a regional brass band (rock and roll I know) that we were both members of. Guto the drummer was in University with Ifan in Bangor at the time so geographically it all made sense (for a few months anyways). By now we're all spread out, with myself and Trystan living in Cardiff and Ifan and Guto are in Caernarfon and Anglesey. This can be tough at times – it would be much easier if Wales had any sort of infrastructure, or even any political say in broader matters.
What inspired you to get into music?
It was my brother that got me into music initially. He's a fair bit older than me so naturally I looked up to him. I especially remember stealing his CDs and spending hours browsing through his iTunes until eventually I figured out how to send all of the music off his computer into my own. He grew up listening to solid indie bands such as The Libertines, Radiohead, The Cribs, Yeah Yeah Yeah's etc. so I did as well.
What have you done? 
We've released many singles, and a debut EP (2014) and album (2020). We've also recorded a session in Maida Vale, played in many different festivals such as T in The Park, Festival No.6 and Liverpool Sound City. Over the last year we recorded our second album 'Map Meddwl' (meaning 'Mind Map), recorded in Studio Sain, North Wales, and mixed by Ed Al-Shakarchi (Boy Azooga).
What are you like live?
I'd like to think that we're very engaging. Playing live is often a way of blowing steam, I notably remember cutting open my hand and bleeding everywhere after dropping a pick in one gig. 
What makes you different? 
We're very Welsh, in terms of our awkwardness and our accent. 90% of our songs are through the medium of Welsh and the content of our music is predominantly about being Welsh and about being a young person in Wales. The Welsh Music Scene is really exciting, with bands popping all over the country, and it's great to be ap art of it. I think it's safe to say that this is definitely a golden age for Welsh Language Music.
Physical vs Downloading vs Streaming…How do you listen to music?
I'm ashamed to say that I listen to all of my music through Spotify, it's such an easy way to engage with music, it's just a shame that the financial side of it is awful for musicians.
What have you been listening to?  
Honestly it changes weekly. I go through musical phases for example a few months ago I couldn't stop listening to Johnny Cash, WIllie Nelson, Patsy Cline and other Country artists. In general, I'm a big fan of any sort of melodic music. DJo, Willie, J Healy, Tom Misch and Papur Wal being recent favourites.
What are your aspirations for the future?
It's hard to say as life is very unpredictable and can take you on all sort of journeys. I'd like to keep on releasing albums, making interesting videos and collaborate a lot more with other artists. Also, personally I'd like to see some development towards Welsh Independence!
Questions answered by: Lewys Wyn (vocals/guitars)…
Yr Eira's 'Map Meddwl' album is out now on I KA CHING…