AAA Music Approved: Yard Of Blondes
aaamusic | On 31, Aug 2020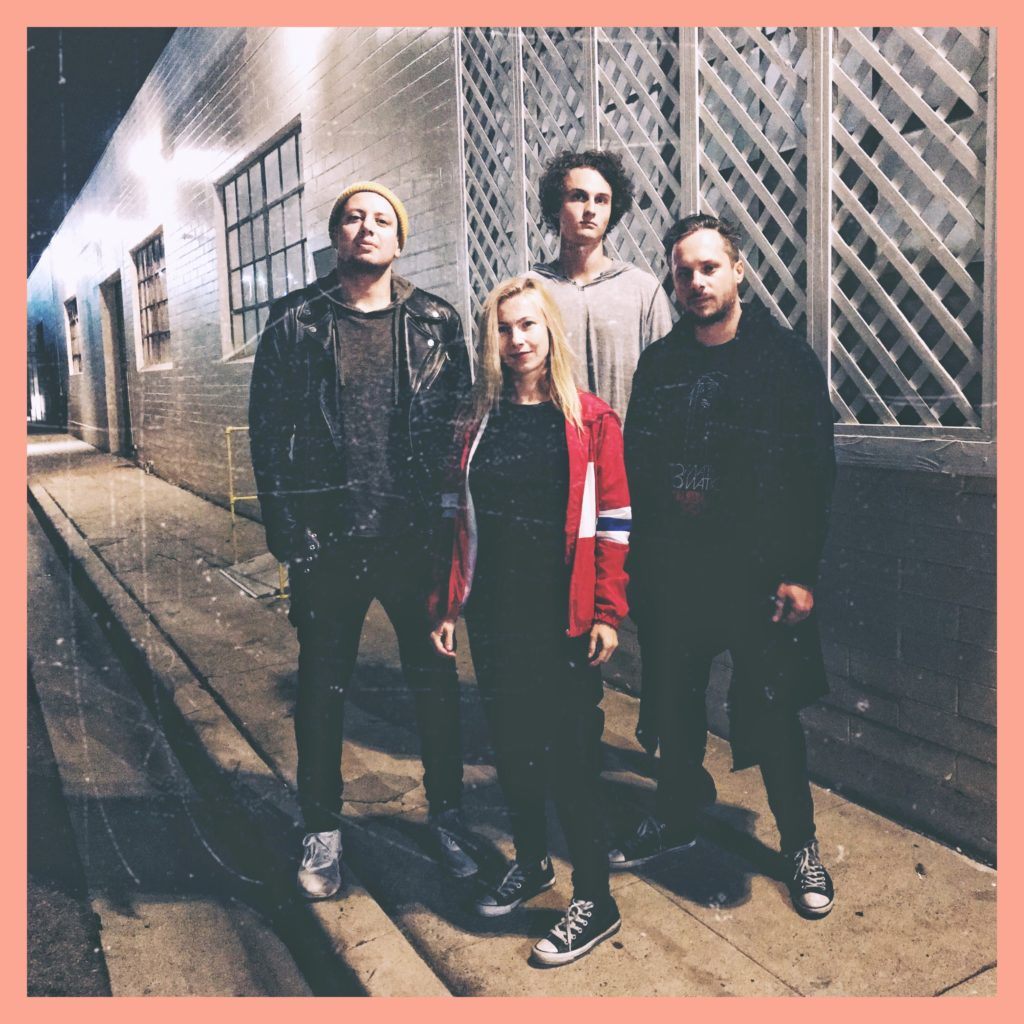 Who are you and where are you from?
We are Yard of Blondes and we're from all over the place, ha ha.
Fanny (Bass/Vocals) and myself, Vincent, (Vocals/guitar) are French. But we met in Los Angeles, California and that's where we are established. We started as an acoustic duet and soon evolved towards a heavier kind of music. That's when we decided to make Yard Of Blondes a full band. We added new members and after a couple of line-up changes we ended up with the amazing Forrest Mitchell (Drums/Vocals) from Northern California and Burak Yerebakan (Guitar) from Turkey.
What inspired you to get into music?
For me it happened in two parts. First I discovered the power of melodies with the Beatles on a trip to Spain when I was about 6 years old. We were in the car and my cousin handed me her walkman. I heard « Love me do » and I was hooked to vocal melodies and harmonies for ever. Then Nirvana happened and that's when I discovered I liked heavy music with a lot of emotions, smashing drums and noisy guitars. When I think about it, The Beatles and Nirvana are really what I'm trying to combine in our music to this day.
What have you done?
Yard Of Blondes is now almost a 10 year old band and we have released several EP's and singles but we are going to release our first album this year. We just signed with Die Laughing records and Golden Robot records and we're about to release a live EP recorded at home during the quarantine too. It took us 10 years to get signed and during those 10 years, we learned it the hard way. We owe everything to ourselves and that's our accomplishment. During those years we've featured on a compilation along Victoria Williams, Eric Burdon and Teddy Quinn, artists we LOVE, we've been the subjects of a 1 hour documentary on French TV (It's called « Joshua Trip » and you can find it on Youtube), we've been played on MTV France, Kerrang radio, KROQ and the greatest DJ in the world, Rodney Bingenheimer is playing our songs on his Sunday show on Sirius XM. Amazing shows at the Troubadour, The Viper Room and all the legendary Sunset venues were big steps for us, just like touring France back in 2015. All of this is makes us proud and determined to keep going!
What are you like live?
Our live performances are energetic and we can't wait to get back at it. The COVID-19 have altered our plans but I hope we'll be able to tour next year to support our upcoming debut album « Feed The Moon ». One of the shows I will always remember is when we got to play at The Range, the stage installed in the middle of Slab City. Called by some "the last free place" and by others "an enclave of anarchy," Slab City is also the end of the road for many. Without official electricity, running water, sewers, or trash pickup, Slab City dwellers also live without law enforcement, taxation, or administration. It was featured in the movie « Into the Wild » and it's actually really wild. It was like playing in a Mad Max movie.
What makes you different?
I think our fans love the combination of heavy riffs and the melodic approach of our vocals. They also like when we play stripped down music, just like we did when we were an acoustic duet. We don't forget that and always leave room for some acoustic songs. Lately we had a lot of compliments on our DIY approach of visuals. We do our music videos and artwork ourselves now and it seems people like it that way.
Physical vs Downloading vs Streaming…How do you listen to music?
I don't really care about the format. I mean, I listen to music on vinyl but also on Spotify. Depending on the context, both are perfectly fine to me. I just wish Spotify, Apple Music and other platforms will start giving a fair amount of money to the artists. The share is ridiculous right now and that needs to change.
What have you been listening to?
Lately I have been listening to Bob Dylan a lot, Elliott Smith as well, but these are oldies. I have been listening to newer stuff coming from the scene revolving around the Bootleg Theater in LA. Phoebe Bridgers just released a great second album. I also liked the new Soccer Mommy a lot.
What are your aspirations for the future?
I wish we'll be able to tour next year and be able to support our first album. I wish we'll do a world tour within the next five years and release at least 3 new albums. Message sent to the universe!
Questions answered by: Vincent of Yard Of Blondes…