Modern Record Player Stand Ideas – Pick One If You Like
aaamusic | On 16, Sep 2020
You are true lovers of vinyl, so are we. But you are spinning among thousands of modern record player stand ideas. Here we are to serve.
We know the ecstatic feelings whenever reorganizing your priceless collection on a record player stand that illustrates your style. However, choosing one frame which is unique and precisely matching your spirit can be fatiguing work.
Don't worry! Searching for a good record player stand will not be an arduous journey any longer when you flick through till the end of this paper.
Modern Record Player Stand Ideas
Wall Mounted Record Player Holder
You are a busy businessman, tackling many daily grinds, but have a consuming passion for music on vinyl. Rather than listen to digital music, you choose music with the unique warmth of sound. And if you are looking for a record player ornament to fill the empty walls, or your room is running out of free space, a wall-mounted record player holder will be the best option.
On top of functional features, these wall racks may elegantly dress up your home with a more soulful look when they serve as room decoration. Because of various designs, the edges and the covers of your collections conspicuously stand out on the wall-mounted holder.
The Hi Fi wall mounted record storage category will bring you the most satisfactory feelings of decorative elaboration.
Every product on the Hi Fi racks delivers different purposes so that they can meet all the numerous needs. For instance, a frame from the Hi Fi Rack Podium creates a unique look as if your albums were pictures hung on the walls.
Hi Fi Record Player Rack
With their minimalist feature, these racks give the overall decoration of your room a neatly organized space. They also add a versatile function that changes the whole area's mood if you want to adjust the disc's cover regularly. Hence, select one if you love to experience their functionalities.
Record Player stand with storage racks
If you are a fan of classic decor, have a great obsession with your LP records and luxurious record player, give this vintage-style record player stand a try.
You can select one of these three models below. With the first choice, the vinyl and record player storage shelf that you can see, the manufacturer designed a part to put a Dansette or Dansette-style record player on top, lying above your collections' rack.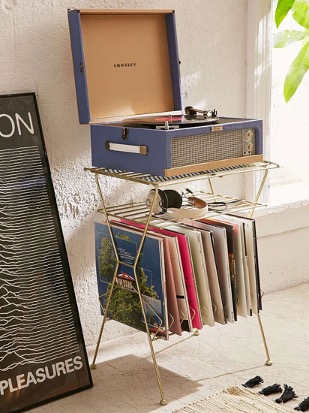 Next is the corner record player storage rack, which features a traditional style. The stand has three shelves that keep your records handy. And the third one with a compact structure, the Vincent record player storage rack, can be one of the most excellent selections to decorate your space.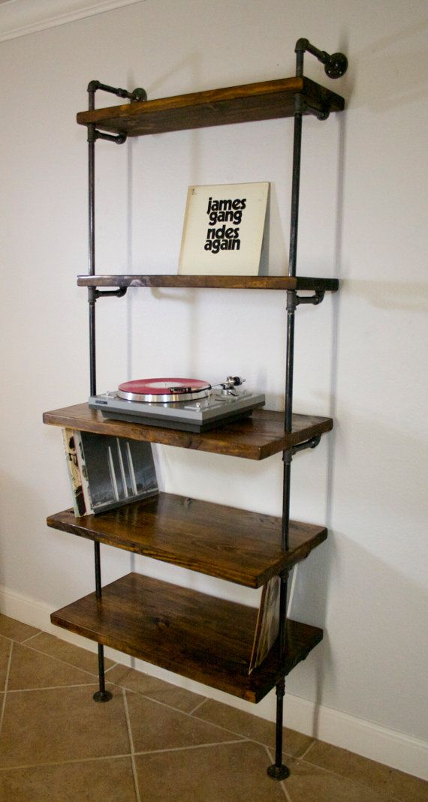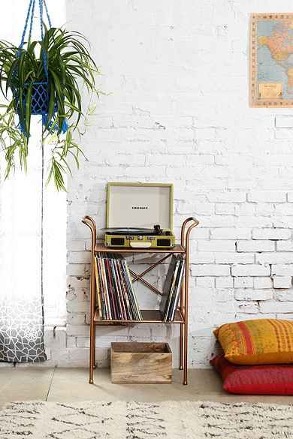 Record Cabinet
You are the ones with the privilege of owning less, who lead a minimalist life. And you are seeking one modern record player stand for your LP collections. Practicality, efficiency, and ease of use are your three aims of life, which need to unify mutually.
Then, a combination of the clear-cut lines and acute angles with the dark-colored construction made of walnut will be an ideal option for your minimalist goal.
A record cabinet's spine forms a 45-degree angle to meet your record browsing experience's convenience.
Also, the walnut legs with white base creates a unique style to store your favorite LP records. Do not forget to put a record player right on top. And there, your space is perfect!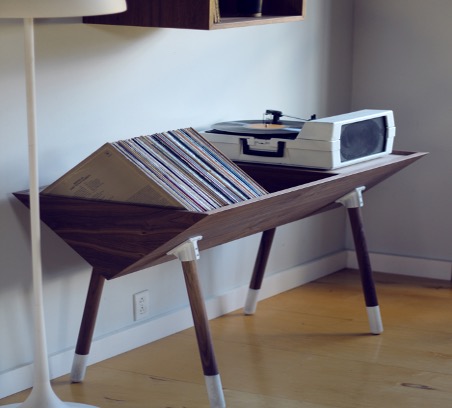 Final Thoughts
Hopefully, our paper about modern record player stand ideas has given you more potential options to store your favorite record player. Check the space in your room carefully before going for a turntable storage holder. Then, get one modern record player stand harmonizing with your preference. And finally, enjoy your time.
We will be delighted if you share your record browsing moments with us, siding the record stand recommended previously. We wish you the best enjoyment!