AAA Music Approved: Empathy Test
aaamusic | On 21, Nov 2020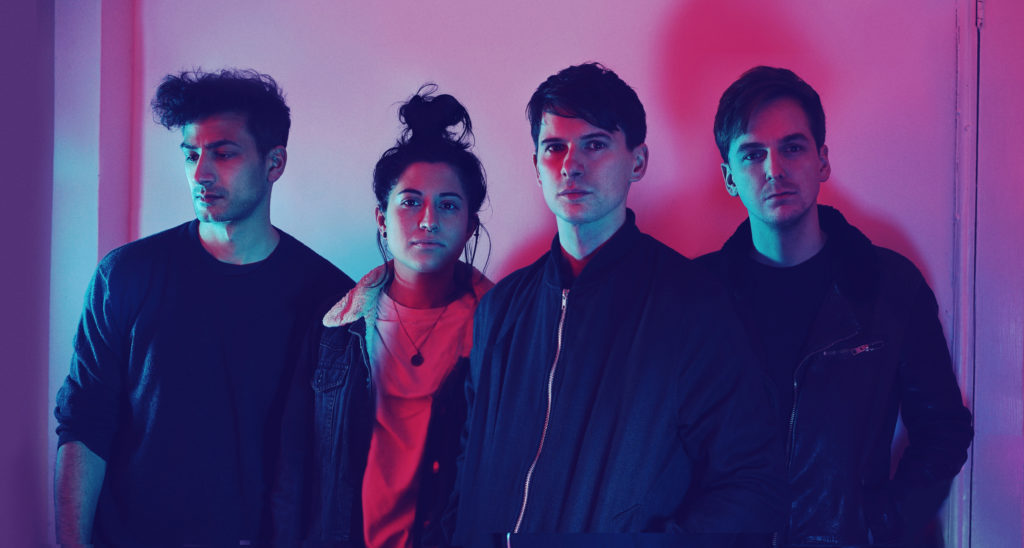 Who are you and where are you from?
Empathy Test is an electronic pop band based in London, UK. The band was founded in 2013 by myself, a singer / songwriter, and my friend Adam Relf, a music producer and composer. We had both recently watched the movie Drive and were inspired by its synthesiser-based soundtrack to try creating a track with '80s analogue synthesiser sounds for the first time. The track we made was called Losing Touch, we released it a year later, and since then it has had nearly three million plays on Spotify.
What inspired you to get into music?
We were both inspired to start making music by the guitar bands pf Brit-Pop era and began teaching ourselves to play guitar. I bought a four-track minidisc recorder and Adam started making music on his Playstation. As we got older, Adam focused on the more technical side of things, learning to produce dance music like drum and bass and breakbeat, while I gravitated towards song writing. Adam was also inspired by film score composers such as John Williams, Brad Fiedel etc. while I took my cues from songwriters and lyricists such as Jarvis Cocker (Pulp), Tim Booth (James) and Brian Molko (Placebo).
What have you done?
We've just released our third album, Monsters, which, like the first two (Losing Touch and Safe From Harm, both in 2017), was 100% crowd-funded and self-recorded, produced and released. The crowd funder for this album was 600% funded and raised over £27,000. In its first month, Monsters has already sold over 500 copies on CD and vinyl. In the past, we've also toured all over the world, including tours in the UK, USA, Canada, Russia, Germany and Sweden. And we've done it all without a record label or manager.
What are you like live?
When we perform live we have a drummer, Christina Lopez, who plays a hybrid acoustic and electronic drum kit, which adds a whole new energy to the tracks. We also have a keyboard player, Oliver Marson, who plays a Dave Smith Prophet 08. We're always seeking to evolve and improve our performances and, as an electronic band with highly layered tracks, to make as much of it "live" as possible. We've supported a lot of big names in the alternative electronic/synth music scene, such as VNV Nation, Covenant, Mesh and Aesthetic Perfection, but also UK Indie acts such as Bombay Bicycle Club and The Japanese House.
What makes you different?
We write sad and beautiful songs that have depth and emotional resonance. People really engage with them on a very personal level and we often receive messages and comments on social media from people saying our music helped them through very hard times in their life. Our listeners have formed a close-knit "fandom" and friendships across continents, it's a really positive and caring community to be a part of. Empathy Test fans come from all walks of life, and apart from the synthesisers and '80s references, the band and its music are not really a part of any fashion, scene or genre, we just write great music.
Physical vs Downloading vs Streaming…How do you listen to music?
I have to admit that after having my whole MP3 collection stolen on a hard drive about eight years ago, I got really into Spotify and streaming, it's unbeatable in terms of portability and access to anything you want, whenever you want. But at some point recently, I kind of grew tired of the impersonality of it. I also bought a record player in order to listen to our test pressings and I'm finding myself wanting to buy more records, because the sound is so good and it's such a more focused way to explore an album.
What have you been listening to?
These days I mostly listen to new synth stuff and post punk. I recommend people check out Papertwin, Korine, TR/ST, Twin Tribes, Idle Youth and Spectres, to name a few. There is always a ton of new stuff around and Spotify is actually a great way of finding your new favourite band, if you subscribe to their Discovery playlists. There are billions of bands that sound like The Cure, New Order, Joy Division etc. which is great news if that's your niche.
What are your aspirations for the future?
Well, having just released an album in the middle of a worldwide pandemic, we've not been able to tour the album or play any of the new songs live.
So we're really looking forward to hopefully going on a headline tour of Germany in September, if it happens, everything else is on hold until things become clearer. We're just hoping the live music scene bounces back and we can get back on the road again. Once it does, we want to go back to America and Canada, Sweden, Russia and I'd really like to get down to Mexico and South America. Fingers crossed!
Questions answered by: Isaac Howlett (vocals/songwriting)…