5 Ways To Make Commission In The Music Industry
aaamusic | On 08, Feb 2021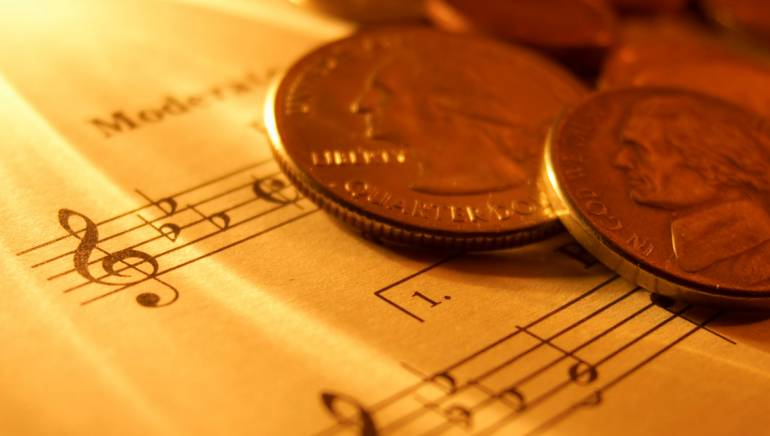 Musicians tend to think of performances and gigs as the best way to pave their way to a successful music career. And while live gigs and shows tend to reel in a nice commission, what musicians fail to consider is that there are many other means of income streams and ways that you can make money off of your music within the industry. Making music doesn't require you to perform it for a live audience – but people can still hear it.
With the global pandemic not showing any signs of slowing, and many venues (bars or otherwise) still closed or having been permanently closed in the wake of no business, musicians have basically been forced to become creative in identifying new ways to get their music out into the world. Here are some great ways that you can make a commission as a musician in the music industry.
LICENSING YOUR MUSIC FOR COMMERCIAL USE
Musicians who have recorded and copyrighted music can easily let creative access it for licensing. This allows others to use your music for a piece of work, this could be an ad, a video project, or even podcasts can license your music. Just be sure that you have exclusive rights to your own works. If you recorded in a studio be sure that the recording studio doesn't hold any rights. The easiest way to be sure of obtaining your own rights is by recording at home if you have the proper equipment to do so.
Music licensing companies are wonderful platforms for musicians to list their music and works to be utilized. Contracts are signed by both parties and you can decide the limitations in which your music can be used, whether you want it exclusive or not (as in, the same track can be used by multiple producers and other creatives). These types of licensing companies already have multiple networks of people and ways to promote your music without you having to do the marketing by yourself.
The only catch is that most of these companies will allow for your songs to be featured on their platforms for a fee. But it takes a lot of the guesswork off of the musician to do the networking and reaching out to people and businesses that may or may not use your works, giving you a lot more time as the musician to focus on your music.
SELLING YOUR OWN MERCHANDISE
Musicians are more than just music. As a band or even as a solo artist, part of being visible to the public is that you have to have your own brand. Branding is important for finding the right niche of people who are your ideal (target) audience so that you can build a loyal following. This includes things like finding the right logo, colors and scheme (as in, sayings or short phrases) that will appeal to your market, and it all goes directly hand in hand with marketing, which is a huge part of networking and getting yourself out there. Even if you have a small email list you have been able to build off of frequent social media postings, it's a great start.
Merchandise can be easily made through finding your own press kit online, or by going through someone who knows how to press simple items like t-shirts, mugs, or even posters. You can simply create an online store for your fans to purchase your items, and voila! You have another stream of income.
TEACHING MUSIC LESSONS
If you play an instrument or sing lead vocals in your group, chances are, you can also teach others to do it, too. Many musicians tend to create a steady commission for themselves by teaching an instrument, or teaching voice to others. With the availability of hosting online lessons via video conference, you can reach students from all over the globe if you so choose.
This, again, like with selling anything will require some upfront marketing. Word of mouth is usually best and if people in your area have seen you play or sing, chances are they would be willing to enroll their children or themselves into learning your tricks of the trade.
If you're not really up for regular weekly lessons with students because you're not great at working one on one, you can always create individual videos on a YouTube channel, possibly demonstrating how to do scales properly on your instrument, or create an mp3 of various vocal warm-ups that can be downloaded for a fee, bringing you a small (but recurring) commission.
COLLABORATIONS WITH OTHER MUSICIANS
Working with other musicians is a great way to not only broaden your network but to come together and find innovative ways to collaborate and come up with new ways to sell your music or get your songs played on the radio. Many musicians are all in the same boat with not being able to perform live, so many have come together to create online performances for their fans.
Virtual concerts have become a great way for music to be made with others living miles away, recording each individual part, putting them together in a live stream, and pre-selling your viewers' "tickets" for the online show to obtain your commission. It's one way to continue to perform for your audience as well if that's something you truly miss with the goings-on right now.
ONLINE VIDEOS AND MASTERCLASSES
Many musicians come from different educational backgrounds and upbringings, and being able to meld different techniques together can be really helpful for students. Hosting an online master class is something you can do alongside other knowledgeable musicians, developing classes surrounding what your audience/followers would like to know.
A master class can be as simple as hosting something like "Engaging Your Audience When you Perform" or "How to Tackle a Difficult Song" – something that you can share your wealth of knowledge on that you have experienced as a musician. You could put together something about songwriting if it's one of your strengths because that's something many music lovers always want to learn about.
This can also become a recurring stream of commission for you because if you pre-record or record the class live on video to save. You can allow others to purchase it again later for a flat fee. Think about if you have five, or even ten of these simple online classes put together that people can purchase to learn things for themselves – your possibilities are not limited!