Rickie Lee Jones UK Tour Dates Unveiled
aaamusic | On 30, Jun 2010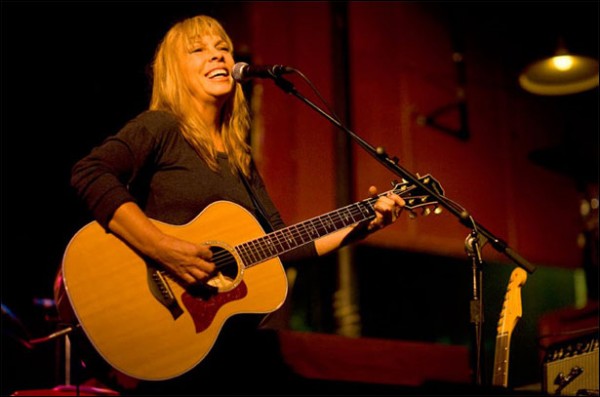 Credit: © Dave Barnum
Rickie Lee Jones returns to the UK in July to perform four intimate concerts at:
The Assembly, Leamington Spa – Monday 5th July
Box Office: 01926 523 001 – www.leamingtonassembly.com
The Assembly, Spencer St, Leamington Spa, CV31 3NF
The Queens Hall, Edinburgh – Wednesday 7th July
Box Office 0131 668 2019 – www.seetickets.com
The Queens Hall Clerk Street Edinburgh EH8 9JG
The Lowry, Manchester – Thursday 8th July
Box Office: 0843 208 6000 – www.thelowry.com
The Lowry, Pier 8, Salford Quays, M50 3AZ
Union Chapel, London – Friday 9th July
Box Office: 020 7226 1686 – www.unionchapel.org.uk/events.php
Union Chapel, Compton Avenue, London, N1 2XD
Tickets are on sale via the 24 hour ticket hotline – 08700 603 777 or can be ordered online from www.seetickets.com.
Jones' upcoming UK concerts follows the release of her 2009 album Balm in Gilead – an extraordinary collection of emotionally powerful, texturally rich and endearing songs, many of which have been 'incubating' with Jones over the last several decades.
"This record is unique because most of it was written over the last 20 years," explains Rickie.  "All the other records, I've written in a year or two or three after finishing the previous one. This one has threads from many, many years. Some were just written and finished recently, but started a long time ago. Wild Girl, for example, which ended up being about my daughter, was started before Flying Cowboys, and it was waiting all these years to finish."
Continues Rickie, "For me, the album feels close to a debut, because the only time you ever have to spend all these years writing a song is your first record, right?"
Balm in Gilead's songs flow easily through its roots and soul fabric; it reflects the lifetime work of a woman, whose very name is a genre. The record is upbeat; the songs are accessible in a way Jones' recent work may not have been to everyone. While certainly each record is very different from the one before, they all share a raw emotion and powerful vocal identity.
Jones intricately weaves a thread of disarming vulnerability through Balm in Gilead's exquisite story-songs. The album's charms include the R&B-flavored opener Wild Girl which harkens back to the old Rickie Lee, with a mother's love – older and wiser, The Gospel of Carlos, Norman and Smith (lololo) which artfully widens the lens on society's racial injustice and its bottomless human ramifications; Old Enough (a duet with Ben Harper) is also classic Rickie Lee Jones, with its irresistible punchy horns that somehow miraculously transforms pain to joy and the stunning The Moon Is Made of Gold, an acoustic jazz gem, written by her father decades ago.
Other highlights include the emotionally raw and heartbreaking Bonfires, the gorgeous ambient His Jewelled Floor on which she plays all the instruments except bass and accordion and the wild-dog howl of Blue Ghazel.
Last year marked the 30th anniversary of the dawn of Jones' recording career, which exploded in 1979 with her self-titled debut album and its top 10 hit, Chuck E.'s in Love.  Jones had an immediate impact on pop culture, enjoying the massive buzz of an indelible SNL appearance and an instantaneous Rolling Stone cover, all while winning a Grammy for Best New Artist.
Three decades' worth of acclaimed creative detours have ensued with both her singing and writing "voice" remaining, despite her pervasive and incalculable influence on two or three entire generations of singer/songwriters, among the most distinctive and instantly recognisable in music.