Uncover the puzzle… LONE WOLF at Green Man Festival
aaamusic | On 16, Aug 2010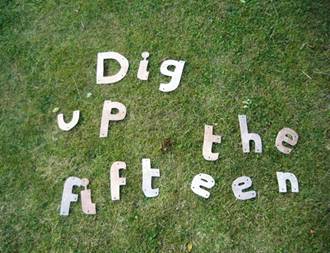 In 1979 a picture book called Masquerade was written by a man called Kit Williams. The book held a puzzle to find a treasure buried somewhere in British Isles. At this years Green Man Festival, which takes place in beautiful surroundings of Brecon Beacons this weekend, Bella Union artist Lone Wolf and animation house Broken Pixel have teamed up to bring you an experience in the spirit of this classic escapade…
Somewhere on the grounds of the Green Man Festival, a unique treasure is buried; A single pressing on 7" vinyl of a song by written by Lone Wolf especially for this competition. A true 1 of 1 collector's edition! Also inside the box will be an actual character used in the 15 Letters video, and an IOU granting you a copy of every Bella Union release for a calendar year!
To find the prize you will need a keen eye and some lateral thought (and maybe a few visits to Wikipedia). Because hidden in the video for Lone Wolf's '15 Letters' are 15 clues, each 15 letters long. These 225 letters take many forms; from books on a shelf to stars in the sky and they will have to be untangled and arranged for you to learn the whereabouts of the musical treasure trove.
Luckily, there will be some help along the way. The video itself contains some very helpful clues to point you in the right direction, and we'll be on hand to lend hints and tips on the Green Man forum and regular in mail-outs* leading up to the festival.
Watch '15 Letters' by Lone Wolf here and let the clues unravel.
Good luck with your puzzling and enjoy the delightful melancholy of Lone Wolf's '15 Letters'.