Martha and the Muffins – Echo Beach
aaamusic | On 20, Aug 2010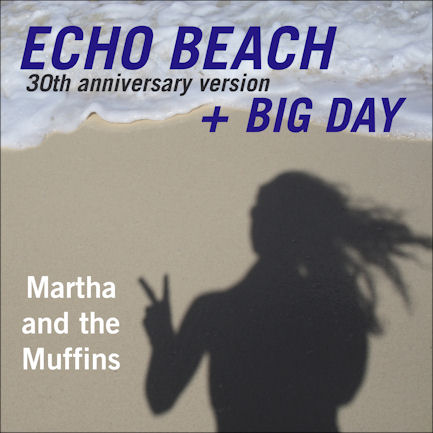 30 years have passed from the release of a new wave classic: it was 1980 and Martha and the Muffins went the top of the chart  with Echo Beach, who doesn't remember it?
After 30 years the band hasn't stopped its musical activity and decides to celebrate that song with a new version; "We wanted to commemorate the 30th anniversary of the song, by not trying to replicate the version that we originally recorded, but as musicians who've experienced three decades of living. We'd like to refer to the new recording of Echo Beach as our 'grown-up' version." Mark Gane says.
It's definitely a different song compared to the previous version; it's slower and the famous guitar riff that introduces the song is acoustic. It was also good to be danced to, whereas the new one is darker and languid.
It's mature like their performers are. They have cleared it by deleting the old fashioned new wave synth sounds turning it into a good 2010 ballad.
Big Day gives away their nature of belonging – to –the –  80's band, it's a pop rock tune with a guitar sound that reminds me the evergreen Venus in a new wave style.
Vocal style is still charming keeping a sort of an old punk indifference, that was Siouxsie's style, that kind of style that made the punk – new wave famous in that period.
It's good that bands like Martha and the Muffins come back releasing old and new songs, so that we won't forget our history and the same time go on listening to new music.
Well done!
Author: Roberta Capuano