ATP In Between Days – 7 new artists confirmed!
aaamusic | On 14, Sep 2010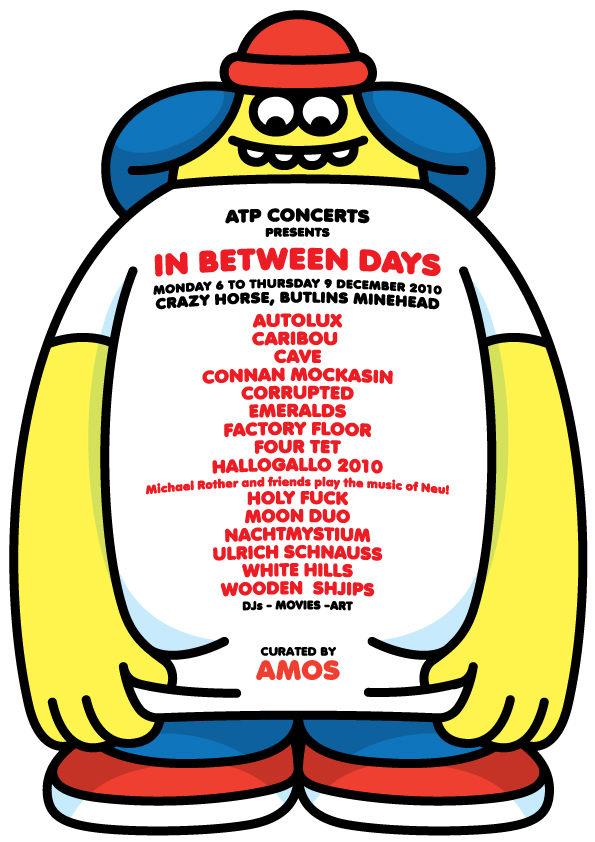 All Tomorrow's Parties are running two festival weekends this December; one curated by Godspeed You! Black Emperor (3rd-5th Dec) and the other by Belle & Sebastian (10th-12th). Between these festivals we are proud to present the return of…
IN BETWEEN DAYS 2010 – 7 New Line-up additions confirmed!
If you are planning to come to both December ATP weekends, or wish to stay on after weekend 1 (or come early to weekend 2!) or indeed if you're not coming to our Xmas festivals at all we have limited availability for people to stay on site during the week in between. This year In Between Days is curated by vinyl toy designers AMOS. During the event the small Crazy Horse venue will be open and we'll be putting on entertainment including bands and djs for an extremely intimate audience who last year experienced stunning sets from bands including Dirty Three, Deerhoof and Lightning Bolt, as well as a Steam Train journey and a reading and film exhibition from Crispin Glover; with similar extra activities planned for this year.
Today we can announce seven stunning new additions to the line-up for 2010:
Fresh from the release of their long awaited second album we have Los Angeles' AUTOLUX,  followed by cult New Zealand indie pop from CONNAN MOCKASIN, a rare appearance from doom metal pioneers CORRUPTED and one of the UK's most talked about new bands in the shape of FACTORY FLOOR.
AMOS have also picked Toronto's renowned HOLY FUCK (undoubtedly one of the best live bands around), one of the most exciting extreme metal bands of the last few years NACHTMYSTIUM, and finally Germany ambient/electronic explorer ULRICH SCHNAUSS.
The line-up so far now looks like this:
AUTOLUX / CARIBOU / CAVE / CONNAN MOCKASIN / CORRUPTED / EMERALDS / FACTORY FLOOR / FOUR TET / HALLOGALLO 2010 (MICHAEL ROTHER & FRIENDS PRESENT NEU! MUSIC) / HOLY FUCK / MOON DUO / NACHTMYSTIUM / ULRICH SCHNAUSS / WHITE HILLS / WOODEN SHJIPS
With more bands, DJs and other activities to be announced. In Between Days costs just £100 per person for the four nights including entry to all shows and accommodation in a private apartment for you and your friends.
We have limited availability in 4 berth self-catering chalets; to be charged at £400 for four people for the four days. If you only have 2 people in your party who wish to stay, we can place you in a share-a-chalet for the 4 days with another 2 people for £200, so you don't have to pay for the empty beds; email us at feedback@atpfestival.com to book.
To book for In Between Days please visit www.atpfestival.com. Chalets are available at a discounted rate of £75 per person for those attending both ATP Festival weekends.
ABOUT THE VENUE & ACCOMMODATION
Butlins, Minehead looks out across a superb sandy beach. The site is equipped with a supermarket, newsagent, cash points and restaurants. Onsite facilities include a cinema, Splash Water World – a sub-tropical environment that has a huge wave pool, a swimming pool, 3 flumes and also a flume based raft ride – Ten-pin bowling and amusement arcade. Sports include Archery, Football, Basketball, Darts, Petanque, Fencing, Kwik Cricket, Netball, Rounders, Table Tennis, Outdoor Bowls and Crazy Golf (note some of these may not be available in Winter for In Between Days). Under 18s, children and babies are welcome at ATP, please see the FAQ section of our website for more details. Self Catering accommodation offers bedrooms, private bathroom, full  kitchen facilities and separate lounge area with TV.