Young Rebel Set UK Tour: Here all dates!
aaamusic | On 27, Nov 2010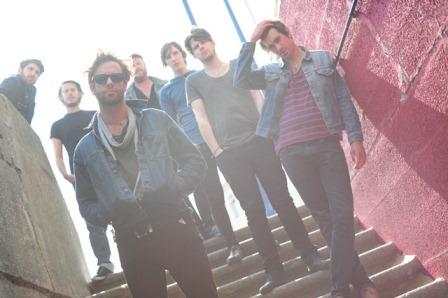 After self-releasing two very limited edition singles last year, and following the release of their 'Won't Get Up Again' EP through the band's own label in May, Young Rebel Set are putting the finishing touches on their debut album, which they are delighted to announce will be released early in 2011. More details on this shortly.
In advance of the album, the band release brand new single 'Measure Of A Man' as a digital download today, November 14th.
Having just completed a full UK tour over the past few weeks, the seven-piece will embark on a new UK headline tour throughout February and March next year. This follows a busy few months on the road that has seen YRS making waves on the continent, as well as at home, with the band touring successfully in Germany.
New 2011 UK tour dates:
WED 16-Feb  NEWCASTLE CLUNY 2  http://www.ticketweb.co.uk/user/?region=gb_northeast&query=detail&event=418783
THU 17-Feb  YORK FIBBERS www.ticketweb.co.uk /  08444 77 1000
FRI 18-Feb   LIVERPOOL MASQUE
SAT 19-Feb  MANCHESTER FAC:251 http://factory.fatsoma.com/event_etickets.php?eid=35460
MON 21-Feb  CARDIFF THE GLOBE  www.theglobecardiff.com
TUE 22-Feb  LONDON LEXINGTON  http://www.ticketweb.co.uk/user/?region=gb_london&query=detail&event=418968
WED 23-Feb  BRIGHTON JAM  http://www.ticketweb.co.uk/user/?region=gb_south&query=detail&event=418864&interface=
THU 24-Feb  BIRMINGHAM HMV INSTITUTE www.seetickets.com / 0871 230 0010
FRI 25-Feb  CREWE THE BOX http://www.ticketweb.co.uk/user/?region=gb_northwest&query=detail&event=418840&interface=thebox
THU 3-Mar    INVERNESS HOOTANANNY  (FREE SHOW)
FRI 4-Mar     WICK BLACK STAIRS  (FREE SHOW)
SAT 5-Mar    AVIEMORE THE OLD BRIDGE INN  (FREE SHOW)
FRI 11-Mar   MIDDLESBROUGH WESTGARTH http://www.ticketweb.co.uk/user/?region=gb_northeast&query=detail&event=418857&interface
SAT 12-Mar  SHEFFIELD BOWERY  (FREE SHOW)
THU 7 APRIL  EDINBURGH ELECTRIC CIRCUS http://www.ticketweb.co.uk/user/?region=gb_scotland&query=detail&event=419743
FRI 8 APRIL   GLASGOW KING TUTS  http://www.gigsinscotland.com/content/default.asp
SAT 9TH APRIL  LEEDS NATION OF SHOPKEEPERS http://www.jumborecords.co.uk/
Remaining 2010 dates:
FRI 26th NOV  WOLVERHAMPTON NEWHAMPTON ARTS CENTRE http://www.seetickets.com/Tour/YOUNG-REBEL-SET
SAT 27th NOV  STOKE SUGARMILL http://www.seetickets.com/Tour/YOUNG-REBEL-SET
TUES 30th NOV LONDON THE GARAGE (Supporting Sadies) http://www.ticketweb.co.uk/user?region=gb_london&query=detail&event=408800&referral_id=garage&interface=garage1&REFID=ED_GARAGE_WEB
SAT 4th DEC  LIVERPOOL SHIPPING FORECAST http://www.ticketweb.co.uk/user?interface=ents24&region=gb_northwest&query=detail&event=416366&referral_id=tw_uk_buyat
FRI 17th DEC LONDON KOKO CLUB NME http://www.ticketweb.co.uk/user/?region=gb_london&query=detail&event=410986&interface=koko
THURS 23rd DEC  STOCKTON ON TEES ARC (Hometown Christmas show!)  http://www.arconline.co.uk/