Kylie Announces UK Arena Tour Support Act: The Ultra Girls
aaamusic | On 11, Jan 2011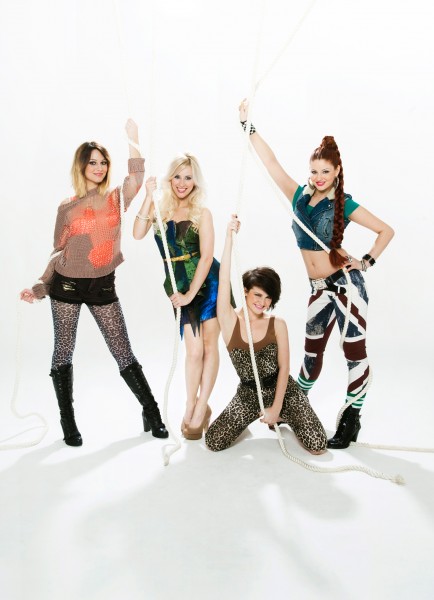 JUST ANNOUNCED AS THE ONLY SUPPORT FOR UK DATES ON KYLIE MINOGUE: APHRODITE – LES FOLIES TOUR 2011
You may think you've seen girl bands before, but it's been a very long time since you've seen one quite like The Ultra Girls. Going back to the roots of what it means to be girls in a band, Lucy, Lauren, Amy and Laura are taking the essence of Girl Power but moving it into the 21st Century by adding slick dance moves, funky vocals and lashings of attitude.
"We're young and fun. We want you to dance with us, wear your trackies with us and go crazy. It's not 'look how sexy we are' its girls singing about girls lives, not taking it too seriously or being too polished."
Or, to quote their own lyrics, "Trouble with a capital T".
With backgrounds ranging from stage school to tribute acts (with Lauren being in a tribute act with Tom from the Wanted – he did Take That, she did Girls Aloud) the group are ready for their turn in the limelight. So when you're aiming big, you've got to be surrounded by big, and the team who are helping the girls along the way are none other than Pop's dream team (aka the newly christened Ultra Family). Including executive producer Steve Anderson (Kylie, Westlife, Britney), stylist Kenny Ho (Spice Girls & Girls Aloud), songwriter and musical director Sarah deCourcy (Christophe Willem, Kylie & Mel C), and choreographer Aaron Sillis (Kylie & Cheryl Cole).
This tour promises to be an absolute landmark in the career of Kylie Minogue as she intends to create a live spectacular that will surpass even her own previous groundbreaking shows and The Ultra Girls are going to be supporting Kylie every step of the way.
"All our lives we've been to watch our favourite popstars in concert and hoped that one day it would be us. To even begin to believe that it's going to be us in March is a dream come true!" The Ultra Girls
UK Tour dates are:
TUESDAY 22-Mar-11    DUBLIN O2 Arena
WEDNESDAY 23-Mar-11    DUBLIN O2 Arena
FRIDAY 25-Mar-11    CARDIFF International Arena
MONDAY 28-Mar-11    GLASGOW SECC
TUESDAY 29-Mar-11    GLASGOW SECC
WEDNESDAY 30-Mar-11    GLASGOW SECC
FRIDAY 1-Apr-11     MANCHESTER Evening News Arena
SATURDAY 2-Apr-11    MANCHESTER Evening News Arena
MONDAY 4-Apr-11    MANCHESTER Evening News Arena
TUESDAY 5-Apr-11    MANCHESTER Evening News Arena
THURSDAY 7-Apr-11    LONDON O2 Arena
FRIDAY 8-Apr-11        LONDON O2 Arena
SATURDAY 9-Apr-11    LONDON O2 Arena
MONDAY 11-Apr-11    LONDON O2 Arena
TUESDAY 12-Apr-11    LONDON O2 Arena