springfestival 2011 – First acts announced
aaamusic | On 23, Feb 2011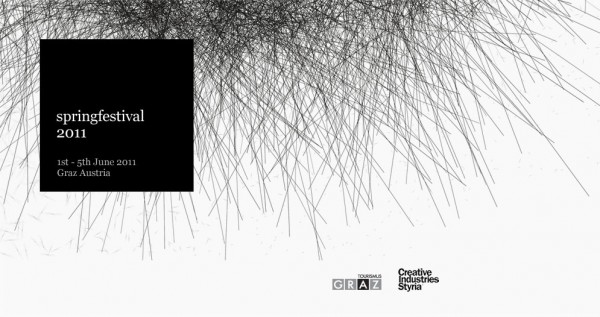 springfestival is one of Europe's leading metropolitan festivals and is arguably set in one of the continent's most stunning cities. The cosmopolitan and historic Graz is a melting pot of architectural wonders and urban chic, and again is set to host a brilliant array of live acts and DJs, the first wave of which have just been announced.
Fully exploring the richness of electronica is what springfestival is all about, and 2011's initial offering will further build on this template. Live acts include USA party pioneers the Jungle Brothers who bring their fusion of hip-hop, house and rap to springfestival, along with Canada's electronic wizards Caribou, the riotous DJ Mehdi and Riton combining for Carte Blanche, and East London's Crystal Fighters – a wild synchrony of ghetto house, punk and Latin electro.
The UK's DJ Yoda will wow with his fusion of music and images whilst Berlin-based Egotronic offer their electro-punk sounds to Graz, alongside inspired Parisian trio DOP and minimal king Isolee. Belgian soloist beat-beater Aeroplane makes his debut, along with the widely revered and legendary Kompakt Records boss Michael Mayer. Made to Play's head honcho Jesse Rose, electro scene-stealer Riva Starr, Ed Banger's DJ Feadz and DJ Koze all star too, forming the part of the first wave of announcements.
Tim Ertl, one of springfestival's directors, explains: "We are still feeling fresh from the 10th anniversary in 2010 and are raring to go to put in place all the new ideas we have for this year. The acts announced so far are indicative of where we want springfestival to be; a fantastic showcase of some of the world's best music on offer here in Graz. Also for the first time we're working to have a lot of the key venues closer together, to capture the feel of a real festival, but right in the heart of our city. We are still using a wide range of venues and sites across the city, and also some bigger buildings too so there's a greater audience capacity."
New for 2011 at springfestival
There are other exciting changes and developments at this year's springfestival.
The famed opening concert will take place at a much bigger venue after years of selling out each time; in 2011 it will be in the futuristic concert hall space Helmut List Halle. The opening concerts are always highlights, featuring huge acts officially opening the entire festival.
springfestival's Festival Centre will be housed in a former industrial complex, continuing the organisers' ethos of using some of the incredible buildings and sites in Graz.
Along with the return of the Red Bull Music Academy, there will be much more emphasis on springsessions, springfestival's fresh-faced, forward-thinking conference for electronic art, technology and design which is for the first time forming a major part of the overall programming.
springsessions will be housed in a huge old supermarket site where there will also be exhibitions, screenings, workshops and other happenings there in the afternoons and evenings.
The LineUp So Far
Aeroplane, Apparat, Bodi Bill – live, Branon Davies, Bunny Lake – live, Caribou – live, Crystal Fighters – live, Carte Blanche – live, Dels – live, DJ Feadz, DJ Krink, DJ Koze, DJ Yoda – AV set, DOP – live, Egotronic – live, Evan Roth, Frittenbude – live, Huoratron, Isolee – live, Jared Ficklin, Jason Theodor, Jesse Rose, Jungle Brothers – live, Michael Mayer, MK12, Mums of Death – live, Noze – live, Oliver Koletzki, Okinawa (visuals), Riva Starr, Robert Lindstrom, Scott Hansen / Tycho, Sizarr – live, Seiji, Snuff Crew – live, Superflu, Tali Krakowsky, The Koletzkis – live, The Young Punx – live, United Visual Artists and many more TBC