Folk singer-songwriter David Rotheray announces New Single + Tour
aaamusic | On 02, Mar 2011
David Rotheray
'The Puffin and The Squirrel'
With Bella Hardy and Jim Causley
New Single Released March 28th
From the album 'The Life of Birds'
"A strange, lovely and intriguing album" – Daily Express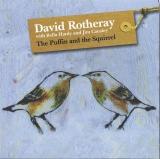 Acclaimed and much loved songwriter David Rotheray returns with his new single 'The Puffin and The Squirrel'. Written by Rotheray the song features the vocals of folk singers Bella Hardy and Jim Causley.
In keeping with the subject of Rotheray's album, 'The Puffin and The Squirrel' deals with the age-old question of gender relations, addressed through a romance between a seabird and a squirrel. Of the song Rotheray says "It was intended as a slightly quaint comic number in the tradition of Flanders & Swann or Noel Coward. The Puffin is the good guy, the Cuckoo is the rogue. The Red Squirrel is the good girl; The Grey Squirrel is the gold-digger".
In a career that has taken him from forming The Beautiful South with Paul Heaton in the late 1980s to his critically-acclaimed acoustic side project Homespun, David Rotheray's name has always been synonymous with music that mixes the melancholy with dry humour to great effect.  His first solo album, 'The Life Of Birds', was released in August 2010 and is a series of autumnal, rustic reflections on life. Rotheray's ornithological concept album stems from the opening track and first single 'The Sparrow, The Thrush and The Nightingale', a laidback, upbeat melody with an instantly recognisable whistled refrain disguising an allegorical tale about greed. Rotheray decided to expand on the metaphor to write an entire album with birds as its loose notional concept.
To coincide with his tour David Rotheray's 'The Life of Birds' will be re-released featuring 'The Puffin and The Squirrel' as a bonus track.
'The Life Of Birds' will be resonating from venues across the UK in March 2011, with intimate performances of beautiful and inspiring songs. David Rotheray will be joined by some of Britain's most talented vocalists including Jim Causley and Bella Hardy who feature on the album and will provide vocals for all the dates on the tour. Guest support will come from Irish singer/songwriter Eleanor McEvoy who also features on the album.
David Rotheray's 'The Life of Birds Tour' March 2011
March 19th                       The Stables, Milton Keynes
March 20th                       Musician, Leicester
March 21st                        Junction, Cambridge
March 22nd                      Troubadour, London
March 23rd                       The Met, Bury
March 24th                       Boardwalk, Sheffield
March 25th                       Glee Club, Birmingham
March 26th                       Glee Club, Nottingham
March 27th                       Edge Hill Station, Liverpool
March 28th                       Glee Club, Oxford
March 29th                       Louisiana, Bristol
March 30th                       Mama Stones, Exeter
All tickets available at: www.ents24.com