The Deer Tracks : The Archer Trilogy Pt.1′ EP released 15th March via The Control Group
aaamusic | On 02, Mar 2011
The Deer Tracks
'The Archer Trilogy Pt. 1' EP
Released March 15th via The Control Group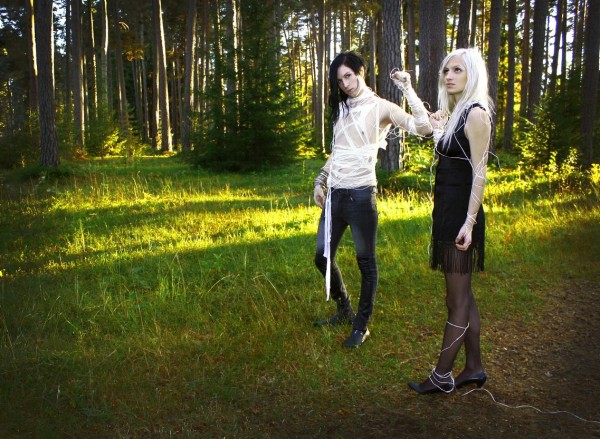 "David Lehnberg and Elin Lindfors rise above any sort of cliché on the stunning 'Yes This Is My Broken Shield', which twinkles before bursting into a glorious geyser of sound." NME
"To heighten this sense of eerie prettiness Deer Tracks combine folk-ishly delicate melodies with glitch techno techniques: twinkling keyboard lines that sound as though they're being played on toy instruments (as per that other micro-genre, toytronica) are frequently interrupted by static and hiss, crackles and jumps." The Guardian
"The Deer Tracks are actually at their best when their sound builds to something overbearing, if not crushing." PopMatters
The Control Group is pleased to announce their newest signing The Deer Tracks! The Scandinavian duo will release their new trilogy "The Archer Trilogy" starting with an EP The Archer Trilogy Pt. 1 on March 15. Part 2 of the trilogy will be an LP available this summer followed by a second EP as the final installation.
The Deer Tracks is David Lehnberg & Elin Lindfors, both children of the little Swedish town of Gävle. Despite their earlier success with respective projects (Leiah, Ariel Kill Him & Twiggy Frostbite), all roads led them into an electromagnetic mist of melodies and harmonic noise that later came to be called The Deer Tracks.
The Deer Tracks released their debut LP Aurora in 2008 receiving accolades from NME, The Guardian, Clash Magazine, and more. Since then The Deer Tracks have toured the UK, Europe, and Japan.  Be sure to catch The Deer Tracks US debut at SXSW this year. Stay tuned for more info!
TRACKLIST:
1. The Smallest Cube
2. Ram Ram
3. Karlavagn
4. Mio
5. Books of Blood