OXEGEN '11 LINE UP ANNOUNCED
aaamusic | On 09, Mar 2011
8TH – 10TH July, Punchestown, Naas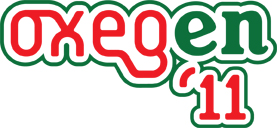 COLDPLAY, THE STROKES, THE SCRIPT, DEADMAU5
& THE NATIONAL
JOIN FOO FIGHTERS , THE BLACK EYED PEAS,
ARCTIC MONKEYS & PAOLO NUTINI
FOR THE MUSIC EVENT OF THE SUMMER AT OXEGEN 2011
PLUS AN UNMISSABLE MIX OF ALL-TIME FESTIVAL FAVOURITES
AND SO MUCH MORE
TICKET ON-SALE NOW
Oxegen is back for 2011 and once again boasts a stellar bill crammed with the biggest and best musical talent on the planet, including some of the world's most loved festival headliners. Fifty million album selling, Grammy and BRIT award winning band Coldplayjoin The Strokes, The Script, Deadmau5 and The National in today's big announcement. They will appear at Oxegen alongside The Black Eyed Peas and Foo Fighters on a bill that also includes Arctic Monkeys and Paolo Nutini and an ultra-impressive bill of 'must see' acts at Punchestown Racecourse across the weekend of8-10th July 2011.
It's an Oxegen festival first for Coldplay, who will delight their devoted army of fans with their renowned powerful performance at Punchestown.  This is a band who are well used to packing out stadiums the world over and are also headlining Glastonbury this year, but they will be in for a treat when they play to a packed main stage crowd and experience the unrivalled and electric atmosphere at Oxegen. Coldplay are set to deliver a spine-tingling show that will undoubtedly be a seminal musical moment of the summer.
Following a long live break, The Strokes will bring their Stateside style to the musical centre of Ireland.  Their 2001 debut album 'Is This it' was widely regarded by music critics and fans alike as one of the best indie rock albums in a decade and their forthcoming fourth album 'Angels' is the ultimate proof that these NYC music and style icons are still as strong. Demand to see them live is even stronger, they lead the line-up for California's Coachella festival this year.
It's been a rollercoaster ride for The Script, whose new No.1 album 'Science & Faith' and top five single 'For The First Time' has led to the announcement of a massive UK arena tour for 2011 and a highly anticipated set at Oxegen.  The Script's new album is the follow up to 2008's 1.8 million selling self-titled, No.1, global smash of a debut. In their own words, "First and foremost we are a live band. We're gonna give it everything, we just can't wait!!"
Also from across the pond comes Deadmau5 – the 28 year old Canadian born electro house producer with a big difference.  There's the large cartoon mouse head costume of course, but there's also the artist, the technical whizzkid, the Grammy Award nominee and the outstanding reputation for being the most forward thinking person in electronic music right now. Killer clubland tracks such
as 'Ghosts N Stuff' and 'I Remember' are sure to form part of a highly visual set that will go down in history.  He's so in demand he is now headlining his own super-shows and is due to play to 35,000 in London in June. The man has his finger on the pulse, he creates the pulse, he IS the pulse.
American supergroup The National have released some of the most important albums of modern times with huge hitters 'Boxer' and 'Alligator' making countless "album of the century" lists. Frontman Matt Berninger's deep voice lends itself perfectly to raw, reflective lyrics,sending listeners on an epic journey with each track.
The phenomenal bill already includes rock gods Foo Fighters who are set to release their highly anticipated seventh studio album 'Wasting Light.' Frontman Dave Grohl (NME Godlike Genius 2011) recently revealed he wants to play it live at night in front of tens of thousands of people – "It's a festival album because it f**king rocks!." Grohl will do exactly that as the Foo Fighters put in yet another stadium calibre performance, debuting new material alongside anthems from their multi-platinum, multiple Grammy-winning catalogue, which includes the likes of The Pretender, Best of You, All My Life, Learn To Fly, Everlong and more. This will be the final chance for Foo's fans to see their music heroes live and loud in Ireland for a long time, so must not be missed.
The Black Eyed Peas are back by huge public demand and will bring their spectacular stage show to Oxegen.  The band have secured their reputation as one of the most popular, innovative and exciting live acts of the last decade and will arrive fresh from their all-conquering headline slot at the Wireless Festival in London.  With huge dance infused beats and anthemic hit tracks, 2009's album 'The E.N.D' pushed boundaries in pop music, selling more than 11 million copies worldwide and driving the group well ahead of the pop pack.
Also on the bill and top of festival fans' wish lists for favourite festival acts are
Arctic Monkeys.  They released their debut album 'Whatever People Say I Am, That's What I'm Not' in 2006 and haven't looked back since.   In 2009 'Humbug' became their 3rd consecutive Number 1 LP and Oxegen fans will be in for a treat when they debut songs from forthcoming 4th studio album. Arctic Monkeys are a band of the people, totally in tune with a new generation of live music lovers.  With two albums still in the top 40 in Ireland, Paolo Nutini's return to Oxegen is also in much demand. The Scots troubadour now tops the bill at festivals all over the world.
It's a 'fans favourites' feast of talent for 2011 – an overwhelming overload of the biggest established and best breakthrough bands, ONLY at Oxegen. With the fan input and experience firmly at the heart of the event, it seems only fitting that the announcement was made direct to the fans last night at 8pm, via the artists themselves at   www.oxegen.ie.
John Probyn, Festival Director said: "I'm overwhelmed at the excitement from the bands who are playing Oxegen and very pleased to unveil the line up to the fans who helped us create it. We have pulled out all the stops to deliver this A List line-up. Some of these bands won't be back playing Ireland for quite some time, which is going to make their appearances all the more special.  We have decided to announce it direct to the fans this year via the artists themselves at oxegen.ie. To be part of a festival that unites the fans and the bands in this way is unique.  With a line-up like this, I'm certain 2011 is going to be the most memorable Oxegen yet."
The list of newly announced bands further proves that Oxegen is the must attend music event of 2011.
The infamous Swedish House Mafia are set to tear it up when they take to the Oxegen stage.  Huge individually and riotous together, the superstar trio of DJ's Steve Angello, Sebastian Ingrosso and Axwell take dance music to another level when performing as a collective.  They stormed the charts with Tinie Tempah last year providing the unofficial soundtrack to the summer with dance floor anthem 'Miami 2 Ibiza'.
Brandon Flowers will be wearing his solo hat for the first time at Oxegen this year.  The charismatic frontman of rock and roll supergroup The Killers released his debut solo album 'Flamingo' to wide scale acclaim from critics and fans alike, with both album and hit single 'Crossfire' claiming UK number ones.  A fashion icon, talented songwriter and performing genius, Ireland welcomes a legend in the making.
It's raw rock'n'roll one minute, and classic pop the next from Beady Eye, as they confirm their appearance at this year's Oxegen. Beady Eye will be performing songs from their debut album, released next week entitled "Different Gear, Still Speeding". Beady Eye is the band formed by ex Oasis members Liam Gallagher, Gem Archer and Andy Bell.
Fresh from picking up two NME Awards for Best International Band and Best Video for 'Na Na Na',       My Chemical Romance are currently on a massive UK and American tour with album 'Danger Days'.  Frontman Gerard Way has become the icon of the punk rock generation with legions of adoring fans.  Renowned for soaring live performances and electrifying guitar riffs, their summer set in Ireland is sure to burst a few ear drums.
Influential multi-platinum, Grammy winning alternative rock band Weezer will wow the crowd at Oxegen with their series of hits and new tracks from their forthcoming album 'Hurley' – a return to their indie roots with a highly personal and sonically exploratory album guaranteed to delight their fans. It seems only fitting that one of the most accomplished and genre defining modern rock bands on the planet come to Punchestown.
Hailing from Perth, Australia, Pendulum already have two platinum albums already under their belt and they are back with their most enthralling work to date, with forthcoming third album 'Immersion.' They will quite literally immerse the Oxegen crowd in one of the most visceral and exhilarating live experiences on the planet when they play Punchestown.
BRIT award winner for British Solo Male Plan B and winner of British Single and British Breakthrough Artist Tinie Tempah are two of the UK's biggest success stories and their respective performances at Oxegen are sure to show why. With the release of his multi-platinum selling second album 'The Defamation of Strickland Banks', dapper lyrical geniusPlan B proved he is the ultimate package and one of the most talented and versatile artists in UK music.
Tinie Tempah is breaking records and boundaries in British music and hit single 'Pass Out' was the smash hit of 2010, recently resulting in the BRIT award for British Single. He has also worked with the likes of Swedish House Mafia, Ellie Goulding and Kelly Rowland and will undoubtedly pass out all the hits and pull out all the stops at Punchestown.
With an  extraordinary 26 year history Primal Scream have got all the stories and all the hits and this year, they will present one of their very biggest 'Screamadlica' to the Oxegen crowd in its entirety.  For a man who's been making music for over quarter of a century now, it's reassuring that Bobby still has passion for what he does and for performing one of the most thrilling and important records of the modern era, live at Oxegen.
From some uber cool boys to one seriously hot girl, Oxegen will welcome a sizzling set from BRITs Critcs Choice award winner Jessie J – just one of the many other triumphant and talented acts confirmed for Oxegen 2011.
Fresh from their success scooping the Choice Music Award for Best Irish Album with 'Tourist History' Two Door Cinema Club take a deserved collective bow on their return this year.
Other highlights will come from an from an array of festival favourites including Bruno Mars, Chase and Status, Eels, Bright Eyes, Leftfield, Friendly Fires, Imelda May, Calvin Harris, Jimmy Eat World, Sven Vath, Hurts, Crystal Castles, The Bloody Beetroots, Jenny and Johnny, House of Pain, Steve Aoki, The Vaccines, All Time Low, Noah and the Whale, Crookers, Fight Like Apes, Mona, The Naked and Famous, Ryan Sheridan, The Minutes, Bipolar Empire, Madisun.
Tickets are onsale now and festival fans are already in a frenzy as this incredible 2011 line-up is unveiled.  Oxegen delivers the music direct to the fans.  It's official.
Tickets went on sale on-line and through the ticket hotline immediately after the acts were revealed at 8pm. 160 approved outlets across Ireland will also be selling Oxegen tickets when they opened on Wednesday 9th March, you can find the list of outlets on the festival website, oxegen.ie. More good news, the genius recession busting deposit scheme is back for 2011, so all your pals can get involved in the music event of the year. Simply pay a deposit up front, make another payment in April and the balance in June, full details can be found at oxegen.ie. It's Oxegen's way of making sure that no-one misses out on the very best line-up to hit Ireland. All ticket prices are frozen at 2008 prices including Day Tickets which will be available immediately at€99.50 each.
Ticket Prices and Deposit Scheme Details
Ticket Type
Ticket Price
1st Installment- Pay Now
2ndInstallment- Pay by 23rdApril
Final Installment- Pay by 30thJune
3 Day (Fri- Sun)

No Camping

€199.50
€100
€50
€49.50
3 Day (Fri –Sun) With Camping
€224.50
€100
€60.00
€64.50
4 Day (Thur-Sun) With Camping
€244.50
€100
€75.00
€69.50
Tickets can be bought via our official ticket partner www.ticketmaster.ie
Tickets are also available in person from 100 Ticketmaster outlets nationwide or via the24hr Telephone hotlines: (ROI) 0818 719 300 (NI & UK) 0870 243 445
Tickets available on a first come first served basis. To encourage car pooling, one free car pass will be issued with every 4 tickets purchased.
We've got more fantastic announcements lined up very very soon so make sure to register at www.oxegen.ie to be the first to hear all the latest news.
Age Restrictions: Strictly 17s and over only – ID required and will be checked rigorously before entry. Under 17s will only be admitted if accompanied by guardian/friend/relative 25 years or over who will sign for and accept responsibility for said person. Policy will be strictly enforced – persons who purchase and ignore conditions will be refused entry with NO refund.
FOO FIGHTERS ** COLDPLAY ** THE BLACK EYED PEAS ** ARCTIC MONKEYS ** THE SCRIPT ** THE STROKES ** PAOLO NUTINI ** THE NATIONAL ** DEADMAU5 ** BRANDON FLOWERS ** PLAN B **SWEDISH HOUSE MAFIA ** MY CHEMICAL ROMANCE ** BEADY EYE ** BRUNO MARS ** PENDULUM ** CHASE AND STATUS ** TINIE TEMPAH ** WEEZER ** TWO DOOR CINEMA CLUB ** EELS ** BRIGHT EYES ** LEFTFIELD ** FRIENDLY FIRES ** IMELDA MAY ** PRIMAL SCREAM/SCREAMADELICA ** CALVIN HARRIS ** JIMMY EAT WORLD ** SVEN VATH ** HURTS ** CRYSTAL CASTLES **  THE BLOODY BEETROOTS ** JESSIE J ** JENNY AND JOHNNY ** HOUSE OF PAIN ** STEVE AOKI ** THE VACCINES ** ALL TIME LOW ** NOAH AND THE WHALE ** CROOKERS ** FIGHT LIKE APES ** MONA ** THE NAKED AND FAMOUS ** RYAN SHERIDAN ** THE MINUTES ** BIPOLAR EMPIRE ** MADISUN
Check out www.oxegen.ie for all the latest line up news and media information.