Steve Cradock – Peace City West
aaamusic | On 28, Mar 2011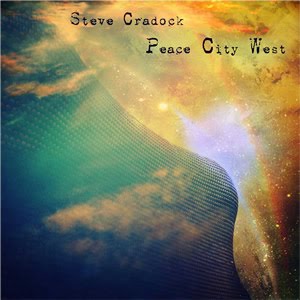 Cradock's second album continues where his solo debut left off with an album full of personal touches and elegance that manages to evoke 60s nostalgia as well as making use of modern day production techniques. The problem for me is that there is very little that stands out here that I don't feel as though I haven't heard before. Don't get me wrong; some of the songs are excellent and incredibly well formed, they just aren't particularly exciting or inspiring.
Lead single 'Last Days of The Old World' is perhaps the best example of this; it manages to both have urgency as well as being incredibly laid back and I found myself as a listener just praying for it to get going but it just doesn't. This song sums up the album as a whole for me; nice enough but just nothing special. It doesn't have the spark that is required for a modern day audience. Paul Weller provides backing vocals throughout the album and it is the harmonic blend of the two vocals that is the real stand out feature of the album, however, at times 'Peace City West' feels just as much like a Weller album as Cradock's own.
There are a few musical interludes throughout which will certainly only intensify the Weller comparisons but this only served to intensify my disinterest. When the best feature of an LP is the vocals, why make tracks that leave them by the wayside? However, once you get past the irritants on the album, it's actually quite a rewarding listen. I defy anyone to not find at least one track that they like (even if partially because it reminds you of something else)!  My personal favourite track is 'My Scooter Sits Idle' which manages to channel the Beatles and The Who whilst still sounding quite a lot like Ocean Colour Scene but a bit different. I am aware that eloquence is failing me but that is the best way of describing this album; a bit like this, a bit like that but not.
I really don't want to sound like I am being excessively negative about this album as it is melodic and lovely in places; it is just a bit copycat and lacks originality and the final punch to elevate it above its peers. I am sure that Cradock has many fans and will gain new ones with 'Peace City West' it just isn't for me.
Author: Josie Payne