Dengue Fever – "Cannibal Courtship" Album Released 06/06/11
aaamusic | On 22, Apr 2011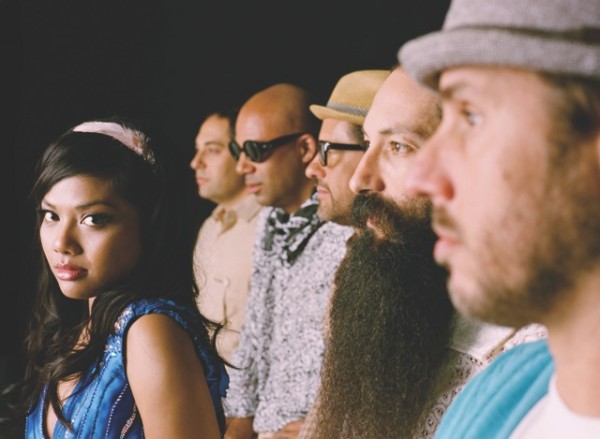 Mixing a group of LA garage rockers with a Cambodian lead singer, Dengue Fever are, in every sense, a unique proposition. The six-piece band's exotic blend of Cambodian rock, Afro grooves, surf, and West Coast garage psych returns with Cannibal Courtship, their forth studio album. As lead singer, Chom Nimol's English has improved, Cannibal Courtship features songs sung in both English and Khmer (Cambodian).
With Cannibal Courtship, the band has reached a new creative plateau, deftly balancing the wide-ranging influences that inform their sound and songs. Nimol's haunting vocals and the band's kinetic, mood-swinging sound are both still at the core, but the group, which produced the record, has upped their artistic ante.
Featuring lush backing harmonies by The Living Sisters, the band's eclecticism gels instantly on the album's title tracks which melds woozy guitar lines with Chom's crystalline vocals. The spiky Barracudas-esque rock of "Cement Slippers" and "Family Business" suggest the band has lost none of the fizzing energy that has made them such an exciting live band, while the Mekong-Delta blues of "Uku" – sung in Khmer – builds into a fuzzy, psychedelic crescendo doused in equal parts Southeast Asian and LA sunshine.
Inspired by a trip to Cambodia and legendary Cambodian singers such as Sinn Sisamouth, brothers Ethan (keyboards) and Zac (guitar) Holtzman started Dengue Fever in 2001. Once they added the saxophonist David Ralicke, drummer Paul Smith and bassist Senon Williams, they went looking for a Cambodian singer. Enter singer Chom Nimol, who before moving to the US has performed regularly for the King and Queen off Cambodia. The band discovered Chom in a nightclub in the Little Phnom Penh area of Long Beach and her stunning voice, marked by a luminous vibrato complimented the band's Cambodian/American sound perfectly.
Since their inception, the band's unique take on 60s Cambodian pop and American surf rock has garnered praise and attention from fans and critics alike globally.
Dengue Fever will be announcing UK festival shows shortly.

Album tracks: 'Cannibal Courtship' / 'Cement Girl' / 'Uku' / 'Family Business' / 'Only A Friend' / 'Sister In The Radio' / '2012 (Bury Our Heads)' / Kiss Of The Bufo Alvarius' / Thank You Goodbye' / 'Mr. Bubbles' / Durian Dowry'
Dengue Fever are:
Chom Nimol (vocals)
Ethan Holtzman (keyboards)
Zac Holtzman (guitar)
David Ralicke (saxophone)
Paul Smith (drums)
Senon Williams (bass)
www.denguefevermusic.com
www.myspace.com/denguefevermusic
www.facebook.com/DengueFever