Earthling Society – The Green Manalishi (with the two-prong crown)
aaamusic | On 22, May 2011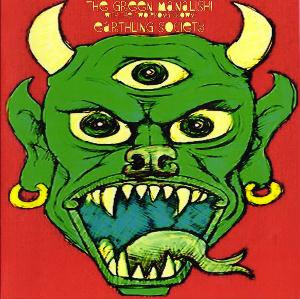 First 7" single from Fruits de Mer Records in 2011, Earthling Society's The Green Manalishi (with the two-prong crown) is an interesting take on an old Fleetwood Mac hit. Covered already in metal vests by Judas Priest, The Green Manalishi is here revived through the lenses of the experimental psychedelic progressive of Lancashire's band Earthling Society.
ES is formed in 2004 between Fred Laird, David Fyall and drummer Jon Blacow. Disillusioned with the current music trends and sharing a love of 1970s progressive rock, krautrock and 1960s psychedelia, Earthling Society built a primitive 8-track recording studio in a corner of a disused glass factory, recording three albums so far and preparing a fourth one, Station of the Ghost, that will be released on 4zero Records in summer 2011.
Earthling Society's sound is out of time, neither in the past or in the future, even less in the present. The single is backed with the interpretation of an obscure sixties Australian blues/garage rock track, 'And I Heard The Fire Sing', originally by The James Taylor Move. These two songs will project you in a dimension where music is still uncontaminated and pure; thanks to Fruits de Mer another gem of nostalgia sees the light. The Green Manalishi (with the two-prong crown) in 7" colour vinyl, limited to 400 copies.
Author: Lorenzo Coretti