Mercury Injection /Rock Music Pays Off
aaamusic | On 30, May 2011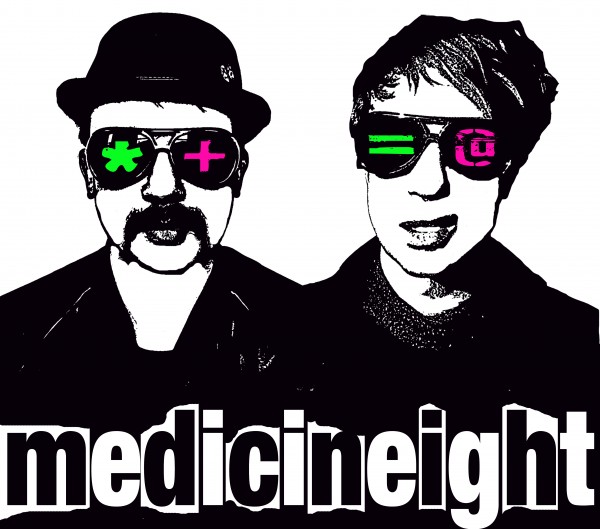 Mercury Injection/Rock Music Pays Off (Hip-House mix) is Medicine 8's first original release in a while having only been doing the occasional remix (Say Hello – Black Daniel – Buzz chart top 10) and more recently Bombs! by the Helmholtz Resonators (picking up a lot of love from Eddy Temple Morris (XFM), Alex Metric (BBC Radio 1) and which is being played daily by Lauren La Verne (BBC 6 Music).
The Acid House duo have been busy conducting secret underground experiments for some time now and have built up a large body of work which they are now ready to unleash on the unsuspecting and the expectant alike! This double A leads with "Mercury Injection" which is a thumping Acidisco track with a drop that feels like an injection of adrenaline to the heart! The track features the vocals of club promoter and tattoo artist, Leticia La Bruja, who runs the infamous "Bonnie & Clyde's Renagade Rendezvous" club night, consistently championing the weird and the wonderful, from psycho-billy to S&M sailor side shows!
"Rock Music Pays Off" was originally released through Parlophone on Medicine 8's debut album Iron Stylings and was a collaboration with Schizophrenic Rock 'n Roll genius Wesley Willis. Sadly now departed from this world, Wesley Willis was best Known for his uniquely styled but almost identically formatted rock songs which became cult classics, and gained him a huge underground following. The track consists of a reworking of an impromptue grammy acceptance speech wesley gave on New York shock jock Howard Stern's radio show. The guys heard it and thought it was too powerful to be left as a throw away line in an interview so they contacted wesley who thought it was a great idea to put it to better use and revoiced it for them. Medicine 8 thought it only right and proper to revisit this gem to celebrate their first proper release on their new label, only this time they've it given a baseball bat and a mouthful of gold teeth!