Astrid Williamson 'Pulse' released on 22nd August
aaamusic | On 10, Jun 2011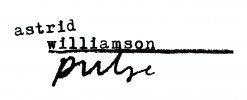 Astrid Williamson
Pulse
Genre: –
Label: One Little Indian
Release Date: 22.08.2011
Catalog Number: TPLP1093CD
EAN/UPC: –
Pulse, released on 22nd August marks something of a sonic sea-change for Astrid Williamson, the seeds for which were sown upon witnessing guitarist/ambient man Leo Abrahams perform as part of Brian Eno's Pure Scenius project at last year's Brighton Festival.
Inspired, Williamson sent Abrahams a dozen demos she had been working on: They struck a chord with him, responding immediately to the tender and gaunt duo Reservation and Paperbacks (the two tracks that now close Pulse). "Astrid is a knowledgeable, literate songwriter in the 'classic' mold, but in some of her demos I detected that she was heading somewhere she hadn't been before – that is pretty much the condition under which I like to work with an artist." And under such conditions the process began, a re-evaluation and fresh approach. "It was pretty terrifying to discard more than half the original demos" admits Astrid " I'd spent a year writing those songs but it was inspirational having to write more. And Leo led me in the direction I wanted to go in." Leo rejoins "I was really knocked out by how, week after week, she kept bringing in interesting, original and brave songs with ambiguous emotions."
For Astrid's part, "I wanted this time to make something different, an album where my voice was central to proceedings, in a lot of space – something more ambient. I also needed someone else to work with, to not be holding the reins for once. I wanted to be challenged again."
Poignant, ethereal and magical, with a deep emotional undertow of unrequited love, the album nails everything people have always said about Astrid. If Joni Mitchell had looked into the future when she was about to record Blue and absorbed the influence of Talk Talk, it might well have come out sounding like the pared-back currents of Pulse – that create a haunting intensity with uplifting light and space.
http://www.myspace.com/astridwilliamson