The Drums new video for 'Money'
aaamusic | On 26, Jul 2011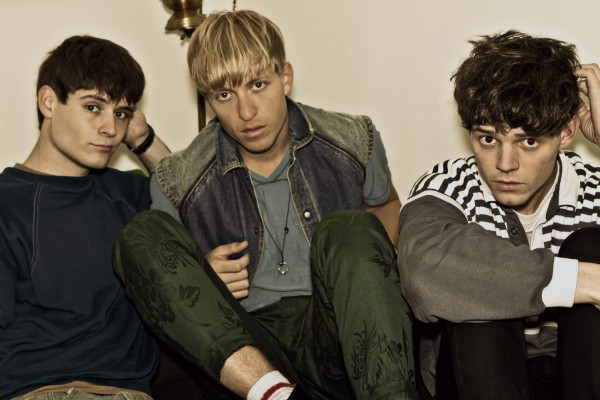 THE DRUMS
NEW VIDEO FOR 'MONEY' UNVEILED
SINGLE RELEASED SEPT 5TH
LABEL: MOSHI MOSHI/ISLAND
www.thedrums.com – @thedrumsforever
Since the sudden announcement of their new single and album last week, The Drums' new track 'Money' has taken the internet by storm, frequented the airwaves and been rapturously received by a series of festival crowds. Now, the band have unveiled a video to accompany the track, directed M Blash – known for his videos for Final Fantasy (aka Owen Pallett), as well as writing and directing the Cannes-screened feature Lying.
Explaining the change in mood for this video, The Drums vocalist Jonny Pierce says "things have become more personal this time around. Stylistically, things have evolved a bit, but the real change has been subject matter. On our first EP and album we used a lot if surrealism and really romanticized everything. Portamento is rooted in honesty."
'Money', released Sept 5thon Moshi Moshi/Island, is the first single to be taken from The Drums second album 'Portamento', out the following week, September 12th. Released just over a year since their debut, it reveals a band tugging lightly at the boundaries of their sound while still retaining their recognizable sonic signatures. Sweet rushes of melody and brittle synthesizer sheens colliding with wiry Spector-esque guitar lines are still very much present, but singer, Jonny Pierce's lyrics have assumed a deeper, personal tone and coupled with the band's own more expansive production, 'Portamento' is a more complex, but ultimately more rewarding listen than their debut.
Emerging from Brooklyn via Florida in 2010, The Drums initially caught the ear of the indie world with their 'Summertime!' EP – an escapist collection of beach pop fantasies – which preceded their self-titled debut album, released in June 2010. 'The Drums' has gone on to sell 200,000 albums world-wide, reflecting the universal appeal of a band that toured the globe: playing everywhere from Japan, Chile, Indonesia, Australia, Hong Kong, Brazil, Europe, a six week US tour and culminating in the UK with two sold-out nights at The Forum, London.
The band sidestepped the pitfalls of the often 'difficult second album' by recording it quickly, often laying down tracks spontaneously in Pierce's kitchen. Following the departure of guitarist Adam Kessler, drummer Connor Hanwick switched to guitar, and guitarist Jacob Graham picked up his more natural instrument of synthesizers.
Of the LP's almost autobiographical lyrical contents, Pierce says, "This new album touches on everything from my extreme religious roots to transgenderism to violence, and of course there's plenty of heartbreak stuff, which I couldn't get away from even if I tried."
To accommodate the record's sonic expansiveness, the band has swollen to a quintet live, augmented by two auxiliary members including good friend Myles Matheny on guitar and bass. Also gone are the backing tracks used for the bulk of their live shows to date, thus lending their performances a more visceral, spontaneous feel, in line with the aesthetic of the new album.
Portamento is a 17th century Italian term that denotes a vocal slide between two pitches. For Pierce, it takes on an additional, personal meaning: "Jacob and I meeting as young boys with a shared love for Kraftwerk, Anything Box and Wendy Carlos – these were all synth pioneers, and a common feature on old analog systems was 'Portamento.' It dictates the travel time from one note to another, and we have always thought it was a beautiful word. It seems to come in to play with how we have transitioned in the last year, losing a guitarist, reforming the band, our personal lives, and the actual sound of the album travelling from one thing to the next."
Portamento tracklisting: Book Of Revelation / Days / What You Were / Money / Hard To Love / I Don't Know How To Love / Searching For Heaven / Please Don't Leave / If He Likes It Let Him Do It / I Need A Doctor / In The Cold / How It Ended
The Drums play the following live shows:
Sept 05 London Hoxton Bar & Kitchen
Sept 06 London Lexington
Sept 07 London XOYO
Sept 08 Bestival Isle of Wight
Sept 17 SPLIT Festival Sunderland
The Drums are:
Jonny Pierce – vocals, guitars
Jacob Graham – synths
Connor Hanwick – guitar