Race Horses album details and free download
aaamusic | On 15, Aug 2011
Goodbye Falkenburg
Debut Album
Released 1st February 2010 on Fantastic Plastic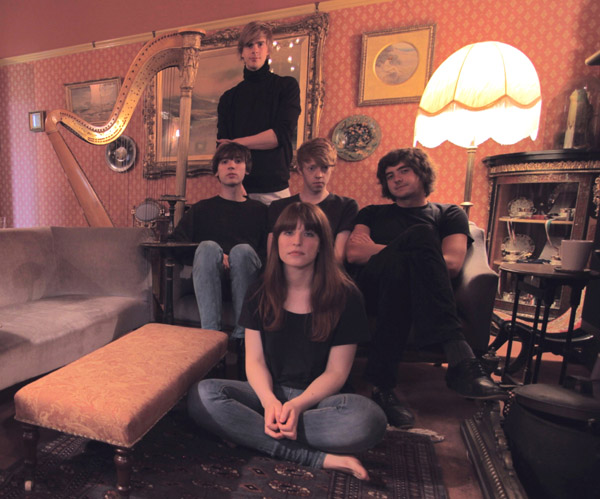 Bet on Race Horses being your new favourite band in 2010. Having pulled off the enviable feat of producing a four-track, 7" concept EP Man In My Mind, they are now set to unleash their full-length, fully realised album, Goodbye Falkenburg, which is conceived as a collage of a salty old sailor's life memories: "stories of good times and bad, of girls and champagne, of loneliness and longing."
Bursting with ideas, zig-zagging between musical reference points from The Beatles to Suicide, this is an ambitious –and brilliant –debut, the place where Barbershop meets post-rock via folk, oompah, psychedelia and pop. "We felt bored with all modern music," says singer Meilyr Jones. "We wanted to make our fifth album first, if you know what I mean."
The album was recorded in a serious of adventurous sessions over the space of nine months with producer Dave Wrench (a member of Julian Cope's Black Sheep, producer for Euros Childs and engineer for Bat for Lashes, James Yorkston, British Sea Power and Hot Chip) on board to reign in the chaos. "The Race Horses album was recorded in the oddest fashion I've ever experienced," says Wrench. "We used nearly every technique dating back to the heyday of analogue recording. All in all, the most fun session I've ever had, and one of the very rare modern bands to be confident enough to never ever require any computer editing or trickery to make the record."
Some tracks were recorded at parties, others in a deserted eco village named Cae Mabon ("a Smurf-esque fantasy-land Eco-paradise commune type thing," in the words of guitarist Alun Gaffey), others in a chapel and many in Bethesda,Wales. Interspersing tracks are interludes taken from field recordings of nature or zoo animals or party guests, while string players from Meilyr's course at the Royal Academy of Music and a choir of trainee dentists cap off the madness.
There's more than music influencing this melee – the band cite directors Michel Gondry and Tim Burton, children's classic Where The Wild Things Are and cheeky wartime comic George Formby as inspirations. The album's nautical theme begins with its title: Falkenburg was a ship bombed in WWII, and also the name of a German sailor who died at sea. As the story goes, he returns to the shore every 100 years to search for a virgin to marry. Other themes, we are reliably informed, include mental illness, food, misfit couples and love. You mightn't understand all of them, as a couple of tracks are sung in Welsh.
Comprising Meilyr Jones (vocals and bass), Dylan Hughes (keyboards, synths, guitar and vocal) Alun Gaffey (guitar and vocals) and Gwion Llewelyn (drums and vocals), Race Horses met in the sleepy Welsh town of Aberystwyth – a perfect place for psychedelic pondering. The band currently resides in Cardiff.
GOODBYE FALKENBURG will be released on CD Album and Digital Download by Fantastic Plastic.
As a taster, the band have put up the track 'Benidorm' as a free stream and download: http://soundcloud.com/fantasticplasticrecords/race-horses-benidorm-mp3
RACE HORSES Benidorm by FANTASTIC PLASTIC