Win Vains Of Jenna London Tickets!!
aaamusic | On 18, Aug 2011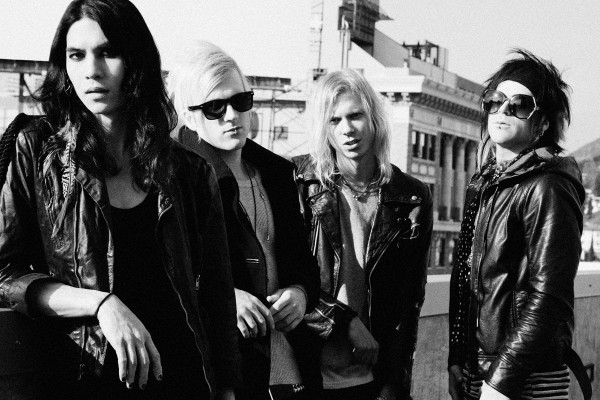 AAAmusic & Mean Fiddler are giving away a pair of tickets for Vains Of Jenna @ Barfly on September 9th!
For your chance to win simply email your name and the name of your guest to win@aaamusic.co.uk subject line Vains Of Jenna and your name + the name of your guest.
Hurry Up! Entries close on Tuesday 30th August!
VAINS OF JENNA
Plus FALLING RED
09/09/2011
London Barfly
http://www.ticketweb.co.uk/user/?region=gb_london&query=detail&event=456221
VAINS of JENNA formed in the small town of Falkenberg, SWEDEN (January 2005).
After posting their debut demo on the internet, they landed an offer to play the world-famous "Whisky-A-Go-Go" in Hollywood (July 2005). They stunned the crowd with their raw energy, young bravado, and sleazy throwback appeal. At the time half the members were a month removed from high school. Four days later, they were cutting a demo with Gilby Clarke (ex-Guns N' Roses) at Redrum Studios.
The band was back in Hollywood in the summer of 2006 and attracted the attention of Bam Margera (MTV's Viva La Bam/Jackass) who signed the band on the spot. Their debut full length was titled "Lit Up-Let Down" and hit stores on Filthy Note Records (October 2006). A half dozen US tours followed; most notably a 55 date amphitheatre tour supporting Poison & Ratt. Others included the "Viva La Bands – II" theatre tour (GWAR/Cradle of Filth) and a US club run with Wednesday 13 (Murderdolls).
The band calls Sweden home, but has happily adopted Los Angeles California as their home base.
VAINS OF JENNA spent 2008 writing and recording but made TV appearances on "Jackass 24" (MTV) & "LA INK" (Kat Von D). The bands track "Enemy in Me" (Viva La Bands-2 Soundtrack/Ferret Music) was featured on both. In the fall of 2009 they released "The Art of Telling Lies" to rave 5 star reviews and did another 50+ date US club tour.
March 2010 the band evolved with a shocking yet welcome change! The band introduces Jesse Forte as their new lead singer & front man for VAINS of JENNA. The group wasted no time and flew to Europe in April 2010 to embark on a 40 date European tour. Fans were elated at the bands vigor as they played in Germany, France, Switzerland, Norway and Czech Republic for the first time. They also returned to familiar places like Denmark, toured the UK & Sweden. While in Europe they shot a video for their single "Everybody Loves You When You're Dead".
The band did not hesitate to record either. The original musical core of the group – Nicki Kin (lead guitar), JP White (bass) & Jacki Stone (drums) took their new voice (Jesse Forte) and hit the studio in July 2010. The outcome was their E.P. "We Can Never Die." With no time to rest, the band toured South America (Brazil/Argentina) for the first time in the fall of 2010 and returned to the US once again to record.
It's 2011 and the band has finished "Reverse Tripped" for Deadline/E1 Records. The 14 song special edition release includes the hit single "F**k You" (Clean: "Forget You") with accompanying videos. The song made famous by Cee Lo Green has become a pop rock hit for the band in mere week's time.
The Band have just completed a 50 date US tour in support of the new releases 'Reverse Tripped' & 'We Can Never Die – Volume 2' & will head back to Sweden late Summer to begin a lengthy European Tour.