The Rifles new album and tour
aaamusic | On 21, Aug 2011
The Rifles – new album – 'Freedom Run'
"Songs like this could take the band to another level" The Guardian
"As long as the band continues then The Rifles' fans will keep coming back for more" Clash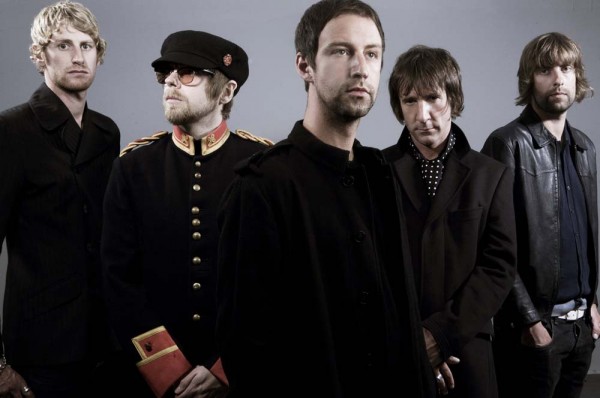 This Autumn, Essex five-piece the Rifles present 'Freedom Run', their much-anticipated third studio album.
From opening track 'Dreamer's blast of romantic, timeless-yet-fresh guitar pop, it's immediately clear 'Freedom Run' is a record that finds The Rifles in fine fettle and bristling with energy. Confident, concise and vital, the band have upped their songwriting ante into a fine craft, with a driving spirit and unified soul that's clearly audible.
With absolutely zero filler and potential singles aplenty, 'Freedom Run' signals a band for whom this appears to be only the beginning. With a huge fervent following and the ability to sell out Brixton Academy, The Rifles have long since outlived their original peers.
"Even though this is our third album, in many ways it feels like our first", says Joel. "It's definitely a progression". Rebirth and change are themes that re-occur throughout the album, typified on the reflective indie jangle of 'Long Walk Back'.
The album's first single 'Tangled Up In Love' has already picked up plays by Zane Lowe on Radio 1, plus XFM due to its summery romanticism and killer hook. 'Eveline' is an equally classic song and marks the album's first respite from energised anthems, with its yearning early 60s-style folk rock meets Merseybeat.
The pounding, piano-driven 'Love Is A Key' kicks things back up a notch, with yet another hugely strong song; a prime example of a positive, sincere group lacking in the arch self awareness of many new bands.
'Falling' takes things down a slightly psychedelic tangent, sounding like the lovechild of first album Stone Roses and Doves. Ever the MODS, the Phil Spector-esque 'Nothing Matters' is a nod to the scene of which their heart lies, that musically they've transcended.
Similar to when early 60s R&B combos discovered acid and pot, The Rakes minds have been expanded, evident on the epic penultimate track 'Little Boy Blue (Human Needs)'. It sounds like an interstellar jam between The Who and Hawkwind, spiked by Lemmy's speed stash.
'Freedom Run' was recorded at Paul Weller's studio, Black Barn and produced by the legendary Chris Potter (The Clash, The Stones, The Verve). The album also marks a personnel change, with Lee Burgess and Kenton Shinn (of the band Garda) replacing Grant Marsh and Rob Pyne. "Things have developing brilliantly with the new boys Lee and Kenny", says Joel. "We believe we've so much we can bring in the future. It really does feel very positive".
The Rifles burst onto the UK music scene in 2006 with their attitude-laden debut 'No Love Lost'. They spent the next two years touring relentlessly and building an enormous army of fans along the way, including some of their musical heroes like Paul Weller (who guests on 'Sweetest Thing') and Oasis. The Rifles released their second album (and Stateside debut) 'Great Escape' in 2009.
The Rifles are Joel Stoker (vocals, guitar), Lucas Crowther (guitar, vocals), Lee Burgess (bass guitar), Kenton Shinn (drums, percussion) and Dean Mumford (keyboard). They've proudly proven to both fans and critics that they're not only here to stay, but are destined for greatness.
– To coincide with the release of Freedom Run, The Rifles will take to the road again from 26th October. Tickets are sure to disappear faster than their previous sell-out tour.
Tickets http://theriflestickets.sandbag.uk.com/
26th October – Cambridge Junction – 01223 511511 – Ticket link
27th October – Norwich Arts Centre – 01603 660352 – Ticket link
28th October – Stoke Sugarmill – 0115 9454 593 – Ticket link
29th October – Nottingham Rescue Rooms – 0845 413 4444 – Ticket link
30th October – Sheffield Foundry – 0114 22 28777 – Ticket link
1st November – Manchester Academy 3 – 0161 832 1111 – Ticket link
2nd November – Leeds Cockpit – 0113 2444600 – Ticket link
3rd November – Newcastle O2 Academy – 0844 477 2000 – Ticket link
4th November – Dunfermline PJ Molloys – 08444 771 000 – Ticket link
5th November – Glasgow Garage – 08444 999 990 – Ticket link
7th November – Birmingham Academy – 0844 477 2000 – Ticket link
8th November – Bristol Thekla – 0845 413 4444 – Ticket link
9th November – Portsmouth Wedgwood Rooms – 023 9286 3911 – Ticket link
11th November – London HMV Forum – 0844 847 2405 – Ticket link
http://www.myspace.com/therifles
http://www.facebook.com/therifles
http://twitter.com/#!/theriflesband