Huron – Mary Celeste
aaamusic | On 02, Oct 2011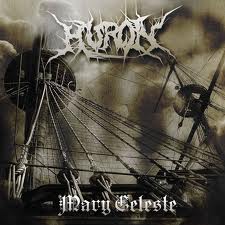 Huron are a Plymouth formed heavy metal band drawing on nineties influences such as Pantera. They are Sean Palmer (vocals), Neil Sims (guitar/vocals), Rimmy Sinclair (guitar), Rohan James (bass) and Rory Conroy (drums).
Their first studio album, Cheyne Stoking, was released in June, 2009 on Rising Records and received glowing critical acclaim. Mary Celeste, their second, was through Casket Records.
The impressively menacing title track Mary Celeste growls noisily and aggressively while never loosing its energy. The following track, Disperse Or We Fire, is equally hard, harsh and frightening.
This is an eager, intense and inspiring metal album with a ferociously dark feel where the listener feels lost, tortured and brutally tormented. In style, it's delightfully good thrash and sludge rock. It's ugly, loud and fast, even if it's not new or groundbreaking. However, it does show softness, sensitivity and passion in the beautifully calm acoustic track Eternal Sea Pt 1, contrasting with the anger found in Eternal Sea Pt 2.
Track listing: 01. Branded, 02. Mary Celeste, 03. Disperse Or We Fire, 04. Blood In Blood Out, 05. All My Gods, 06. Serpentswine, 07. Eternal Sea Pt. 1, 08. Suffer, 09. Black Harvest, 10. Eternal Sea Pt. 2.
Author: Anthony Weightman.