LOW LEVEL FLIGHT album release // UK dates // free download released!
aaamusic | On 03, Oct 2011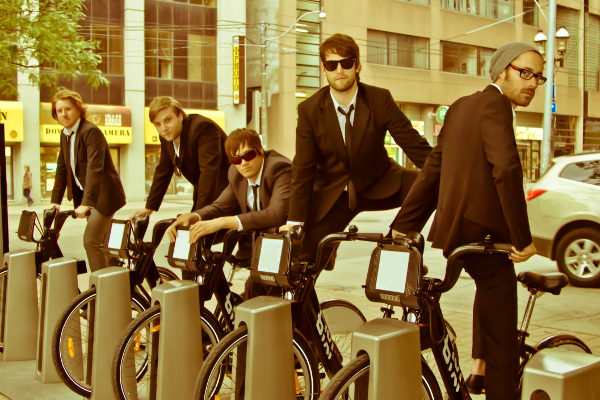 Toronto-based quintet Low Level Flight (LLF) will be releasing new album 'Through These Walls' in the UK on 31st October following a pair of UK dates in London and Cambridge.
This is a band that aren't about to pander to anyone. With eyes solidly set on reaching their destiny through sincerity and fortitude, they've seen what's behind the facade. And wisely turned their backs. Since 2006, this group of melodic hook-laden indie rockers has been carving a fresh path thanks to a common vision and an inimitable sound. It's an accomplishment highlighted by their second album 'Through These Walls' (Brave Rekords).
The band's debut effort 'Urgency' (2007) saw Low Level Flight amalgamate primary influences such as the lilting, atmospheric flare of Interpol and Muse's almost symphonic indie rock delivery into an entirely unique overture. The album garnered no less than three Top 10 videos and two Top 40 singles whilst bringing their music across the United States, Canada and even an extensive tour of India.
Tapping the expertise of revered producer Gus Van Go (The Still, Priestess, The Trews) in order to document 'Through These Walls' ensured LLF's purest vision was captured only after it was nurtured and provoked. Utilizing his wealth of experience and a devout interest in creating the best possible songs, Van Go brought out unheralded creativity from the band while also offering unique perspectives on overall approach.
The results of those efforts are immediately evident on 'Through These Walls', a virulent display of cohesiveness, stability, resounding rhythms and anthemic prowess. Penned in their rehearsal hall over the course of two years, the band worked diligently at ensuring their innate ability to commingle brawny ability with captivating harmonies.
"Writing comes for us rather quickly because we all bring our own sound to the table and it's incredibly complimentary," vocalist Ryan Malcolm notes sincerely. "Urgency was great but I felt there could have been a more pointed direction. Some songs were heavy, some were melodic and others were dance rock. It's tricky but it did offer us cool and unique stance. Through These Walls has a more persevering sound because its influences are streamlining through the members of the band." Melding personal experience with insightful learnings, everything from the occasional interpersonal, philosophical musing to hard sagas are relayed on this divinely direct affair. Refusing to rest on the laurels of typicality, tracks including cold war-influenced 'Quiet Rage' and 'Exit' (documenting how starving countries have been ignored by more powerful nations) ensure 'Through These Walls' is impacting, powerful and compelling.
UK DATES
14th October       Man on The Moon          Cambridge
18th October       Buffalo Bar                          London
Low Level Flight – 'Exit' FREE MP3 DOWNLOAD