WIN CLUB ANTICHRIST PRESENTS STEAMPUNK SPECIAL TICKETS!!
aaamusic | On 31, Jan 2012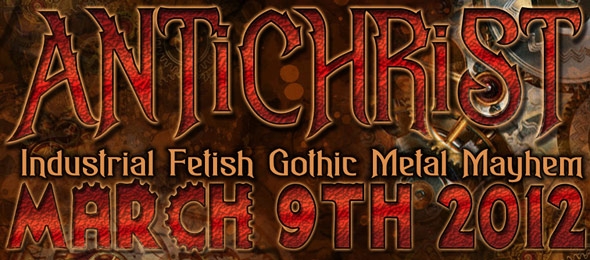 WIN TWO PAIRS OF TICKETS FOR:
CLUB ANTICHRIST PRESENTS STEAMPUNK SPECIAL ON MARCH 9TH
FOR YOUR CHANCE TO WIN SIMPLY EMAIL YOUR NAME +GUEST NAME TO WINatAAAMUSIC.co.uk
SUBJECT LINE – CLUB ANTICHRIST.
HURRY UP! ENTRIES CLOSE ON MARCH 1ST!!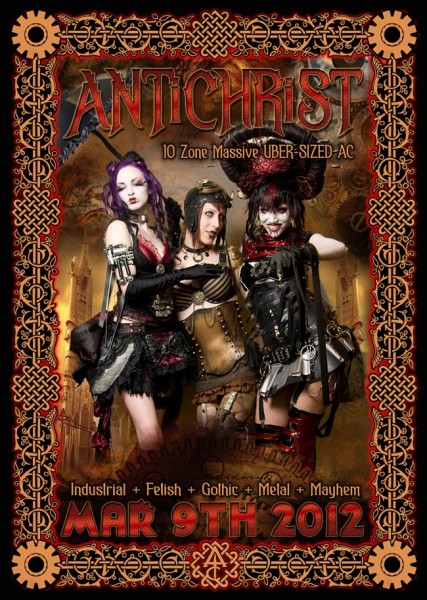 Massive 10 zone steam-themed party!  Feat. live sets from Ghostfire & Sunday
Driver, The Men That Will Not Be Blamed For Nothing album launch
PLUS – AC promoter Missy's Sponsored Striptease!
"One of our favourite club nights" – Bizarre magazine
"Downright deviant and gloriously goth" – The Guardian
"Surely the most sinful way to spend your weekend" – Time Out
"Colourful, vibrant and accessible" – Skin Two magazine
Grab your goggles and get ready to party like it's 1895, as Club AntiChrist presents a steam-powered soiree this Spring!  After hosting its first 'uber-sized' 10-zone party on December 30th under the banner 'Not New Year's Eve',  London's largest and most creative alt. fetish night is kicking off 2012 as only it could – taking over the ground floor at the Colosseum Club again, and taking clubbers back to a future engineered in Victorian fiction.
Taking aesthetic cues from H.G Wells' Time Machine, Jules Verne's flying machines and Shelley and Stevenson's monsters of pre-modern science, the steampunk subculture which AntiChrist celebrates on March 9th is now developing as fast as its cog 'n' copper-clad disciples are multiplying, spawning a dizzyingly diverse range of artistic, sartorial and musical interpretations.  Representing the broad spectrum of the steamy sound, AC's THEATRE OF SIN stage hosts Ghostfire's sea shanties for airship pirates, which nod to Nick Cave and Tom Waits' off-kilter blues, and Sunday Driver, whose unlikely arrangement of sitar, harp, clarinet, tabla and even a pair of dessert spoons pitches them as purveyors of world music, filtered through the world view of Verne's …80 Days!  Meanwhile Stills' futuristic hard alt. electronica is what Wells' Time Traveller might have heard had he set the controls for the next century.
Back in AC's own anachronistic Victorian past, the job of winding up the wheels of copper and selecting tracks between acts goes to The Men That Will Not Be Blamed For Nothing, a band seeking to 'put the punk into steampunk' who launch their second album at the club.  To mark the March 12th release of the tongue-twistingly titled This May Be The Reason Why The Men That Will Not Be Blamed For Nothing Cannot Be Killed By Conventional Weapons bassist and comedian Marc Burrows will be giving away five advance copies – as well as one grand prize bundle including the band's entire catalogue and merch range – as he acts as compere on the Theatre stage.
On any given night steamy shenanigans of another sort are of course to be expected at AntiChrist, and on the full-frontal front, March 9th again ups the ante as, for one night only, the guys and girls of Satan's Strip Show are joined by Missy – one half of the husband and wife promotions team behind AC's 8 year success story.  Raising more than temperatures, Missy's sponsored strip concludes a three month fundraising campaign to privately finance a RSV vaccination for one-year old Alfie – a friend's poorly son refused the potentially life-saving jab by his local primary care trust.  Although Missy's personal target of £300 has now been reached you can still read Alfie's story, and continuing donating to help his parents hit their overall total of £2,000, at  https://www.facebook.com/MissyDoesSSS
With Missy's act sure to be a tough one to follow, she and husband Dom have called on a couple of trump cards to complete the line-up of strip shows that will seen in March.  Marnie Scarlet's new routine 'Voodoo Apocalypse' promises to serve another slice of the deliciously off-beat and theatrical grotesque burlesque that has impressed at ACs past, but it's fellow returning favourite, Mouse who really puts the cream on the cake… and for that matter the front rows, to go on previous performances!  Anything goes (and comes!) when this Erotic Awards winner is onstage, so while it's impossible to say exactly what could happen in the course of tonight's 'Milk You Like A Cow' skit, it should suffice to say that sploshing and squirting are Mouse specialities!  Last but not least to entertain the Theatre audience then is Sarge, of the Metal Fatigue Performance Collective – a pro-piercer, artist and master of suspensions.
With so much happening in the Theatre in March, you'd almost be forgiven for forgetting there are another nine decadent zones to delve into at this extended AC.  To re-cap, those with a thirst for more filth will find themselves amply catered to in THE DEVILS PLAYROOM – where house mistress Rebekka Raynor is equipped with the whips, canes and expertise for kink lovers get their kicks on the room's array of Playpenz gear, while the COUPLES DARKROOM offers sofa beds and complimentary condoms and tissues.  Alternatively, whether or not you have a partner in tow, you could burn off the booze (a sin not to indulge when happy hour runs 8pm to 11pm!) on one of AC's three dance floors.  After a great response to extended opening in 2011, well-loved trad-goth and alt anthems arena THE HELLFIRE ROOM will be playing classics from doors at 8pm to close at 6am again in March, while PUREFUCKINGINDUSTRIAL takes over the ground floor, enabling it to blast the beats 10pm through to 5.30am and present new self-contained bar, THE INDUSTRIAL LOUNGE, plus a second heated, seated and enclosed smoking area. After the Theatre shows upstairs, AC's newest dancefloor THE HELLHOLE also opens, getting rock and metal fans moving from 2am, and finally the CHILLOUT ROOM offers free tea, coffee and cookies from 3am, care of the saucy maid service, and sustenance from the Thai food stall and ample seating throughout the night!
AntiChrist continues to pride itself on going above and beyond, to cater to the desires of a diverse and welcoming regular crowd who frequently liken it to 10 great club nights all rolled into one.  To get all that's on offer at AC's steamy shindig elsewhere in a night you could tinker with the time machine to make it round the city in 10 hours, but the best party plan is a bit of a no-brainer.  Start turning the cogs on your outfit and we'll see you at the Steampunk Special…
Key Points For Listings
Club Antichrist's Steampunk Special
March 9th at Club Colosseum (1 Nine Elms Lane, Vauxhall, SW8 5NQ)
Doors  – 8pm to 3am / Club Close – 6am / Bar happy hour til 11pm!
Limited early bird tickets now on sale, priced at £16 for singles (usually £20 adv. / £28 door) and £30 for couples (usually £35 adv.), available at www.clubantichrist.com
Dress code: Steampunk / Victoriana / uniform / machines / cogs and clockwork / sky pirates / freaks / fetish / goth / body mod / medical / industrialist / TV/TS / cyber / bondage / carnival / vampire / theatrical