Portishead's Geoff Barrow comp / Montag Phases
aaamusic | On 07, Feb 2012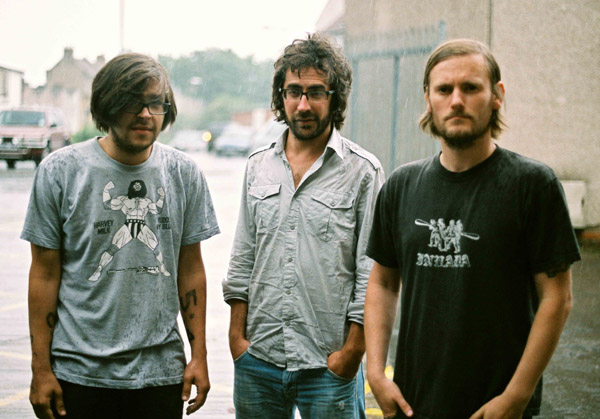 Forthcoming and unreleased tracks from Bristol's INVADA label, selected by Geoff Barrow [PORTISHEAD/BEAK] and founder of Invada.
This comp features 11 'just' released or to be released tracks:
DROKK [music inspired by Mega City One]- the first tracks to be heard from this album written by Barrow and Ben Sailsbury ,
Anika delivers cold hearted twisted version of Disco with 'In The City' [Chromatics cover]
BEAK – first tracks streamed of long awaited second album set for early 2012 release.
Thought Forms after supporting Portishead on their US tour use their relentless pedal worship to create another creep/gaze monster
The Fauns deliver a lo-fi fuzzed out shoegaze stonker.
Toronto's DDMMYYYY provide a killer brain burster of a track as part of their BEAK split 12″/LP
Also the first digital single of very serious young Bristol band Scarlet & The Trainwreck whilst invada new bass/drums/vox trio The Veees drop a french/anglo punk funk number.
Quakers/Stones Throw producer Katalyst brings some new unheard 2012 hip-hop gems to roundoff the comp before the Mc's start ripping them apart.
Picture of Geoff and his Invada cohorts BEAK, please use for any news stories about the comp.
www.invada.co.uk
www.twitter.com/invadauk
www.facebook.com/invadarecordsuk
www.invadauk.tumblr.com/
MONTAG UNVEILS 'PHASES' PROJECT, STREAM VIDEO FOR 'NEW DESIGN' NOW
A digital single to be released each month of 2012 via Carpark Records
After four years spent busying himself with various other musical projects, Antoine Bédard AKA Montag has turned his attention back to his own unique brand of dreamy, ambient electronic. Eschewing the traditional album format, Montag has conceived 'Phases': a new single released via Carpark records at the end of each and every month in 2012, each with its own distinct sonic and visual world, each to be devoured away from the context of a parent album.
'Phases' first single, 'New Design', is out now . The b-side features 'Nova Heart', a cover of 80's Canadian band The Spoons, featuring  actor Liane Balaban on vocals. The following singles will be released the last Tuesday of each month during 2012.
Self-imposed style restrictions will apply – each 'Phases' single will be  distinct from one another – as Montag explores new musical terrain. Accompanying b-sides and videos will also surface as will audiodocumentaries produced and narrated by Montag, detailing the creation of each song. Each single will include its own cover designed by Guadalajara-based graphic artist Curious Flux.
The entire Phases project can be followed exclusively on Spotify at http://open.spotify.com/user/1210632104/playlist/4ngSOUJRzPKXuGGjvbetaA and Montag's website at http://www.montag.ca/, where more information, music videos and other Phases' media will be available.
Montag chose Spotify to work with on this project due to the flexibility of their platform, their emphasis on discovering new music, and the ability to share the music easily.
HOODED FANG invade London this week…
'ESP' http://soundcloud.com/hoodedfang/esp
'Clap' http://soundcloud.com/hoodedfang/hooded-fang-clap

"The Jesus And The Mary Chain in surf shirts" Uncut
"the perfect Sixties pop of the Beach Boys with the raw edge of garage punk" The Times
"The Strokes-covering Cults-isms" NME
Toronto based newbies Hooded Fang are taking over London with their garage rock pop riot starting tomorrow, ahead of the release of their album 'Tosta Mista' on 12th March through Full Time Hobby.
08 February – Cargo with My Sad Captains Still Corners
09 February – Old Blue Last (HEADLINE SHOW)
11 February – Barfly with Eagulls History Of Apple Pie
14 February – White Heat at Madame JoJo's with Dale Earnhardt Jnr Jnr
KEEP WARM… WITH THE WARM DIGITS (debut album 16th April on Distraction) – http://soundcloud.com/warm-digits/sets/keep-warm-with-the-warm-digits/
Play 'Love From Outer Space' 17th Feb @ The Garage

"Machine funk kraut-a-delia" Andrew Weatherall
The pioneering DJ and producer sums up the Sunderland and Manchester based duo Warm Digits perfectly. Andrew Hodson and Steve Jefferis' bewitching debut LP is undoubtedly steeped in the lineage of the 1970s experimentalism of the likes of Neu!'s hypnotic repetition and the open-minded philosophies of Brian Eno, but it's testament to the pair's own broad visions that in 2012 these touch stones have been sculpted into a sound that retains a refreshing sense of modern vitality.
Warm Digits recently did a Late Junction session for the BBC with pals Field Music (FM's David Brewis also guests on the WD LP) listen/download from here http://www.bbc.co.uk/podcasts/series/ljs