See Geoff Barrow's DROKK at Orbital Comics on 16th May
aaamusic | On 07, May 2012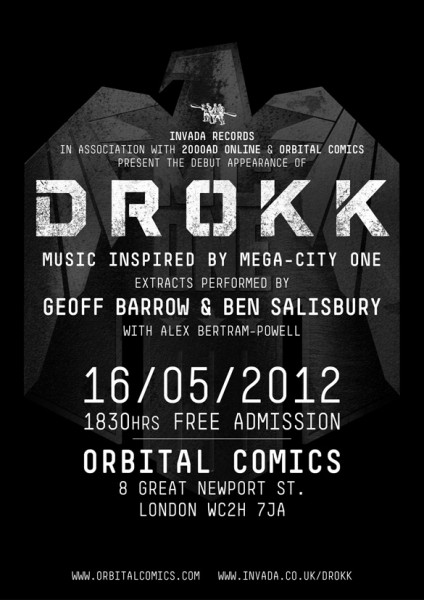 Geoff Barrow and Ben Salisbury will be performing extracts from the new record, DROKK Music Inspired by Mega-City One released on Invada UK at Orbital Comics in London on the 16th May 2012.
Barrow and Salisbury instinctively felt that music for MC1 should steer clear of the rich orchestration common to many contemporary film scores. Even for electronica the music is purposefully stark and spare, with the majority of tracks created exclusively on the Oberhiem 2 Voice Synthesizer (a 1975 classic keyboard), and its onboard sequencer used to create rhythm and drum sounds. The only exception are a handful of tracks which combine the synth with digitally manipulated and time-stretched performances of acoustic instruments – such as piano, violin, mandolin, ukelele, voice and hammered dulcimer.
"2000AD is delighted that Judge Dredd continues to inspire artists in the year of the character's 35th anniversary, especially such high profile talents as Geoff and Ben. You can tell, from their vision of the Big Meg, that they're massive fans of the strip." 2000 AD
You might know Geoff Barrow of Portishead fame (if you didn't know already of course!).